Whether you're an experienced trader or just getting into the trading world, the first and most important thing you need to do is to find a reliable and safe brokerage firm. The role of the broker is merely to provide users with access to market prices and allow them to instantly buy and sell financial assets.
One way to get access to the markets is through the CFD market. This market is sort of a secondary market where investors can get in and out of a position without actually exchanging the asset. Instead, the two parties simply speculate on the price of the asset and agree to deliver the difference in price when they exit the position.
TradeOr is one of the CFD brokers that has just a while ago appeared in the trading arena with a new innovative web trading platform and unique tools and features.
If you have landed on this page then you are most likely looking for a broker that gives you reliable access to the market. In this review, we'll cover all the most crucial things you need to know about TradeOr. We'll analyze the broker's trading platform, payment methods, fees and commissions, the safety of funds, and pros and cons. Keep on reading to learn more about TraderOr.
What Is TradeOr?
Founded in 2020, TradeOr is an online trading platform that offers investors and traders to buy and sell CFD products on its own proprietary web-based trading platform. The TradeOr platform covers a range of assets across various markets that include FX currency pairs, cryptocurrencies, ETFs, stocks, indices, and commodities. Crucially, investors that trade on this platform not only get commission-free trading terms but also can get a leverage of up to 100:1 and even more on some assets.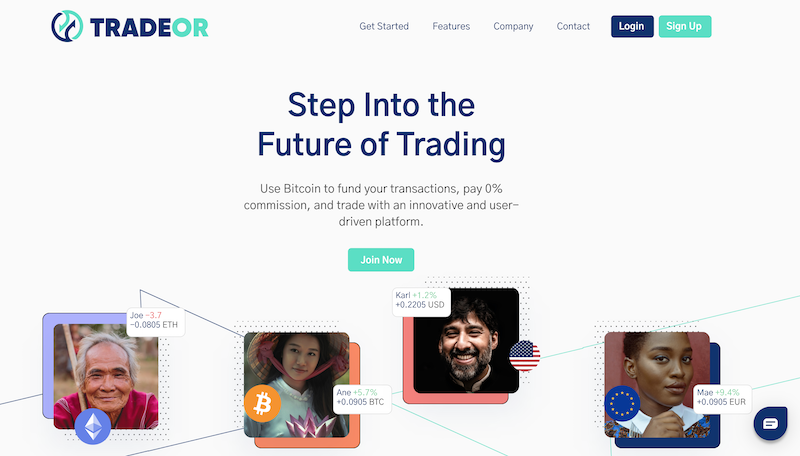 One of the main aspects of TradeOr is the approach for bitcoin users. Simply put, the platform supports Bitcoin as a payment method, which enables users to get instant and less expensive transactions as well as get a secure funding mechanism due to blockchain technology.
Is TradeOr Broker Legit?
At the time of writing, TradeOr is not yet regulated and licensed by any government agency. But although a regulatory framework on CFD trading is required in many cases, TradeOr is offering another approach to secure clients' data and funds. This broker ensures data protection and privacy by applying strict KYC principles. On top of that, the 2FA feature is another safeguard that TradeOr is offering on its platform.
When it comes to the safety of funds, this new innovative broker ensures funds are safe and secure by supporting one payment option on its network, which is bitcoin. In that regard, bitcoin is considered one of the safest ways to pay and receive funds online because all transactions are encrypted and go through the blockchain network.
All things considered, TradeOr appears to be legit and secure trading platform. The broker discloses crucial information on its website and offers several communication channels to contact the support team.
Markets and Products
TradeOr offers trading in over 120 instruments across forex, stocks, Exchange Traded Funds (ETFs), indices, commodities, and digital assets. The primary focus on this platform remains forex and cryptocurrency with 66 pairs. The broker also offers 10 global stock indices that include the S&P 500, Dow Jones 30, Nasdaq 100, FTSE 100, Nikkei 225, CAC 40, DAX 30, EuroStoxx 50, Ibex 35, and VIX.
When it comes to shares, TradeOr offers stocks from the US and European markets. This includes 27 US and 10 European companies such as Apple, Adidas, Amazon, Boeing, Bank of America, Citigroup, Cisco, Chevron, Ford, Facebook, Tesla, Google, Intel, and more. On top of that, the broker offers investors to trade different commodities that include Gold, Silver, Copper, and Platinum.
Trading Features
The trading environment provided by TradeOr is rounded off by three relatively unique features:
Supports Bitcoin
First, TradeOr enables users to deposit and withdraw funds with bitcoin. This essentially means that all transactions are instant and secure due to the mechanism of the bitcoin and the blockchain network. Additionally, the broker does not charge any commission or fees for transactions made on its platform with bitcoin.
High Leverage
Another key feature of TradeOr is the ability to use high leverage of 100:1 and even more on its platform. For those unaware, with 100:1 leverage, investors can enter a $1,000,000 position with just $10,000 in the account. Having said that, it is important to understand that leverage is a double-edged sword as it increases investor's chances of winning and losing positions equally.
News and Technical Analysis Section
TradeOr does not offer plenty of educational materials on its website, however, it does provide very useful news and technical analysis section on its platform. As such, you won't have to switch between different platforms in order to find real-time news. The broker aggregates various sources of content that are relevant to the markets and products that are available on the platform.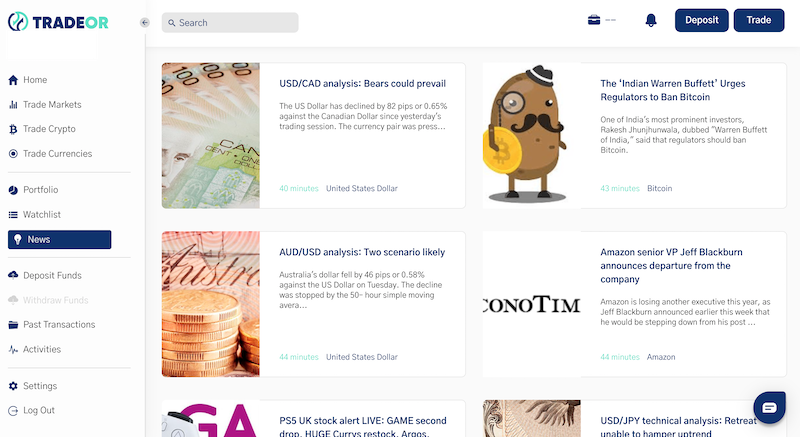 Trading Platform
TradeOr offers only one trading platform. This is a web-based proprietary trading platform that is extremely user-friendly and does not require any complicated installation. The platform comes with a range of cutting-edge features including the ChartIQ charting package, a customizable watchlist, price alerts, and a news section. In general, the TradeOr platform is suited for both new and experienced investors and was specifically designed to help them get easy access to the markets.
TradeOr's platform, which runs on any web browser on desktop and mobile devices, provides proper charting via ChartIQ with 125 technical indicators. Also, there is a wide range of drawing tools and chart styles.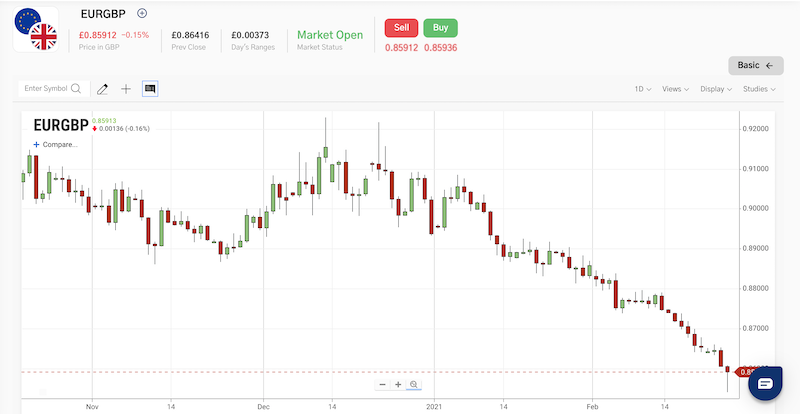 Overall, this trading platform has all the necessary features and products to analyze the markets and begin trading.
Fees and Spreads
TradeOr does not charge flat trading commissions like account management fees and fixed trading fees. Instead, the broker derives most of its income from tight spreads. With that in mind, let's take a closer at TradeOr's fees and commissions.
Trading and Non-Trading Fees
As mentioned previously, TradeOr does not charge any direct trading fees like traditional stockbrokers. Instead, TradeOr takes a commission through the spread. Besides that, there are no fixed commissions to pay though you'll have to contact the broker to get more information about the inactivity fee.
Deposit and Withdrawal Fees
One of the main advantages of using a broker like TradeOr is the fact that it does not charge any deposit and withdrawal fees. This is because the broker uses bitcoin as the only payment option, meaning you pay zero commission to the broker on every deposit or withdrawal. However, you'll have to take into consideration the fee you need to pay to the blockchain network and your digital wallet provider.
Spreads
Overall, TradeOr's spreads are very competitive and in line with the industry average. The broker offers only one account type to its users, meaning all users get the same spreads and fees. While this makes trading simple and clear for all levels of traders, TradeOr does not provide discounts and rebates to active traders or those who deposit a large amount of money.
Regardless, the spreads at TradeOr are competitive, which keeps trading costs low. Take not that TradeOr offers variable spreads which may be lower in times of high volatility
How To Open An Account With TradeOr
One of the key strengths of TradeOr when compared to any other brokerage firm in the market is the easy and less time-consuming registration process it offers. Notably, you'll be able to open an account on the same day without having to upload documentation and wait for several days until the funds reach their destination. To help you get started, we are now going to show a step-by-step guide on how to open an account and start trading with TradeOr.
Sign Up for An Online Trading Account
The first thing you need to do is to visit TradeOr's website and sign up for an online trading account. On the broker's website, click on the Sign-Up button and fill in your personal details that include your first and last name, email address, and then create password.
You will immediately get an email where you need to verify your account and submit more personal information. Then, once you have completed this step, you'll get channeled to TradeOr's trading dashboard.
Enable the 2FA Authentication Tool and Verify Your Mobile Phone
As mentioned above, TradeOr is using a different method to secure your online trading account – via the 2FA authentication tool and mobile phone number verification. As such, you'll have to enable the 2FA factor authentication before you can start trading on the broker's platform. To do that, you simply need to scan the QR code, download an authentication app and insert the code every time you log in to TradeOr's platform. In addition, you'll be required to verify your mobile phone number by inserting the code sent to you via SMS.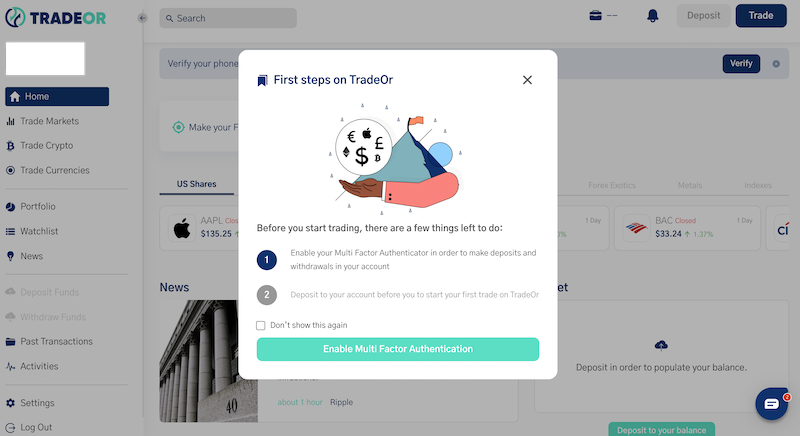 Deposit Funds with Bitcoin
As soon as your account is approved, you can then fund your new account by transferring funds with bitcoin. As previously mentioned, the broker maintains a minimum deposit requirement of just $10 or equivalent to your region.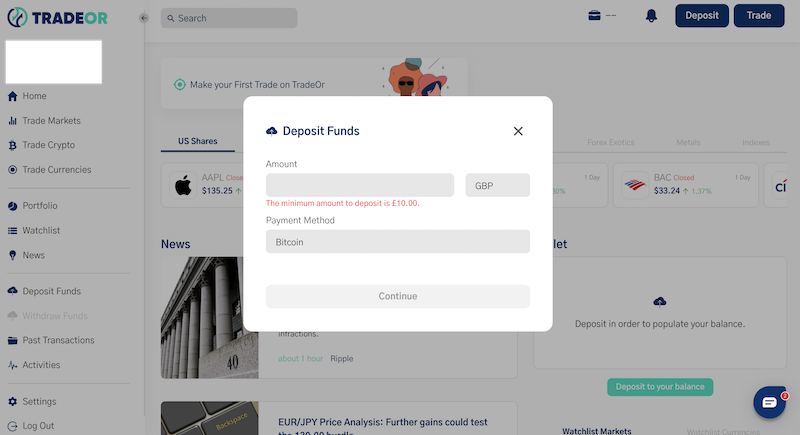 The process of funding your account with bitcoin is straightforward and you'll be guided throughout the process.
Start Trading
With TradeOr, all transactions are instant which means you'll be able to see the funds in your account in a matter of minutes. The trading process is, once again, very straightforward even for those who do not have much trading experience and technical skills. All you need to do is to find a product you wish to buy or short sell and click on it. Then, you'll be transferred to the instrument page where you get live market prices and you can place an order.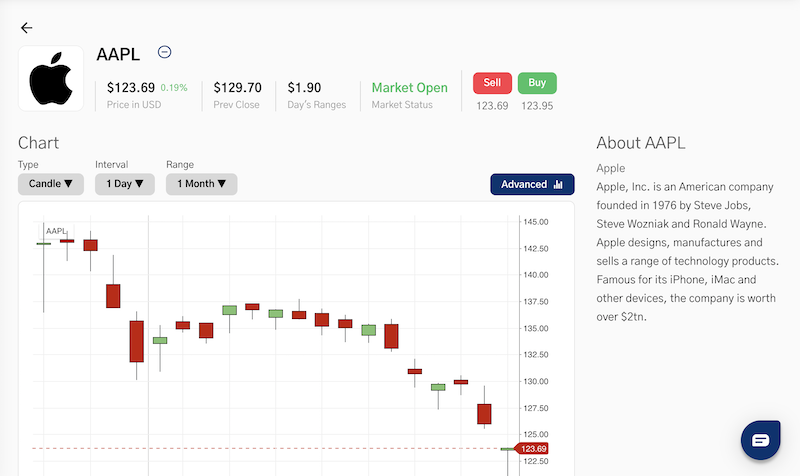 TradeOr – Pros and Cons
Pros
• ✅ Supports bitcoin as a payment method
• ✅ User-friendly trading platform
• ✅ A decent range of markets and products
• ✅ Offers the ChartIQ charting package that includes 125 built-in technical indicators
• ✅ Zero commission policy and competitive spreads
• ✅ Low minimum deposit of just $10
• ✅ Up to 500:1 leverage
• ✅ Customer support is available 24/7
Cons
• ❌ Doesn't support MT4
Conclusion
Overall, TradeOr stands out for its unique selection of trading features alongside the simple to use and safe trading platform it provides. Downsides include the lack of educational material, demo account and mobile application. Nonetheless, this platform is ideal for users that want to get instant connection to a trading platform and use bitcoin as a payment option. On top of that, TradeOr offers a modest but very effective range of products. This includes cryptocurrencies, popular stocks, indices, ETFs, and FX currency pairs.
With a low minimum deposit requirement of just $10 to open a live account, TradeOr provides new investors an easy way to get into the trading arena.
Click here to sign up for TradeOr today!
TradeOr – Buy Shares and Bitcoin With No Commission

Your capital is at risk.
FAQs
Is TradeOr safe?
Yes, our review reveals that TradeOr is completely safe and legit online trading platform. This broker offers data protection and ensures clients' funds are safe. On top of that, the fact that the broker uses bitcoin as payment method ensures funds are secure and safe through the blockchain network.
What is the minimum deposit requirement at TradeOr?
TradeOr requires a minimum deposit of at least $10 or an equivalent amount to your region.
Does TradeOr provide automated trading?
No, TradeOr does not provide automated trading features on its platform.
How much does it cost to trade with TradeOr?
Trading at TradeOr is commission free, meaning you do not have to pay any trading fees besides the buy and sell spread.