Are you considering investing in AltIndex and looking for more information about the platform? 
This comprehensive and objective AltIndex review has you covered. You will discover everything you need to know about AltIndex, including what it is and how it works. 
We also explained all the services the platform offers and how you can leverage them to uncover better insights and gain an edge in the stock and cryptocurrency markets. Additionally, you will discover the platforms' pricing, as well as its pros and cons. 
By the time you round off this review, you will have all the information you need to decide whether to invest in this platform. 
What is AltIndex?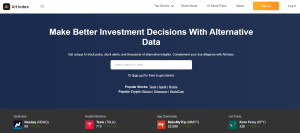 AltIndex is a leading alternative data provider utilizing advanced algorithms and sophisticated AI technology to collect data from alternative sources, analyze them, and provide investment insights to its users. Unlike traditional data providers that extract data from popular and publicly available sources, AltIndex gathers data from alternative sources such as social media, websites, job postings, and more. 
For example, AltIndex can analyze mentions, likes, shares, and followers on social networks like Facebook and Reddit to provide accurate public sentiments on a specific stock. If the public sentiment is positive, the platform gives the stock a high score. If otherwise, the stock gets a low score.
Similarly, AltIndex collects data from websites, including the total visits and hours spent on the site, and compares it with their historical performance and industry competitors to provide useful insight to investors. As an AltIndex user, you can use these insights to determine whether a company's digital presence is declining or increasing.
Further, AltIndex can provide data about a company's growth by analyzing its job postings and employee satisfaction statistics. For example, if AltIndex shows that a company's workforce is growing, it could indicate that the company is looking at expanding its operations. This information, when combined with other insights from the platform, can help users determine whether to invest in the company's stock or not. 
But that's not all about AltIndex; the platform also uses insights from its analysis to generate stock recommendations for its users. Based on our findings, these stock recommendations have a 75% win rate. In other words, you can expect 75% of picks by the platform to yield a good  ROI within six months. Additionally, AltIndex monitors the cryptocurrency market and provides insights into the top-performing coins. 
Pros and Cons of AltIndex
Below are some of the benefits and drawbacks of investing in AltIndex.
👍 Pros
AltIndex is rated among the top alternative data providers in 2023

Sends stock recommendations to users via email

Tracks the performance of a wide range of stocks and cryptocurrencies

Impressive 85% accuracy rate on stock recommendations

Offers investors a first-mover advantage through public sentiment analysis
👎 Cons
Requires a monthly subscription to access its full features

Only covers stocks in the US market

It doesn't provide data or insights on commodities
What services and features does AltIndex offer?
Now that you know what AltIndex is, let's walk you through all the nine top services the platforms offer.
Investment Insights from Alternative Data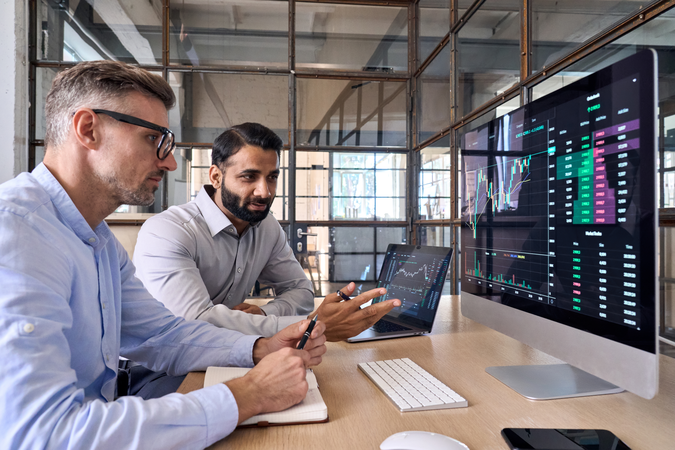 AltIndex focuses mainly on generating investment insights outside of conventional sources like companies' annual statements and earning reports. It gives its users an edge by equipping them with alternative data and insights that are not commonly available. 
As mentioned earlier, one of the alternative data sources that AltIndex leverages is social media. The platform extracts data from popular social networks, such as Reddit, Facebook and Twitter, used by billions of people worldwide. By processing data such as likes, shares, and mentions on these social channels, AltIndex generates accurate consumer insights about several stocks and cryptocurrencies. 
Here is an example. Let's say a popular company launches a new product, and there are speculations on how it could drive up the value of its stock. To help users gain unparalleled insight into this company, AltIndex would check how the billions of people on social media are reacting to this new product. This way, it lets its users know whether the public's opinion about the new product is positive or negative. With this info, investors can make better investment decisions. 
However, social media isn't the only alternative data point that AltIndex uses to rank stocks or cryptocurrencies. Other alternative data points that it uses include job posting data, website analytics, employee satisfaction statistics, and more. Leveraging these alternative data points, AltIndex generates broad consumer sentiment about stocks, cryptocurrencies, and ETFs.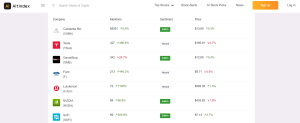 Another AltIndex feature that impressed our team is its meme coins functionality. As you may already know, most meme coin prices are driven by hype and sentiments in online communities rather than traditional fundamentals. 
AltIndex does a good job at gathering and analyzing data from these communities and letting its users know when the value of a meme stock is about to explode. With this insight, you can position yourself for higher returns before other investors do. 
Additionally, you can get a daily list of the top meme stocks to buy on AltIndex. The platform updates this list every five minutes to reflect current trends. Just like its top stocks list, the meme coins list has a historical 75% win rate.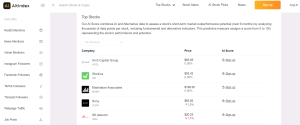 Aside from providing consumer sentiments and other data, AltIndex offers an AI-powered stock ranking score that makes investment decisions easier for its users. Leveraging artificial intelligence, it analyzes all the alternative data available about a stock and gives it a score between 1 and 100. 
Stocks with a higher ranking score are likely to outperform others over the next six months. On the flip side, stocks that rank low are likely to underperform. With this knowledge, AltIndex investors can take advantage of high-performing stocks before those who rely on conventional data do. 
Furthermore, the ranking score can help you know when to sell a stock in your portfolio before it starts to lose value. So, investing in AltIndex gives you a solid first-mover advantage.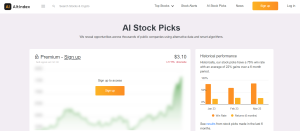 Another feature that stands out about AltIndex is its AI-powered stock picks. Depending on your plan, you will get real-time emails on which stock to buy or sell. In simpler words, the platform will save you the time of analyzing the market and making picks yourself. 
Additionally, you get a clear and concise explanation of why AltIndex is recommending each stock. For example, AltIndex recently sent investors holding Robinhood's stock a sell alert. The reasons it gave for this alert include a drop in the company's social media followers (Twitter and Instagram), app downloads, and job postings. 
Overall, we believe AltIndex is one of the best crypto and stock pickers in the market. When we reviewed the historical performance of its picks, we confirmed that the stocks generated an average of 24% ROI over six months. However, please keep in mind that past performance does not guarantee future returns. So, rather than buying or selling based on the past performance of any stock, you should follow AltIndex recommendations to maximize your returns and reduce your risk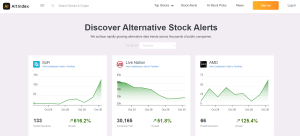 During our thorough review of AltIndex, our experts confirmed the effectiveness of its stock alert services. This feature keeps track of the stocks in your portfolio and automatically notifies you if there is any key market movement. 
For instance, let's suppose you add Ethereum to your AltIndex cryptocurrency portfolio. If the platform discovers the public sentiment about the coin is declining, it will immediately send you an email to notify you of this decline. This way, you can quickly decide whether to remove Ethereum from your portfolio. 
In addition, AltIndex sends its users real-time alerts on stocks that are not in their portfolio. You can choose to receive the alerts or not and also set the categories of stocks you want it to track on your behalf. With these insights, you can make informed and profitable new investment decisions. 
Beyond stock alerts, you can also choose to receive emails on specific indicators. For example, if you are interested in tracking the public sentiment about a stock or monitoring the website performance of a company, AltIndex can send you this information. 
You will receive notifications immediately that the company's followers or likes are increasing or decreasing significantly. Additionally, you will be alerted if the number of visits or hours spent on the company's site is declining rapidly. 
AI-Powered Stock Screener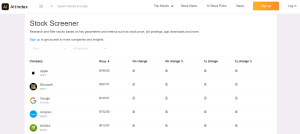 AltIndex stock screener is another proprietary technology of the platform our experts tested. This screener allows you to easily narrow down suitable stocks that you can add to your portfolio. To use this feature, you have to set preferences like preferred data points and industry. Once done, AltIndex will automatically research on your behalf and give you a list of stocks to buy. 
However, to use this feature, you have to be on its paid plan. We could only use this functionality twice when we were on the free plan. After the two trials, the feature was restricted, and we got a notification to upgrade to the paid plan.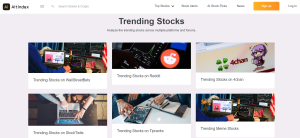 Another AltIndex feature we found very useful to investors was its trending stock functionality. This feature uses data points from social media platforms like Reddit, Facebook, and Twitter to help you determine which stocks are currently trending among consumers.
For example, as of the time of writing this review, AltIndex shows that the mention of Amazon stock on Reddit increased by 610% in the last 24 hours. Similarly, it reveals investors' sentiments about Interactive Brokers have increased by 14.3% within the same period.
Just like AltIndex collects and analyzes alternative data to recommend traditional stocks, it does the same for cryptocurrencies. Using consumers' sentiment across several alternative data points, the platform lets you know if a cryptocurrency is about to explode or dip rapidly. With this information, you can make better decisions on when to buy, hold, or sell crypto assets. 
For example, if AltIndex notices Ethereum is getting more mentions on news platforms or social media channels like Reddit, Facebook or Twitter. It will determine if these sentiments are positive or negative by analyzing different alternative data points and immediately let you know its findings. 
Furthermore, we tested the platform's ability to predict future crypto price movement. Our experts checked its historical predictions and confirmed that it has a 75% win rate. So, you can expect at least seven out of every ten crypto recommendations by AltIndex to yield a good return.
AltIndex sends all its users a daily newsletter via email to keep them updated with market trends. This newsletter usually covers the major news from the previous day and comes with a list of the top trending cryptos and stocks. If your plan includes AI stock recommendations, you will also get daily updates on stocks and cryptos whose values are about to rise rapidly. 
AltIndex Pricing
This section of our AltIndex review explains the four pricing plans and packages available for investors. 
This plan is for first-timers who want to assess how AltIndex works before committing their hard-earned dollars. With the free plan, you can only add two stocks to your AltIndex portfolio. In addition, you only get two monthly alerts, one free stock recommendation, and limited access to the stock screener. 
The starter plan is for users who want increased functionality and better investment insights. It comes with full access to the stock screener, unlimited dashboard visits, and ten stock alerts monthly. Plus, you can add up to ten stocks to your AltIndex portfolio. 
For investors who want to increase the number of stock alerts and recommendations they receive, the pro plan is the perfect option. With this plan, you can add 50 stocks to your AltIndex portfolio. Additionally, you will receive 25 AI stock recommendations and 50 stock alerts monthly. 
While AltIndex claims he has a special plan for professional traders and institutions, we didn't uncover the pricing in our review. Users interested in this plan will have to contact the company's team for more information. 
Please keep in mind that you can cancel or upgrade your AltIndex plans at any time. So, if you ever feel you don't need the platform again, all you need do is cancel your plan. 
Our verdict – Is AltIndex a safe and legit alternative data provider?
After a thorough AltIndex review, we confirmed that the platform is safe and legitimate. Users can leverage it to gain an edge over the stock and cryptocurrency market. AltIndex provides a clear and fuller picture of both markets, making it easier for you to make informed and profitable investment decisions.