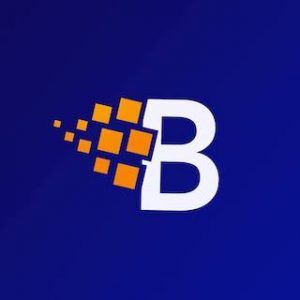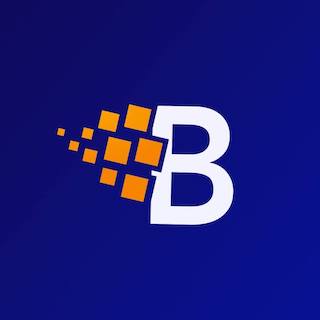 Cryptocurrency wallets are an absolute necessity for every person who owns virtual coins. No matter what's your interest in cryptocurrencies, once you own a certain digital coin, you would need a digital wallet to store your cryptocurrencies. For a newcomer, digital wallets might sound a bit complicated to handle, mainly due to the complicity of other platforms. Business Club, a new crypto platform, is offering an innovative crypto ecosystem that includes an active digital wallet.
In this guide, we are going to cover everything you need to know about the Business Club ecosystem including its features, security, fees, pros and cons, and more.
What is Business Club?
Founded in 2018, Business Club is a crypto ecosystem that comprises an innovative digital wallet, its own original token, a decentralized unique blockchain network, a social media platform, secure file hosting cloud services and more.
Business Club is owned by Blockchain Business Solutions and is registered in the Republic of Malta under the number C-92788. The company employs 40 people in two offices that are located in Valetta (Malta) and Zurich (Switzerland).
One of the products offered by Business Club is the Business Club Active wallet that allows users to safely store digital currencies as well as to send and receive a range of different cryptocurrencies.
Business Club Products and Services
Business Club offers a diversity of products and services. Those include:
Business Club Active Wallets
Business Club Token
Business Club Blockchain
Cryptocurrencies Payment Cards
File hosting cloud services
Social network
Business Club Live Transmission
Business Club Easy Mall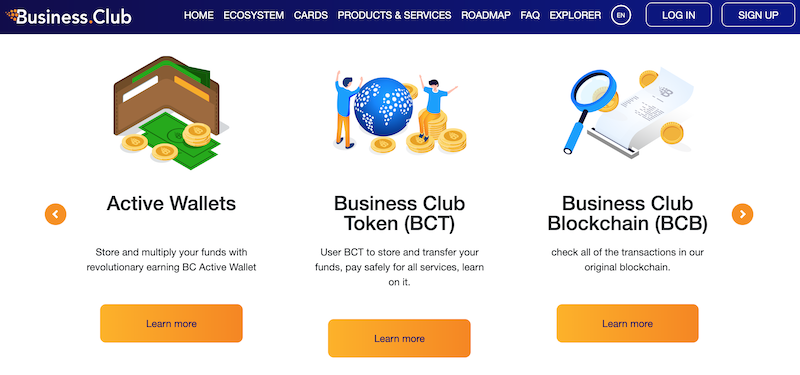 Is Business Club Wallet Safe? Security Overview
One of the important things to be kept in mind before opting for a digital wallet is the kind of safety features it has to offer. This wallet provides high-security features to ensure users' funds are safe.
Cloudflare Firewall and DDoS Attack Protection
Business Club protects its users by the Cloudflare Firewall that allows them to control all incoming site traffic as well as the DDOS attack protection feature to protect the wallet's server from a distributed denial-of-service attack.
Google 2-Factor Authentication (2FA)
The Google 2FA authentication feature means that you must enter a code that is sent to your mobile phone before you can log in to your digital wallet.
Multi-Signature Verification System
Business Club offers one of the strongest security features, the multi-signature that requires more than one private key to authorize a crypto transaction.
Regulated by the Malta Financial Supervision Authority (MFSA)
Blockchain Business Solutions is a registered company in the Republic of Malta under the number C-92788 and has started a process to become fully regulated by the Malta Financial Supervision Authority (MFSA).
Business Club Virtual Machine
BCVM
Business Club operates its network through the Business Club Virtual Machine (BCVM), a fully isolated and secure runtime environment. The BCVM blocks access to any external resources and leads to high-security programming code execution.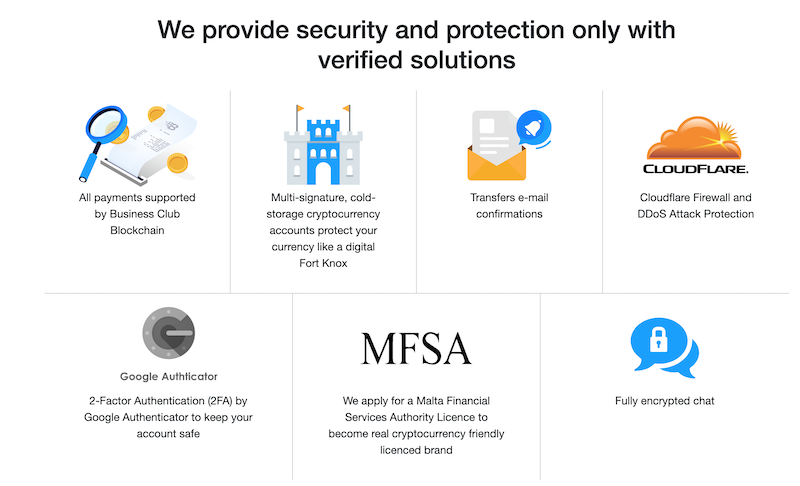 What cryptocurrencies does the Business Club wallet support?
Currently, Business Club supports the following cryptocurrencies:
Bitcoin
Ethereum
Business Club Token
Bitcoin Cash
Ripple
Monero
Dash
Litecoin
Tether (stable coin)
Bear in mind that the Business Club's team is planning to organize votings for newly supported cryptocurrencies and add them to their blockchain network.
Fees and Commissions
There are no fees charged for using the Business Club platform, however, there are fees associated with usage of the active wallet and funds transfer. Business Club allows you to deposit and withdraw funds whenever you want, however, the team applies a 45-day period when there's a commission to withdraw funds from your account. Therefore, if you decide to withdraw your funds within this period of time, Business Club will charge 15% of the amount deposited. In addition, each transaction on the BCB (Business Club Blockchain) is subjected to a commission of 0.25% of the transferred amount.
How to Set up The Business Club Wallet
Setting up an account with Business Club is easy when you do it right. Here's a step-by-step guide to set up the account and store your funds with the Business Club wallet.
Step 1: First, you will need to visit the official Busines.club's website and fill in your personal details on the sign-up page. Take note You can also download the Business Club Active wallet mobile app on AppStore or Google Playstore.
Step 2: Once you have completed the registration process, you will be immediately redirected to the Business Club's platform.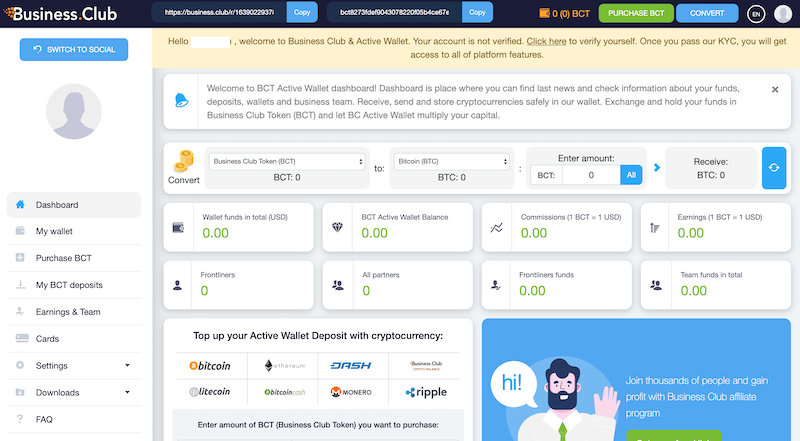 Step 3: Finally, you can find your BCT wallet address on the trading dashboard and whenever you want to send a certain cryptocurrency to your wallet and store it, click on the receive button and you will get your Business Club active wallet address.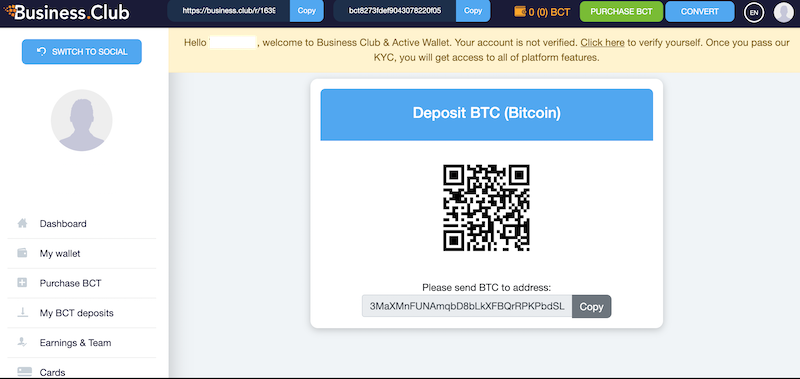 How To Use The Business Club Wallet
We must say that we were very impressed with the Business Club's platform. On the trading dashboard, you will be able to get this information: Wallet funds in total, BCT Active wallet balance, commissions, earnings, frontliners, all partners, fronliners funds, and team funds in total. You can also receive and send payments on the main dashboard as you can see in the image below.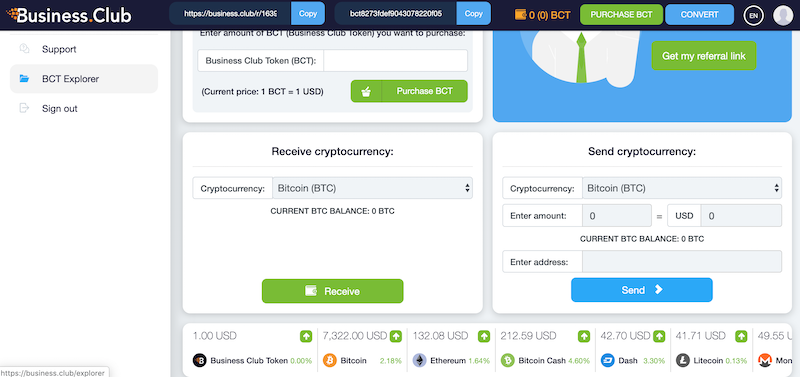 Whenever you want to purchase Business Club Token (BCT), click on the 'Purchase BCT' button on the left side menu and you can top up your active wallet with one of the cryptocurrencies it supports.
Moreover, you can switch to the social network page on one click of a button where you can connect with other users, upload images, use the Business Club cloud service, create advertisements and more.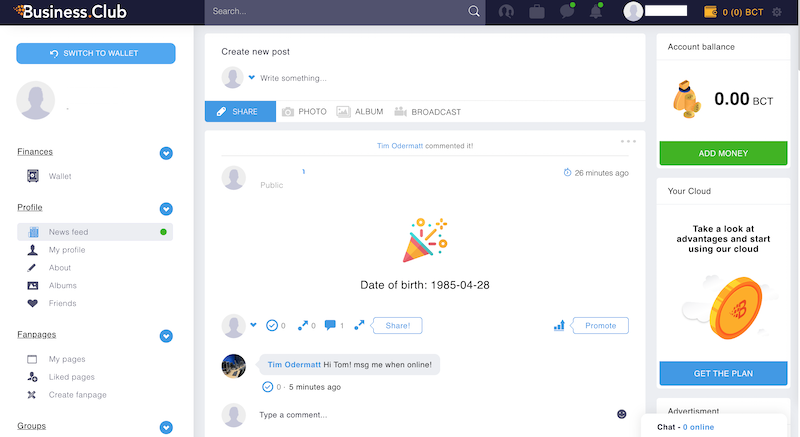 Business Club vs other wallets
In order to explore whether Business Club wallet is a reliable choice, we've decided to compare Business Club Active wallet and other crypto wallets in the market:
Business Club wallet vs. Coinomi
Coinomi is a highly popular cryptocurrency wallet. It supports a wide range of cryptocurrencies and has a user-friendly interface. For users who are looking for a multicurrency crypto wallet, Coinomi is a legitimate choice. However, in comparison to Business Club, Coinomi only offers a digital wallet to store your crypto funds while Business Club has a wider range of services and products. Business Club offers a generated profit active wallet, its own original token that allows users to store and transfer funds, crypto payment cards that allow users to spend their crypto, and more.
Business Club wallet vs. Trezor
Trezor is one of the oldest crypto digital wallets in the market. It offers a safe cold storage wallet and a convenient user interface. Both wallets offer high-security features, however, while Trezor beats Business Club on the range of cryptocurrencies it supports, Business Club offers a crypto ecosystem that is not available on Trezor's platform. Business Club's services such as the Business Club cloud, payment cards, social network, and the smart store make it a much diversify platform than Trezor.
Business Club wallet vs. Mycelium
Mycelium is another popular bitcoin wallet thanks to its easy-to-use user interface. However, it's a mobile-only Bitcoin wallet and is a limited platform in comparison to Business Club. Business Club takes things a step further, offering a wider selection of services such as payment cards and the ability to earn 0.3-0.4% of your crypto balance each day.
Pros:
Business Club offers a profit generated active wallet – Users can store their funds in the BCT Active Wallet and earn on 8-12% per month
Business Club has its own cryptocurrency, the Business Club Token (BCT)
Business Club is Regulated by the Malta Financial Supervision Authority (MFSA)
Business Club offers a unique social network and is a crypto card issuer, which is the first-ever company to offer this combination
Offers users to build a business team and allows users to integrate with other people in the community
Provides multi-signature and 2FA security features
Cons:
A narrow selection of coins
The wallet's code is not open-source
Does not offer 24/7 support
Conclusion
You can't find many companies out there that offer similar services as Business Club. Not only does it offer a crypto digital wallet, but it also supports a range of innovative products and services. If you are a crypto enthusiast, this platform will definitely get your attention. Business Club has created a platform that aims to solve some of the most notable crypto problems such as how you can spend your crypto coins and the ability to generate profits on your crypto funds.
In conclusion, the digital currency ecosystem has been said by many to be the new digital economy. Business Club has succeeded in creating a crypto environment where its users can store cryptocurrencies, connect with other users, transfer funds, spend their cryptocurrencies and more.
FAQ
What is the Business Club Token (BCT)?
The BCT is a token created by Business Club to create the largest community in the world and to generate continuous profits by using the coin. The BCT is divisible to 8 decimal places and is and its circulation will be increasing until it reaches 720,000,000 BCT.
Where can I use Business Club Payment Card?
You can use Business Club payment cards in over 42 million sales points worldwide.
How can I contact with Business Club support?