2019 is gaining momentum and we can already take a sneak peek at the top 100 Bitcoin whales addresses and, of course, how their balance has changed in the last 30 days.
Please note, that some of these top addresses are the wallets of cryptocurrency exchanges (Bitfinex, Bittrex, Binance, Huobi, Coinheck). However, the whole calculations should still reflect the most important data on how the Top 100 Bitcoin addresses balance have changed in the last 30 days. The calculations will show us if Bitcoin inflows or outflow dominate.
Do Bitcoin Whales Buy or Sell?
According to bitinfocharts this is how Top 100 Bitcoin whales balances changed in the last 30 days:
7 whales SOLD (-26 519.05 BTC);
13 whales BOUGHT (+97 456.46 BTC);
80 whales balance DID NOT CHANGE;
The results show that all of the Top 100 Bitcoin whales balance increased in 97 456.46 BTC which is equal to an inflow of $405 532 591 US dollar at a rate of $4161 US dollar per Bitcoin. The outflow of 26 519.05 BTC equals to 110 318 756 US dollars.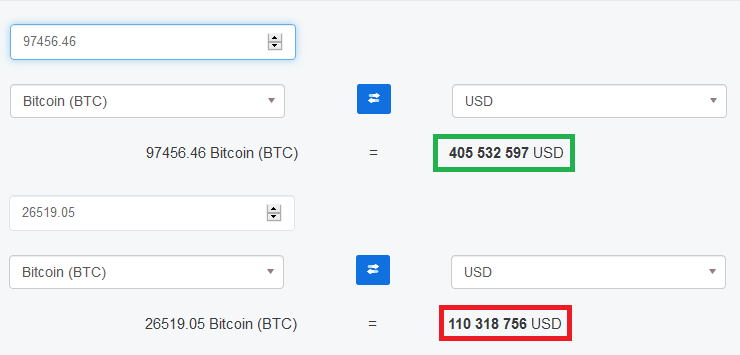 Bitcoin Attracts Buyers
To sum up the result it is clearly visible that Bitcoin attracts more buying power rather than selling. Another one interesting thing is that in the top 28 addresses only one wallet decreased in the amount of Bitcoin owned, and this wallet belongs to Bitfinex-coldwallet which moved 19 123 BTC out of its coldwallet.

The top 47th wallet has increased in Bitcoins the most out of the whole list. This Bitcoin whale filled his 'bag' with an additional 20 000 BTC.
Bitcoin Wealth is Now More Diversified
However, Eric Stone, the head of data science at Flipside Crypto recently said that Bitcoin whales are losing their power on the market after Q4 2018 activity.
In the last three months, they finally rose from their slumber and became active, bringing more active coins to the market. This recent activity could loosen the whales' grip on the crypto market, suggests Eric Stone, the head of data science at Flipside Crypto.
New research from Flipside Crypto suggests that 99% of all Bitcoin is currently stored in 8.59% non-empty Bitcoin wallets. The number is higher than 6.7% recorded in November 2017, right before Bitcoin prices went berserk and touched $20,000.
Bitcoin wealth is now more diversified than January 2016, when 8.56% of non-empty wallets held the coins. The change is positive but happening at a relatively slow speed.