Recently, Craig Wright from Bitcoin Satoshi Vision, stirred controversy once again when he claimed on Twitter that he had filed a paper about BlackNet with the Australian government in 2001. Now, users are claiming that he is lying to the crypto world once again as they have found a similar paper from early blockchain pioneer Tim May.
My stupidest mistake was going to the Australian government in 2001 and filing this shit. pic.twitter.com/yC5GQG50tw

— Dr Craig S Wright (@ProfFaustus) February 10, 2019
Tim May's Crypto Legacy
The roots of the crypto/blockchain movement go as far back in time as 1988 when Tim C May published "The Crypto Anarchist Manifesto." May was a cypherpunk who declared "Arise, you have nothing to lose but your barbed wire fences!"
The idea behind #bitcoin can be traced to "The Crypto Anarchist Manifesto" which was released 30 years ago in 1988 by Timothy C May. pic.twitter.com/rg3J6Hfyni

— 7 Bitcoins (@7_bitcoins) October 20, 2018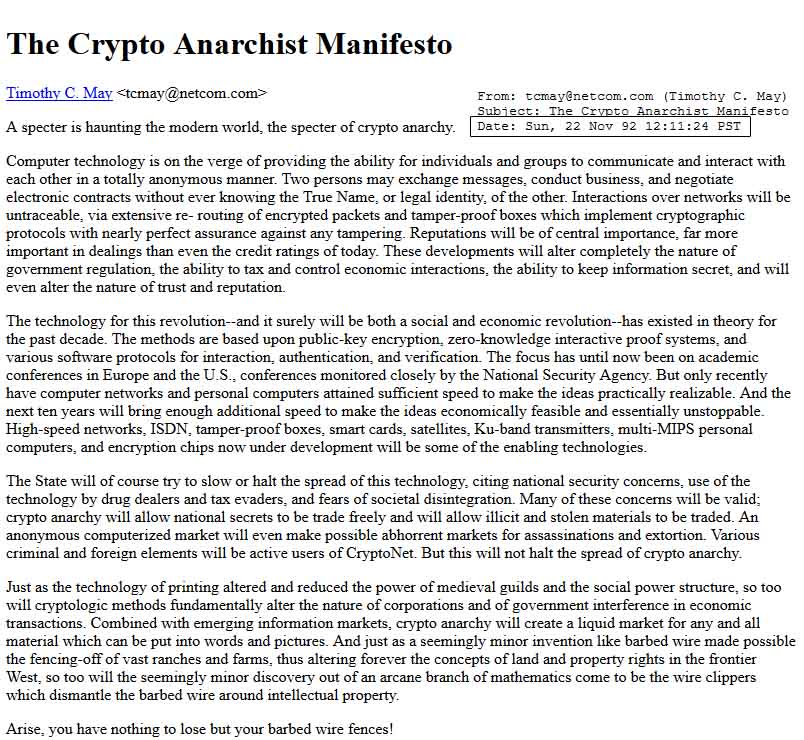 In December 1994, he also talked about an experimental information market called BlackNet. The system, which appeared in 1993, provided users with two-way exchanges of information in a fully anonymous way. He also said that there were reports of the US authorities investigating this system. He also noted that untraceable and anonymous digital cash is coming, but there are several practical and technical hurdles to the concepts.
The idea of a digital, untraceable and anonymous currency, i.e., Bitcoin finds its roots deep into the Cypherpunk movement, and Tim May is considered a legend in these circles. He was talking about such currencies in the mid-80s, and his BlackNet worked like a precursor to WikiLeaks, claims Andrew O'Hagan. In essence, it was Tim May's relentless efforts that helped in directing the cypherpunk movement, and Bitcoin's origins are no less indebted to May's ideas.
Why Is the Cypherpunk Hero Being Remembered Now?
Bitcoin's creator Satoshi Nakamoto is one of the biggest mysteries on the internet. Several people have tried to find his true identity but have failed miserably. Then came Australian Craig Wright whose claims of being Nakamoto have been furiously debated and debunked in public.
Most recently, Wright suggested that he had filed with the Australian government about BlackNet, a precursor to Bitcoin in 2001. Interestingly, this is the same name that May used for his information sharing network in 1997 according to available documents- where he extensively talks about cryptocurrencies which later became the foundation stones of Bitcoin.
Craig Wright 2019: "I completed a project I started in 1997
that was filed with the Australian government .. as BlackNet.

Tim May 1997: "I use an experimental–and controversial–experiment I released on the Net several years ago, BlackNet" https://t.co/w5nyUxj17P

— planB (@100trillionUSD) February 18, 2019
Wright's claims are being refuted left, right and center as crypto enthusiasts claim it is "backdated plagiarism." According to users, Wright had only made small changes to the official Bitcoin whitepaper and claimed it as his own, created seven years before Bitcoin came to the fore. Ethereum co-founder Vitalik Buterin went as far ahead as calling Wright a "fraud" during a South Korean event last year.
Satoshi Nakamoto Issue
A Reddit user describes Wright's attempt to strengthen his claim as Nakamoto as follows:
The 2001 paper differs from Satoshis in these points:
It says "version transaction system" instead of "version of electronic cash."

It says "online consideration to be sent" instead of "online payments to be sent."

It says "through a (un)trusted intermediary" instead of "through a financial institution."

It says "It is believed that … can be found using" instead of "We propose … using".

It says "double-spending or replay" instead of "double-spending" (twice).

It adds the sentence at the end "This enables a decentralized web of trust and a black net formation."
You can find more in-depth comparison here.
Meet the guy himself, Tim May (R.I.P.), talking on Hackers Congress HCPP16 (2016):

Sources:
https://www.activism.net/cypherpunk/crypto-anarchy.html
https://i.imgur.com/uCskxTF.jpg
https://www.reddit.com/r/btc/comments/apaa57/something_seems_familiar_here_between_blacknet/eg76u1b/?utm_source=reddit-android
https://twitter.com/7_bitcoins/status/1053733608312225793
https://www.lrb.co.uk/v38/n13/andrew-ohagan/the-satoshi-affair
https://twitter.com/ProfFaustus/status/1094654753911508992
https://groups.csail.mit.edu/mac/classes/6.805/articles/crypto/cypherpunks/may-virtual-comm.html