MasterCard said that it will allow its around one billion users to spend cryptos at over 30 million merchants, even though it has not specified which coins will be supported by the new service.
The company has announced its plans to support cryptos in 2021 which will help in crypto adoption throughout the world. Additionally, the move might open merchants up to new clients and build loyalty with the existing customers who are already shifting to digital assets away from the traditional fiat options.
"It's about choice. MasterCard isn't here to recommend you start using cryptocurrencies. But we are here to enable customers, merchants, and businesses to move digital value"
Even though the global payments firm highlighted that it might consider supporting stablecoins due to their security and reliability, MasterCard did not name any particular cryptos that it wants to integrate.
Nevertheless, MasterCard provided four core criteria by which it will assess potential assets. It said that it will consider the assets with strict know-your-customer compliance, stability as a means of payment, significant consumer protections including consumer security and privacy, and adherence to local regulations and laws.
The payments company also noted that it is actively engaging with many major central banks throughout the world to support different central bank digital currency (CBDC) initiatives.
In 2021, the company released a 'virtual sandbox' tool to demonstrate how a CBDC can be used to pay for various consumer purchases using MasterCard's infrastructure. The announcement also said that there is an increasing demand for digital assets among its clients, noting that a majority of the users have been purchasing crypto assets with their MasterCards amid the current bull market.
"Digital assets are becoming a more important part of the payments world. We are here to enable customers, merchants and businesses to move digital value — traditional or crypto — however they want. It should be your choice, it's your money."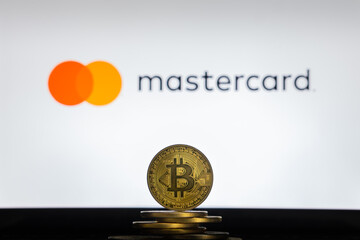 MasterCard Engages In Distributed Ledger Technology
Notably, MasterCard already devoted considerable resources to exploring distributed ledger technology, with the firm currently holding 89 blockchain patents while a further 285 applications are pending.
For some time now, the payments service provider has engaged in cryptocurrency payments, working with BitPay and Wirex to create crypto cards, even though no cryptos moved through MasterCard's network.
This announcement is the latest in a series of institutional adoption of cryptos that have come up in the last few weeks. Earlier this week, Tesla was discovered to have purchased $1.5 billion worth of bitcoin from its cash reserve. The electric carmaker said that it will soon accept bitcoin payments for its vehicles.
A week ago, PayPal doubled down on crypto saying that it will offer extensive crypto payments services for its 26 million merchants after its limited cryptocurrency trading services 'exceeded expectations.'
A week before that, Visa chairman and CEO Al Kelly said that his company is fully committed to crypto payments and onramps in its Q1 earnings call.
Speculation has also emerged on which other tech firms will be the next to join the crypto space. In that context, RBC Capital Markets said that Apple should follow in Tesla's footsteps. One RBC analyst, Mitch Steves, also told clients that developing a crypto exchange into the Apple Wallet might create a considerable new market for growth.