Gold has adopted a long term uptrend momentum that has convinced many gold bugs that it can reach $3,000 in the long term. Back in the spring of 2021, one analyst mentioned the possibility of a highly bullish long-term momentum pattern for the precious metal.
In 2011, the proponents were thrilled with the bullish sentiment as the prices of gold rallied steeply before peaking around $1900. That peak formed at the 261.8 percent Fibonacci extension of the 1979 high / 1999 low on today's chart.
The 8 years that followed saw gold prices enter a bear market before bottoming and then turning higher in what now seems to be a cup and handle pattern setup. This pattern now has the attention of the gold bulls and all that remains now is the formation of a handle for the pattern to be complete.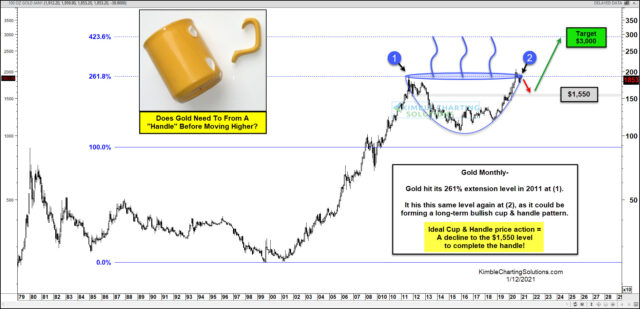 Such a scenario would entail a pullback and then a rally higher. Should the pattern form and head to new highs, it might target $3,000 which is the 423.6 percent Fibonacci extension.
Gold "Cup With Handle" Formation
As it is evident from the latest chart, gold has completed the 'cup' pattern, and it is pulling back to form a 'handle' part. In the ideal situation, the gold bulls would want to see a drop to the $1,550-$1,600 level before another big rally starts.
As noted earlier, the Fibonacci symmetry of the cup formation seems quite interesting. Gold peaked at the 261% Fibonacci extension price level both in 2011 and 2021 and that formed the 'cup.' Any form of a pullback into the 38.2% Fibonacci of the "cup" would be perfect for the 'handle' to form.
Does the precious metal need to form a 'handle' before it moves higher? Not really. However, if it pulls back, it will help gold reach $3,000 a lot sooner.