XLM Price Analysis – September 8
The XLM/USD is still looking bearish as the coin is now looking around for a surge.
XLM/USD Market
Key Levels:
Resistance levels: $0.090, $0.95, $0.100
Support levels: $0.065, $0.060, $0.055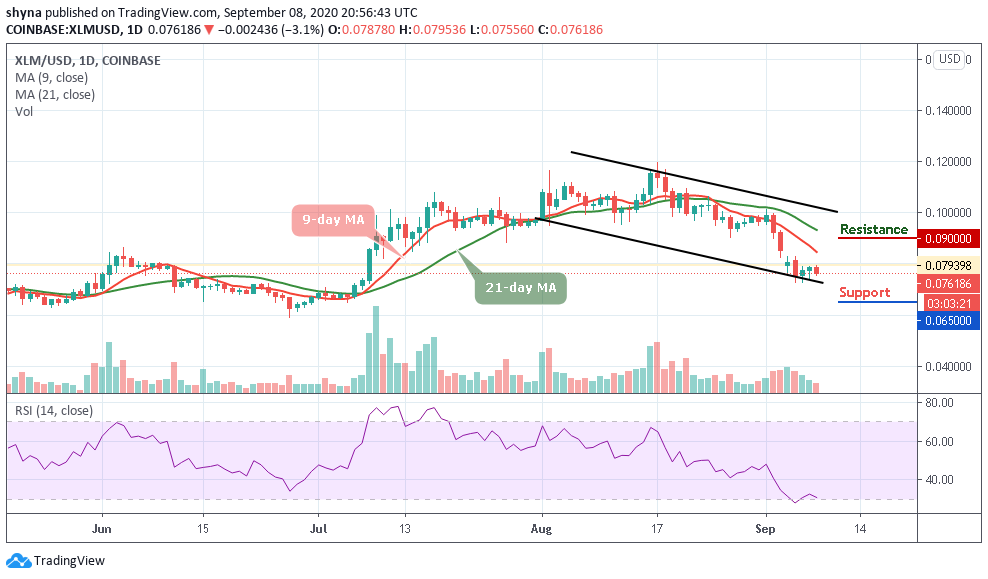 Looking at the daily chart, XLM/USD continues to maintain a downward trend in the long run as the coin is seen trading below the 9-day and 21-day moving averages. At the time of writing, the daily chart reveals that the coin is down with 3.1% waiting to break below the lower boundary of the channel.
What Is the Next Direction for Stellar (XLM)?
However, XLM/USD may continue to fall as long as the selling pressure remains on the market. For now, the $0.070 is serving support for the market. Moreover, Stellar is currently following a downward trend and about to cross below the lower trend line of the channel, with the surge of volatility.
Meanwhile, considering a northward movement, the amounts of $0.090, $0.095, and $0.100 could constitute resistance for the market. In other words, a continuous movement towards the south could bring the support down to $0.065, $0.060, and $0.055, while the RSI (14) prepares to enter into the oversold region.
XLM/BTC Market: Falling Below the Moving Averages



Against Bitcoin, the market price keeps falling towards the lower boundary of the channel. At the time of writing, XLM/BTC is trading within the channel at 756 SAT. Looking at the daily chart, it is very clear that the bears are dominating the market as the technical indicator confirms the movement.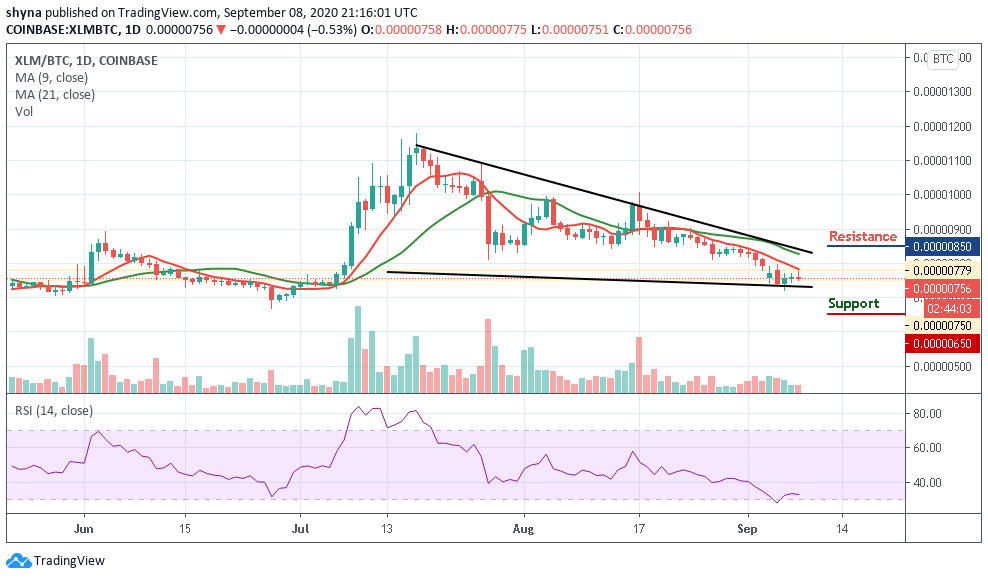 However, traders may expect a long-term surge in volatility to play out in as much, the sellers keep pushing the price to the south. From above, the nearest resistance levels to look out for are 850 SAT and 900 SAT while from below, the 650 SAT and 600 SAT may provide supports for the market.
14.00
Normal
0
false
false
false
EN-GB
X-NONE
X-NONE
/* Style Definitions */
table.MsoNormalTable
{mso-style-name:"Table Normal";
mso-tstyle-rowband-size:0;
mso-tstyle-colband-size:0;
mso-style-noshow:yes;
mso-style-priority:99;
mso-style-parent:"";
mso-padding-alt:0cm 5.4pt 0cm 5.4pt;
mso-para-margin-top:0cm;
mso-para-margin-right:0cm;
mso-para-margin-bottom:10.0pt;
mso-para-margin-left:0cm;
line-height:115%;
mso-pagination:widow-orphan;
font-size:11.0pt;
font-family:"Calibri","sans-serif";
mso-ascii-font-family:Calibri;
mso-ascii-theme-font:minor-latin;
mso-hansi-font-family:Calibri;
mso-hansi-theme-font:minor-latin;
mso-bidi-font-family:"Times New Roman";
mso-bidi-theme-font:minor-bidi;
mso-fareast-language:EN-US;}