On September 3, gold and silver continue heading south as platinum also joins the losing party. Failure to break out in the last few days might turn out to be adding fuel to the downside momentum for these markets. This scenario might accelerate sell-offs.
Currently, gold is trading sideways but has somehow broken the support located at 1951/1947. Facts are now clear: gold appears unable to rally and it has already accounted for the Fed's money printing. Please note that markets normally price in most of the information available before it ever hits the tape.
In that case, the entire world knew what the Fed was going to do; gold exploded massively and it is now falling. This is one of the major reasons that when a trader tries to trade news, they lose. Silver has also formed the same pattern as gold and it failed to break some resistances. Now, it appears to be heading much lower.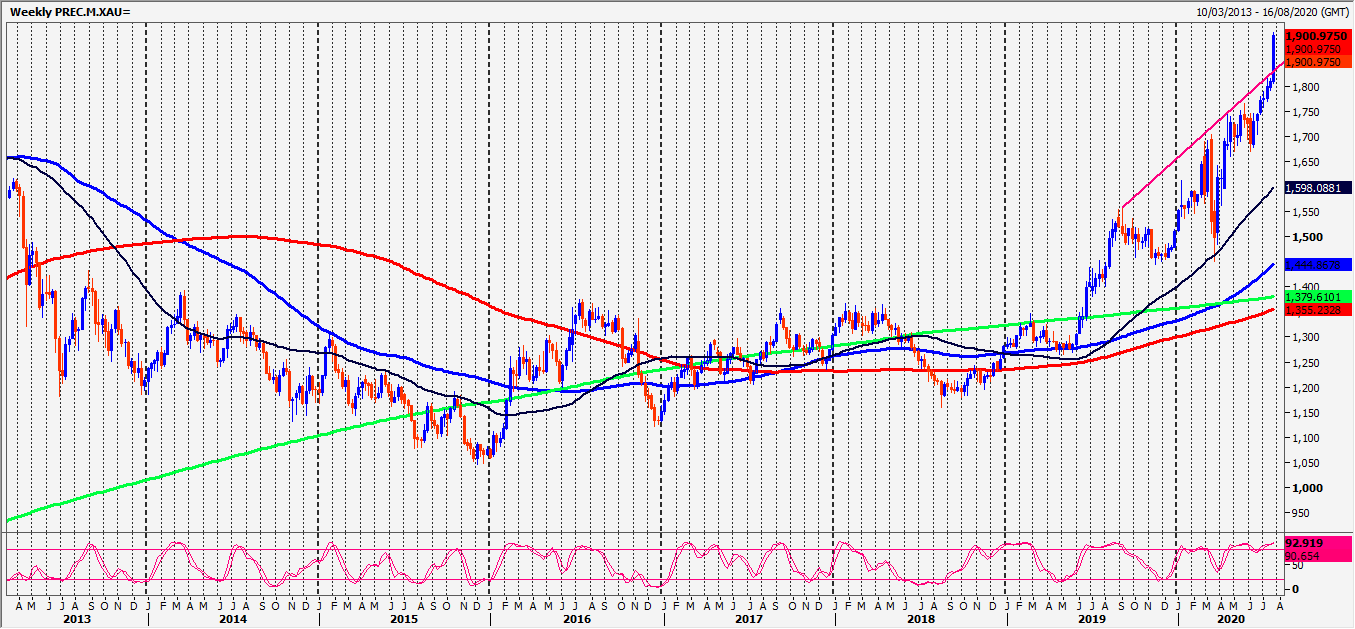 Platinum is now starting its downtrend, breaking down on September 2 and created a sell signal today. It is advisable to follow the trends and trade mechanical based on a proprietary algorithm. Traders who come into the market with opinions lose money trying to time or beat the market.
Always follow the rules and market trends since they are most of the time right. Nonetheless, you can catch big trends and make huge profits which is what trading is all about. The price action is what matters if you want to trade in the long-term.
The Driving Forces
Gold futures were seen to head lower for a second straight day as the US dollar recovered more ground. The recovery by the currency has put some pressure on bullion's recent climb. Nevertheless, increasing expectations for a vaccine or effective remedies against the coronavirus pandemic also have weighed considerably on the precious metal's pricing recently.
Bullion was boosted by economic uncertainty that came about due to the health crisis. Also, the extremely large monetary efforts implemented by central banks to mitigate the effect on business activity across the world. But, a cure for the deadly virus may dislodge gold from its bullish momentum. Stephen Innes, the chief global markets strategist at AxiCorp, wrote:
"If a vaccine is imminent, it is safe to assume that central bankers will take their foot off the policy accelerator. The market may start re-balancing from gold to equities in the short term; this could be something to keep an eye on."
December gold was trading at around $3.80, or 0.2%, lower at $1,940.90 per ounce after it lost another 1.7% on September 2. On its part, the December silver contract was going 7 cents, or 0.2% lower, at $27.33. The drop followed its 4.4% plunge in the previous session.
In the meantime, the dollar was up by 0.2% early Thursday as determined by the ICE U.S. Dollar Index DXY, -0.02%. The index is a measure of the dollar's strength against six other currencies. After plunging to a two-year low, this index has gained about 0.7% so far this week. The gain puts it on track for its best weekly gain since April 25 as recorded by FactSet data.
A stronger dollar will make the cost of assets pegged to the currency somewhat more expensive to the overseas buyers.
Technical Analysis
Longs stopped below $1,942 for a short term sell signal that targets 1937 and 1931 which was missed by just one point yesterday.  The short term sell signals also target as far as 1-month trend line support at 1924/22. You can try longs with stops below $1,918.
The gold markets topped exactly at resistance at 1950/60 overnight. Any break above $1,970 would be more positive aiming for the $1,980 zone. If it surpasses that level; it may head towards the 2-week trend line resistance at 1987/89.
Silver hit the best buying opportunity for today hovering at 27.25/15. Experts say that you should try longs with stops below $27.05. A break lower that region is a sell signal that targets $26.50/40. The longs at $27.25/15 target $27.60/70. Above the $27.80 zone, the market targets $28.10 and may rise as far as $28.30.
If silver continues higher, the $28.45/50 range comes into focus before the recent resistance encountered at $28.83/88.