Hedera is described as a decentralized public network that customizes the digital world in unique ways. It enhances the blockchain experience for developers since it lets them produce fast, fair, and secure applications.
Chief Scientist Mande Harmon and Dr. Leemon Baird are the people who invented Hedera Hashgraph. They reportedly developed this groundbreaking invention through their experiences and expertise that they acquired from the US Air Force Academy, Trio Security, Swirlds, and BlueWave Security.
Hedera is designed to use Hashgraph. It is a better DLT (Distributed Ledger Technology) alternative when compared to the traditional blockchain DLT. Thus, it is suitable for high scale and mainstream use. The platform enables users to interact and transact online efficiently and securely.  It does not involve any third-party intermediaries that may compromise the sensitive information provided by the user.
Difference between Hedera Hashgraph and Blockchain
In the case of blockchain, it is incapable of handling the degree of scaling needed by the mainstream markets. Most of the large scale systems need to have the capacity to facilitate hundreds of thousands of transactions within every second. However, the existing blockchain networks have no sufficient infrastructures to carry out such duties.
On its part, Hedera's network can support up to 10,000 transactions per second using the most secure and efficient methods. Hashgraph is believed to be Asynchronous Byzantine Fault Tolerant (ABTF), unlike all the other blockchain consensus mechanisms. Therefore, it is extremely secure from attacks such as DDoS and Sybil.
Hedera is convinced that the consensus mechanism possessed by the other DLTs is insufficient in the provision of these security measures. Moreover, many public blockchains have minimal or no technical controls to make important decisions. That could result in challenges if something goes wrong with the system.
Most users also think that public DLT systems must be operated by highly regarded representatives from various sectors. Nonetheless, in Hedera, there is a definite governance structure that is responsible for reviewing types of alterations of the platform codebase. The governance structure is also responsible for electing the board managers and maintaining power equilibrium in the system's corporation.
Hedera is convinced that strong security and effective governance is essential in the sustenance of a stable system. The Hedera Hashgraph strives to offer a stable, efficient, and trustworthy platform for use by the enterprise-grade applications. It is not meant to serve as a cryptocurrency. Nonetheless, just like all the other DLTs, a crypto token is important for the network to function.
What is HBAR?
That is the native crypto for the Hedera platform. It is designed to serve two functions in the network: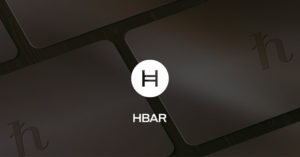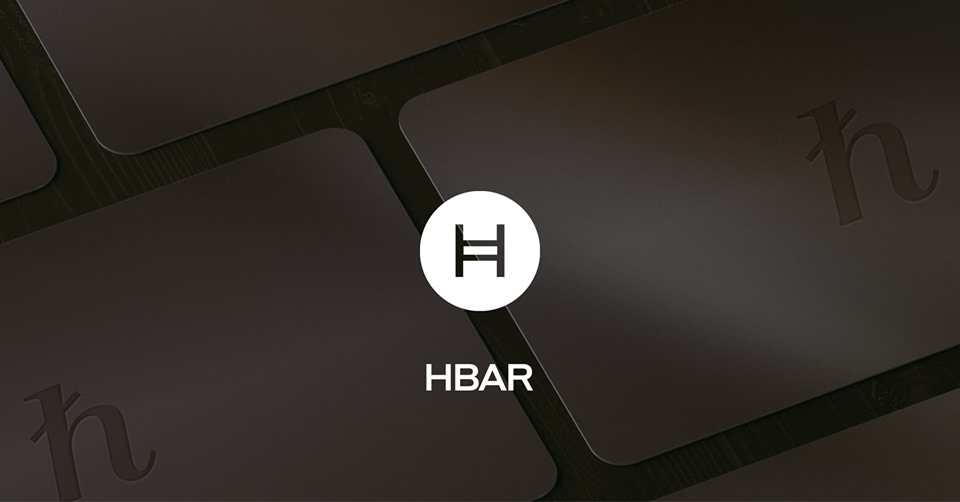 It is designed for Network Protection: All the Hedera proof-of-stake public networks use HBAR tokens that are staked to network nodes. They operate in a bod to weigh network votes on transactions whenever reaching a consensus.
It is also a Network Fuel that is used by developers to pay for network-related services. Some of these services include file storage and smart contract operation. HBAR is also used by developers for exchanging cryptocurrency. For each transaction completed on the network, the HBAR tokens are used to pay and incentivize network nodes. Developers can also use these tokens by integrating them into applications to create micropayments and peer-to-peer payments business models.
Weighed network voting using the HBAR tokens make it quite expensive and hard for the bad and malicious actors to manipulate consensus.
Advantages of Using HBAR Tokens
There are several advantages associated with using these tokens.
The finality of these transactions is done in seconds. All Hedera's HBAR transactions attain finality on the transactions within three to five seconds as compared to the Ethereum and Bitcoin platforms that take thirty to fifty seconds and one minute respectively.
Low Fees: Hedera's Hashgraph consensus is quite lightweight which makes the cost of every BAR transaction to be significantly small around $0.0001 U.S. Dollar. The low transaction cost combined with a high throughput makes the HBAR micropayments a reality.
The outstanding throughput is another advantage associated with the Hedera network which can support 10,000 HBAR token transactions in a second. These transactions are facilitated in a shard and on-ledger without compromising the stability and security of the network.
HBAR Economics
The Hedera treasury launched the distribution of the HBAR tokens on September 18, 2019. Reports revealed that the first 379 million tokens are reserved for the investors that participated in the three-round $124 million capital raise. This capital raise took place between March and August 2018.
Furthermore, $1.95 million worth of tokens were allocated for being distributed among vendors, advisors, and other participants. The remaining 50 billion HBAR tokens are scheduled for release in the next 15 years by the Network's Governing Council.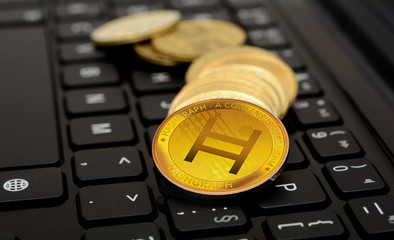 This 15-year token release period will guarantee total protection of the Hedera proof-of-stake public network. According to the developers, this wide distribution of the HBAR tokens will enable Hedera to achieve its set vision of 'maximum decentralization at scale.'
The HBAR token is expected to be listed for trading on 12 crypto exchanges that include Upbit, GSR, Bittrex, OKEx, AlgoZ, Bering Waters, Liquid, BitOda, OKCoin, xFeatures, Galaxy Digital, and OSL. It has also been already listed for trading via over-the-counter (OTC) desks.
HBAR Proxy Staking
Developers and end-users can purchase HBAR tokens from third-party companies and platforms. Some of these third parties include exchanges and several other transactional bodies that have chosen to get integrated into the ecosystem. Once a user gets these tokens, they can use them to pay for goods and services and also pay their application transaction fees.
The user can also proxy stake the token to a Hedera network node. Proxy staking is a feature that is yet to be released but when functional it will ensure the sustenance of the security and integrity of Hedera's network operations. Simultaneously, it will provide the proxy stakes with a small segment of the transaction fees.
Hedera Governing Council
Hedera operates a governing ecosystem that is referred to as the 'Governing Council'. The Council comprises of recognized entities like TATA Communications, IBM, Nomura, FIS, Deutsche Telekom, Boeing, Swirlds, DLA paper, Magulu, and Swisscom Blockchain.
This Governing Council is created in a manner to sustain a reliable rotating council of roughly 39 enterprises that are handpicked from various geographies and industries. The primary purpose of this system is to maintain power equilibrium always.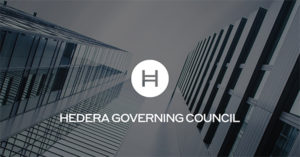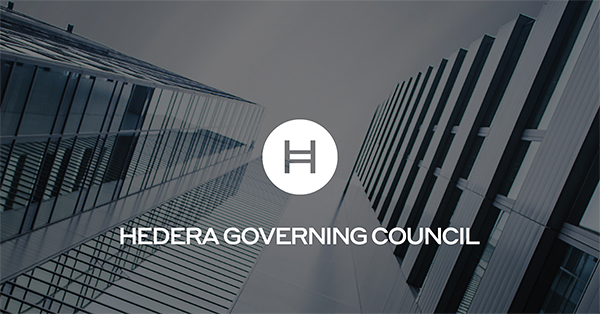 The Council has the following functionalities:
It is expected that many public nodes will join the Hedera network to support and enhance its decentralized consensus and growth. The Council sets up the initial network nodes on the underlying public network after extensive screening is done.
The members who make up this Hedera Governing Council share equal votes and are actively involved in determining the direction taken by the codebase software. They vote for thousands of public nodes and the platforms' codebase.
Every member of this Governing Council is entitled to a 3-year maximum term and can only have a total of 2 successive terms. They also have equal voting power on the network and platform decisions. However, Swirlds Corporation has a different term since it is the creator of the Hashgraph algorithm. It has a permanent seat and an equal vote in the council.
The Hashgraph consensus algorithm is proprietary featuring an open review code. This network together with its native crypto has a no-fork warranty. This strategy and ecosystem sustain the stability of development for application builders and guarantee long-term confidence in the Hedera network.
The Hedera network is designed to maintain decentralization by separating governance from consensus. It is perfectly designed in a manner that guarantees that the Governing Council maintains a competent nature always.
The Governing Council is tasked with the responsibility to give directions to the platform and also the public network node codebase. The council manages treasury to guarantee network safety. It also controls mutability to address all data and legal compliance and offers legal requirements aimed at serving global markets.