Notice
: Trying to get property 'child' of non-object in
/var/www/html/cryptovibes.com/wp-content/themes/jnews/class/ContentTag.php
on line
45
Bitcoin was invented in 2009 and within a decade it has become the most popular and largest cryptocurrency. The decentralized token is traded virtually meaning that there is no government or bank that controls how it is used or even its value. Despite its popularity, a Rutgers professor discussed the ethical cost of cryptos and the impact it poses to the real world.
A visiting assistant professor at the University who is also a fellow at the Rutgers Business School Institute of Ethical Leadership, Tobey Karen Scharding, stated that Bitcoin is a 'token of value.' She also added that it differs from other currencies due to the criteria used to give its value.
Tobey first became interested in the cryptocurrency topic due to its ethical concerns and became fascinated by its happening instantaneously in real time. The controversy that dogs Bitcoin's value is dependent on whether it is a "fiat" currency meaning that its value thrives only on general consensus. Bitcoin and other cryptos can be considered a fiat currency since people agree that it has value.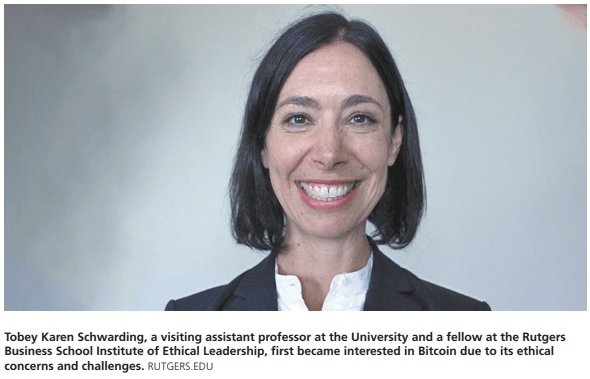 Bitcoin Will Not Succeed
The agreement that the crypto has value is a label meant to legitimize BTC although it may not technically be true. Scharding said that the U.S. dollar is a fiat currency. However, its specific exchange value cannot be changed simply because investors changed their minds on how much it worth as it happens in the crypto world. For the value of fiat currencies to change, many different factors are involved.
The professor's focus on Bitcoin, however, is rooted in its ethical implications worldwide and within various private sectors. She wanted to know the role currency plays in improving people's lives while working optimally in a civilized society. She explained that Bitcoin advances people's lives in some ways but not entirely.
She said that bitcoin falls short of advancing lives due to its decentralized nature. Regulation by banks and governments ensures that everyone using a particular currency has full access to goods and services and the regulators also ensure that the currency will have guaranteed value always.
Scharding believes that Bitcoin will not succeed to become a nationally and globally-recognized currency since not many people are ready to abandon the guarantees and safety of a recognized currency. Cryptos do not have any recognized national establishments to support its worth. They may also devalue and undermine the widely recognized currencies.
She said that she is confused by the idea of a country globally recognizing and adapting any cryptocurrency as opposed to recognizing their currency. The professor wonders why places like Venezuela entertain that idea. Scharding believes that Bitcoin is an unethical investment since it has no actual or tangible reassurance anchor to the investors.
Also, no single individual can tell whether any cryptocurrency will have value in any way. The digital currency is unethical since it undermines the value of national fiat currencies which to some extent undermines the safeguard of millions of people.