A Northern Territory man spoke to micky.com.au that he intends to sell his house for Bitcoin. His decision comes amid the cryptocurrency's longest ever recorded bear market. Dave Kelly has put his seaside apartment in Darwin up for sale with a price tag of AU$600,000 or an equivalent in bitcoin. The amount translates into almost 127 BTC based on current prices.
Mr. Kelly said that he chose to sell his house for bitcoins since he believes that the current prices are considerably low compared to what it could rise to in the next five years. He said that he is in it for the long haul and does not intend to ride on the ups and downs of the market waves.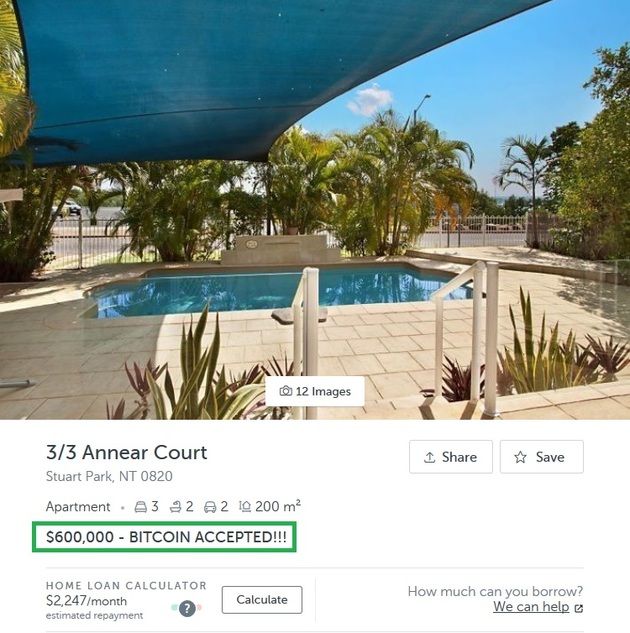 The Darwin LNG engineer became intrigued by the cryptocurrencies once he was introduced to blockchain technology. He said that the technology was described to him and immediately he saw it as an excellent futuristic idea. Clearly, Bitcoin is the first and also most successful application of the blockchain technology.
Kelly was involved in CanYa, Australia's second ever ICO, when he first bought Bitcoin in November 2017.
What if the Deal Goes Sour?
The engineer said that he is not worried about the price of Bitcoin collapsing in the days or even hours after sealing his bitcoin sale. He said that in the instance that the prices collapse, he would convert some tokens back into Australian dollars to cover the existing debts on the property.
However, Mr. Kelly stated that he is quite enthusiastic about cryptocurrencies, especially bitcoin, from a technological point of view. Although there has been no interest so far from potential bitcoin buyers, he thinks that BTC property deals are beneficial for sellers and buyers alike.
He also suggested that more vendors should consider various bitcoin sales which would eventually enable bitcoin to break into the mainstream global financial systems. The application and use of BTC is beneficial since no middleman is involved.
Mr. Kelly's apartment is among a list that currently shows Australian properties for sale in which vendors seek partial or full payments in cryptocurrencies.
OR

Follow

us: