Currently, the entire cryptocurrency market is gradually sliding as the crypto winter keeps on throwing 'frostbites' to the digital currencies. Some are faring better than others. One of the few tokens that is gaining in the dominantly red markets is Waves. The tokens price rose after the CEO announced that the Waves Multi-node will start running operating on the Microsoft Azure Cloud.
Waves stepped up integration with Azure making its Smart Account and Smart Asset functionality available to all developers on the cloud platform. They also have a special extension for the Visual Studio Code that considerably simplifies the procedure of writing and operating smart contracts for developers. Thus, they can work in complete integration with the Microsoft Azure cloud.
Two new virtual machine templates in the Azure platform can be used for setting up brand new alternatives on a private or public blockchain. Sasha Ivanov explained that the non-Turing complete smart contracts from Waves provide enhanced protection and security from vulnerabilities that arise due to the option of limiting functionality to get rid of undesirable use.
We start cooperating with #Microsoft ! $Waves Multi-node is in #Azure, in a couple clicks you can launch your private Waves network with non-turing complete smart contracts and fastest transactions. More to come! https://t.co/6SIYP8n8tC

— Sasha Ivanov (@sasha35625) January 29, 2019
The founder is confident that all users will greatly appreciate the plethora of possibilities and opportunities that the integration opens up for them. Konstantin Goldstein believes that supporting open-source platforms and facilitating the extensive availability of modern technological equipment for the developer community is quite crucial.
Waves Company is a world leader in the blockchain platforms space that offers considerable support to the development of an ecosystem for worldwide decentralized solutions. The Platform was deployed in Azure cloud in 2017.
The functionality and operability of the Waves' smart accounts and smart assets are applicable in several use cases. Some of the places where the technology is implemented in the real world include filing accounting reports, verification of documentation, game development, supply chain management, and organization of internal transactions.
Over 10% Gains
The announcement of this integration was greeted with positivity in the markets with the Waves rising by over 10% despite the ongoing 'bloodbath'. The asset currently trading at $2.91, according to coinmarketcap.com.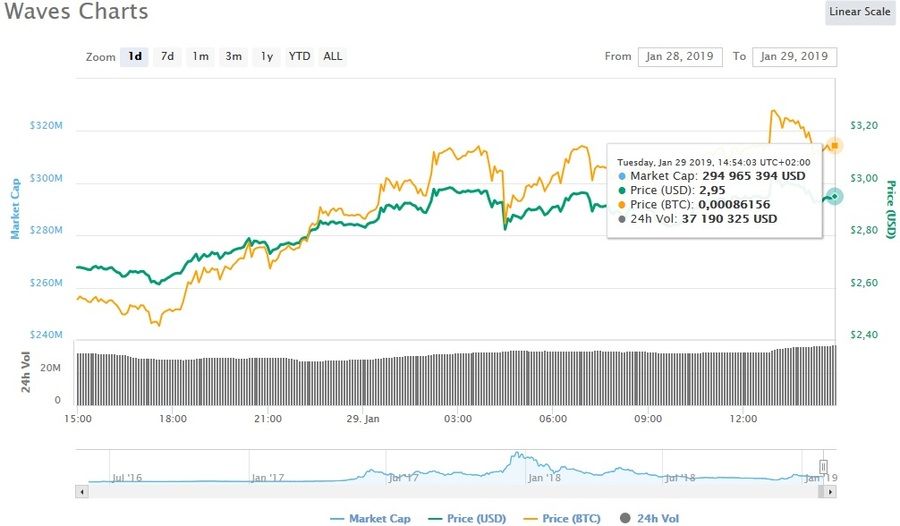 Follow us on 

Facebook

 , 

Twitter

 and 

Telegram