2018 was majorly a bears' season of mauling the bulls. Investors, traders, and analysts thought that 2019 would start off will a Bull Run to take the markets back on to the right upward trend. That has so far not been the case with the crypto winter threatening to extend into 'Spring' with the markets remaining undecided of which direction to take.
Decentralized exchanges have not been spared from this bloodbath. They have now hit an all-time low with regards to the US dollar traded value. Also, the Ether transaction on-chain exchanges have suffered extensively. Several crypto-related businesses have closed down due to dwindling profits and surging losses. Others have turned to cost-cutting resulting in many individuals losing their jobs.
Also, in the case of unique addresses, traders are weary for the lack of data clarity and their number has also plummeted to a new low with all major exchanges enhancing their efforts to go on-chain.
Although Ether on-chain volumes are flirting with a new high, it has not come on the back of the decentralized exchanges (DEX) users. Since June 2017 after DEX appeared online, a cumulative $8.9Bn has been traded on-chain. 2018 accounted for a majority of that amount reaching over $7.1Bn.
How low can it Plunge?
The DEX volumes have dropped to a new all-time low of around $49Mn for the month of January – to-date. That amount is less than a tenth of what the biggest centralized exchange Binance trades solely on a daily basis. With regards to Ether, January 2019 is a mere third of the volumes traded on Ethereum DEXs in January 2018.
The peaks were reached in May 2018 when over 2.3Mn ETH was traded. Currently, the volume is down to 400K.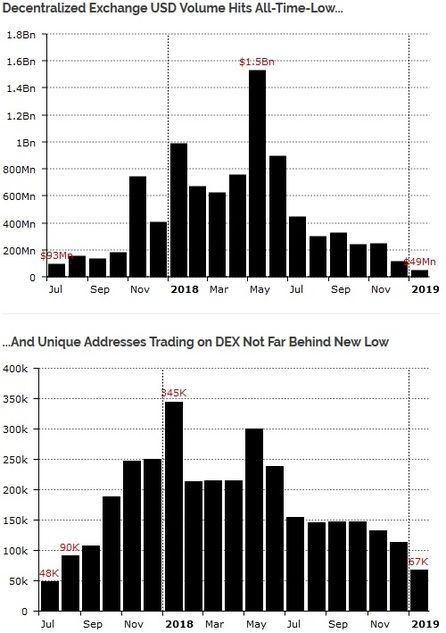 Will there be Demand?
Most of the major exchanges have all shown some considerable interest in pursuing the DEX model. Binance has already published a short demo of their platform. Bithumb's DEX and OKEx's Open Ledger DEX have already been launched. Coinbase acquired Paradex in 2018.
However, none of these major exchanges have managed to woo traders in any considerable regard in spite of the allure of near low and in some cases no fees at all. This below-par adoption rate is set to continue with the current slow user experience infrastructure that demands deposit, transaction and withdrawal gas fees even though they are quite low.
---
YOU MAY LIKE: A History of the Bitcoin Plunges
---
Follow us on 

Facebook

 , 

Twitter

 and 

Telegram