Highlights:
Litecoin's still running a correction. As its Dollar market maintains a side-way trend, the Bitcoin market forms a bullish move. The next direction is however uncertain.
LTC-USD Market
Resistance levels: $33, $35, $38
Support levels: $30, $27, $25
Climbing to $41 in early this month, Litecoin fell to $30 as a result of enormous sell-off which positioned market in a decline. Ever since, the trend is following a side-way style; ranging between $30 and $33. This is quite revealing on the Stochastic RSI as the range market waves up and down; showing the candles formation to be non-volatile. The selling pressure nears the oversold region.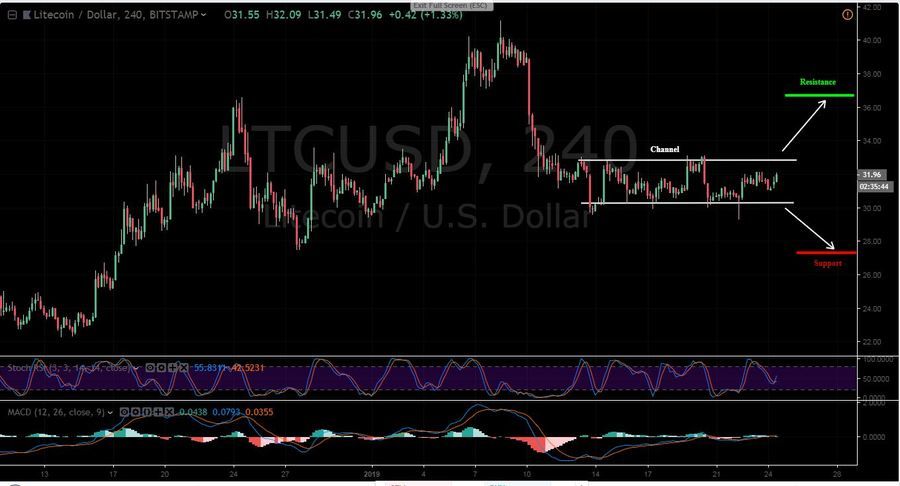 But looking at the channel, obviously, this pair is experiencing a low trading volume as the session is inactive. As it appears now, the price is at equilibrium. The next movement is likely to witness a break upward or downward.
Today's opening was low on the 4 hours MACD as trade currently lies at the zero line; waiting for the next direction. Driving above the zero line lies $35 resistance level and below it is $27 support.
LTC-BTC Market
Following the decline from 0.0001 BTC for over two weeks, it seems the correction has ended. But at this moment, it would be too early to conclude as the bullish signal is yet to be confirmed. The price bars are beginning to build high after touching 0.000084 BTC support. However, until Litecoin trends above 0.000096 BTC resistance level before it is considered as an uptrend. For now, the moves remain unclear.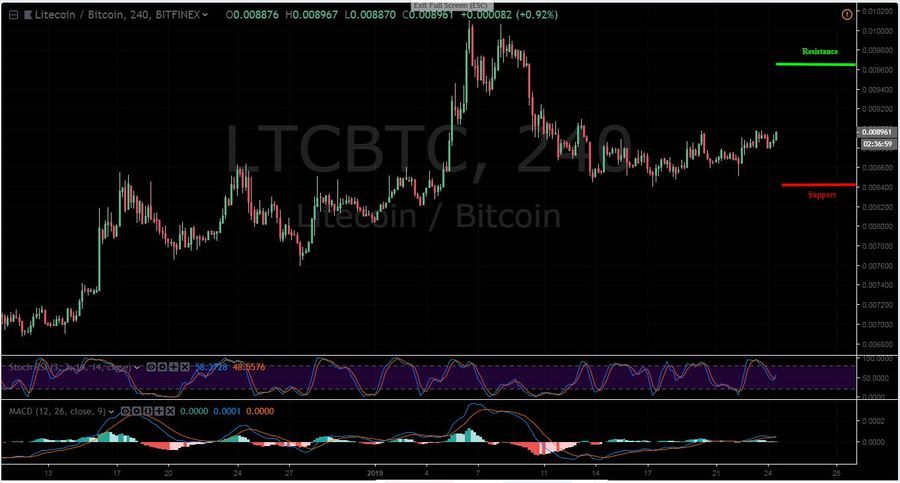 On the MACD, the price just crossed to the positive level. A sign of potential incline which might last to the next resistance level. A low bounce might send it back to 0.000084 BTC.
The Stochastic RSI point upward, showing the ongoing buying pressure. The buyers aim 0.000096 BTC resistance. Testing this resistance, 0.0001 BTC would be the next target. Buf if they fail to increase this ongoing pressure, the bear won't hesitate to take price lower to next support.




---
Please note: Cryptovibes.com is not a financial advisor. Do your own research before investing in any financial asset. We are not responsible for your investing results.
Follow us on 

Facebook

 , 

Twitter

 and 

Telegram