Cryptovibes team carried out reader survey for 3 days with a question what Bitcoin price will be on December 31, 2018, and today we share the results what our reader think.
The survey should preliminarily reflect the overall market opinion but should not be accepted as financial advice or investment suggestion. Every investor should do his own research before investing in any financial asset.
Over $4500 or below $4500? 154 opinions
154 reader attended the poll and expressed their opinions regarding the Bitcoin price on December 31, 2018, and the results are calculated below.
101 reader (65,58%) think the Bitcoin price will be over $4500 at the end of the year while 53 readers (34.42%) are less positive and claims Bitcoin price will be below $4500.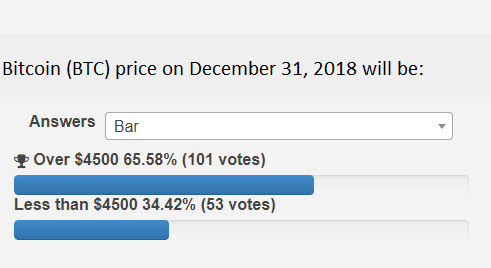 As we see, there is no unanimous opinion, however, there's no any hype visible also. The figures show a fairly high level of caution, attention, and vigilance on the part of readers which means that people are more responsible for market participation. It might indicate market maturity.
Thanks to everyone who expressed their opinion.


Follow us on 

Facebook

 , 

Twitter

 and 

Telegram