Panic? Might be and might be not. While bitcoin[crypto coins="BTC" type="text" show="percent"] plunges to under $5700 all cryptocurrency market follow. All top 10 coins are in 10-15% loss (except Tether[crypto coins="USDT" type="text" show="percent"], of course) bringing negative sentiments for beginners and giving some new hopes for more experienced traders. Let me explain.
In a current situation, when no negative news appeared regarding cryptocurrency news but cryptomarkets still plunges, there are two simple answers for those who urge to know "what's next?".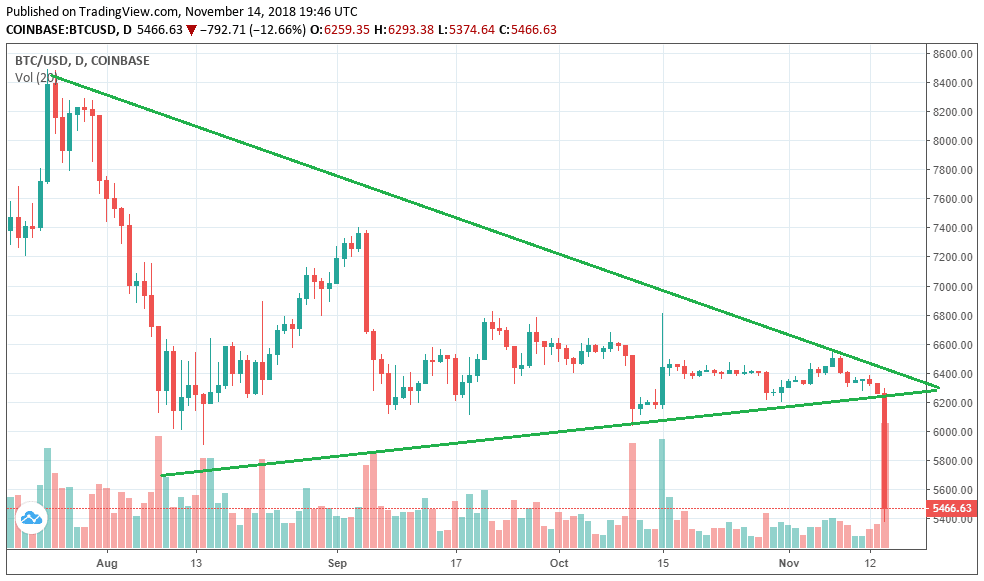 Two simple scenarios
One of the most experienced traders in Lithuania indicates that at a current stage there are two possibly the most realistic scenarios which bitcoin[crypto coins="BTC" type="text" show="percent"] might follow and suggests to restrain from opening new positions for a while.
Scenario #1: The sellers has broken important support levels and the price will move down to the next support.
Scenario #2: Smart traders spilled out all "unnecessary" long positions, bought cheaply, and now the rise might follow soon.
Bakkt Tweet as a cherry on "bloodbath"
Coincidence? ICE, the creator of Bakkt tweeted this recently:
ICE:
/īs/
proper noun
short for Intercontinental Exchange

5. The ICE with a new digital asset company: @Bakkt

— ICE (@ICE_Markets) November 14, 2018

And there was one comment who of course might not be true and subjective, but yet makes you think twice:
Learn about the history of ICE, NYSE, CME, Eurex, LIFFE (showing my age). Their clients are the ones that pushed the prices down! Extremely sophisticated but very predictable. HODL now, retire in 2025.

— N Gordon (@NofVegas) November 14, 2018
However, no one can really say what comes next we suggest considering not to open new positions while chaos in the cryptomarkets takes place. Stay safe.
---
Please note: Cryptovibes.com does not endorse any decisions and is not a financial advisor. Readers should do their own research before investing funds in any financial asset. We are not responsible for any profit/loss your decisions might lead to.