Today Lithuanian tech company carVertical presented carVertical.CITY, a platform which will step by step bring the IoT benefits from futuristic articles to real life, starting with a global unified solution for automatic car parking.
carVertical.CITY automatically starts counting time when you park a car in the paid zone. What is even more important, it automatically stops the timer when you drive away, so you don't waste a penny.
The platform is the result of successfully completed ICO in January. Now the team is already presenting an app which someday should become an irreplaceable tool for millions of drivers around the globe. Users will be able to download carVertical.CITY app on AppStore and Google Play, which soon will be available.
A cute combination
Company combines OBD features, GPS and IOTA Tangle to Revolutionize Car Parking.
We created a cute combination of #OBD, #GPS and #IOTA #Tangle possibilities, then gave it a name. Meet https://t.co/0z76guiRML, a platform which will bring #iot benefits to the real life, starting with an automatic car parking. Watch the video and more: https://t.co/Qe9tJuen8j pic.twitter.com/zM7z1W9eaF

— carVertical (@carVertical_com) November 7, 2018
How it works
A driver needs only to install carVertical OBD device in the car and download carVertical.CITY app. All the hard work is done by the carVertical team, contributing with IOTA distributed ledger and GPSWOX, the provider of global GPS tracking solutions.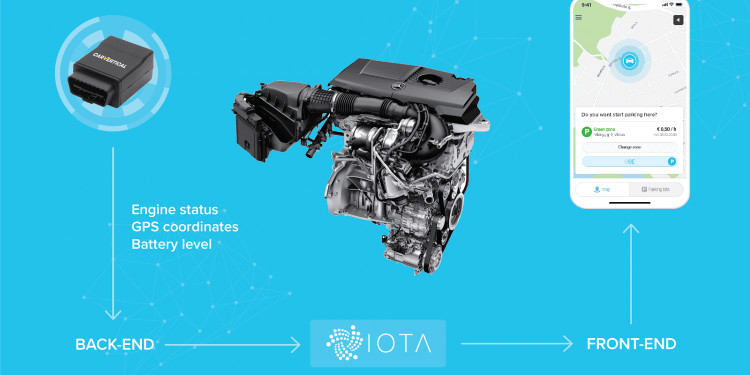 An OBD device tracks your car and processes data to the IOTA Tangle. When your vehicle is riding, it's being constantly checked via GPS. Coordinates, engine status, and battery level are stored as an IOTA transaction.
If the vehicle stops in the paid parking zone, carVertical.CITY automatically records parking start time and price in the zone. When you drive away, an app autonomously makes a new IOTA transaction pointing that your parking is finished and defining the services cost.
Now demonstrated platform was mainly tested with already existing hardware. Simultaneously, the team also developed its own OBD device. Furthermore, the team strives to make carVertical.CITY compatible with every OBD device in the world.
IOTA as a payment will be accepted also
"The primary payment method in carVertical.CITY app is CV token. But we've also added support for MIOTA cryptocurrency as IOTA is a backbone of our IoT infrastructure,"
points out A. Kučinskas.
To conclude
"In the future carVertical.CITY platform could potentially allow you to pay for everything that has GPS coordinates: not only public and private parking lots, but also toll roads, city congestion fees, etc.,"
lists the tech visionary of the project A. Kučinskas.
Among other upcoming app features, carVertical IoT team is now even discussing a unified payment for EV charging. For full and detailed explanation visit official announcement here.
IOTA is living its moment?
It appears that IOTA starts to be widely adopted and this is obvious as more than 600 corporations have shown interest in utilizing IOTA in the Last 12 Months.
Image via https://www.carvertical.com