Cryptocurrency markets appears notgoing anywhere, except few altcoins which seems to be on a specific rallies. Even Bitcoin is not volatile anymore, actually, it is more stable than S&P 500.
While top traders and cryptocurrency fanatics believe that Bitcoin tidal wave is coming skeptics keep shouting about bitcoin going to under $5000 or even $2000.
However, usage of blockchains and making crypto transactions are active ever since the market crash started in February 2018 and is only being adopted by a wider number of people. For the record, totally sum of over 7 billion worth of $USD was sent within the last 24h in TOP 7 cryptocurrencies only.
WAX is Currently the Worlds Most Active Blockchain
After being the number one blockchain in a number of operations within blockchain in the middle of October 2018 EOS had to give up and welcome WAX as new, the most used blockchain in the world with 4,568,676 operations on the blockchain during the last 7 days average. According to blocktivity it is 34.4% of all operations within blockchains globally. Team states that unveiling of WAX Explorer and beta Blockchain led to such result.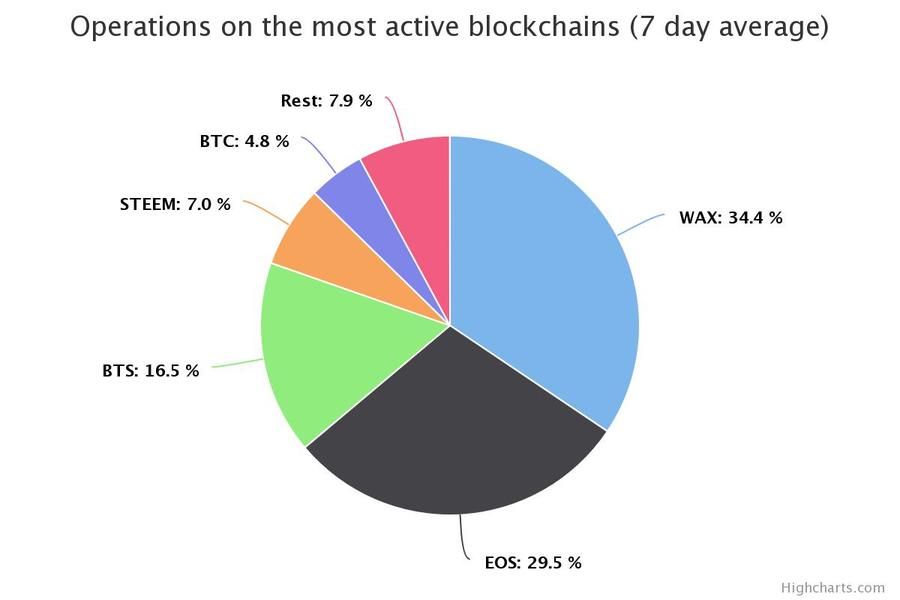 After unveiling Explorer and beta Blockchain, WAX now leads EOS, BTC, ETH in daily&7d activity.
*Data from @Blocktivity1@wax_io @block_one_ @bitshares @SteemNetwork @BTCTN @EthereumNetw @komodoplatform @kin_foundation @eth_classic @wavesplatform pic.twitter.com/BmszM261hC

— Dapp.com (@dapp_com) November 4, 2018
The TOP 10 Most Used Blockchains
The TOP 5 list doesn't change much over the time but we see in 5th place Bitcoin and Ethereum in 6th place. BitShares, of course, is doing a great job as it always stays within a top 3 most used blockchains for most of the time this year.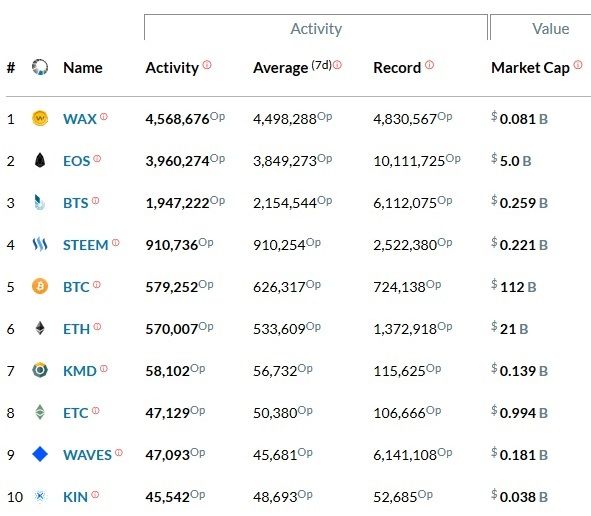 More Info About WAX
WAX is a decentralized platform that enables anyone to operate a fully functioning virtual marketplace with zero investment in security, infrastructure, or payment processing. Developed by the founders of OPSkins, the world's leading marketplace for online video game assets, WAX is designed to serve the 400+ million online players who already collect, buy and sell in-game items.
November 5, 2018: WAX (WAX) current price is $0.0880 with a marketcap of $3.86 M. Its price is 7.52% up in last 24 hours.
Image via Pixabay