One of the most oft-repeated charges against bitcoin, which is the leading digital coin, is that it is highly volatile. This is especially after the wild swings seen in 2017 and early this year. However, the situation is changing now. For instance, the S&P 500 Index is more volatile than the most valuable virtual asset. This came to the fore in the ten-day historical volatility data.
Resumes Slide
On Friday, the American stock markets have started to slide thus snapping a three-day winning streak. The reversal of events happened as concerns are growing on the trade front. For instance, Larry Kudlow, an economic adviser, declared that he is not as optimistic as once he was for a trade deal with China. He was skeptical for China, and it's trading pact even as the president, Donald Trump, wanted officials to prepare draft terms of an agreement with Xi Jinping.
The ten-day historical volatility is around 27 for the American equity benchmark whereas it is only 15.7 in respect of bitcoin. There have been renewed concerns on the escalation of a trade war between China and the United States. This has obviously made Kudlow think that he is "not as optimistic." Effectively, he has only poured cold water on Trump's move for a trade pact with China.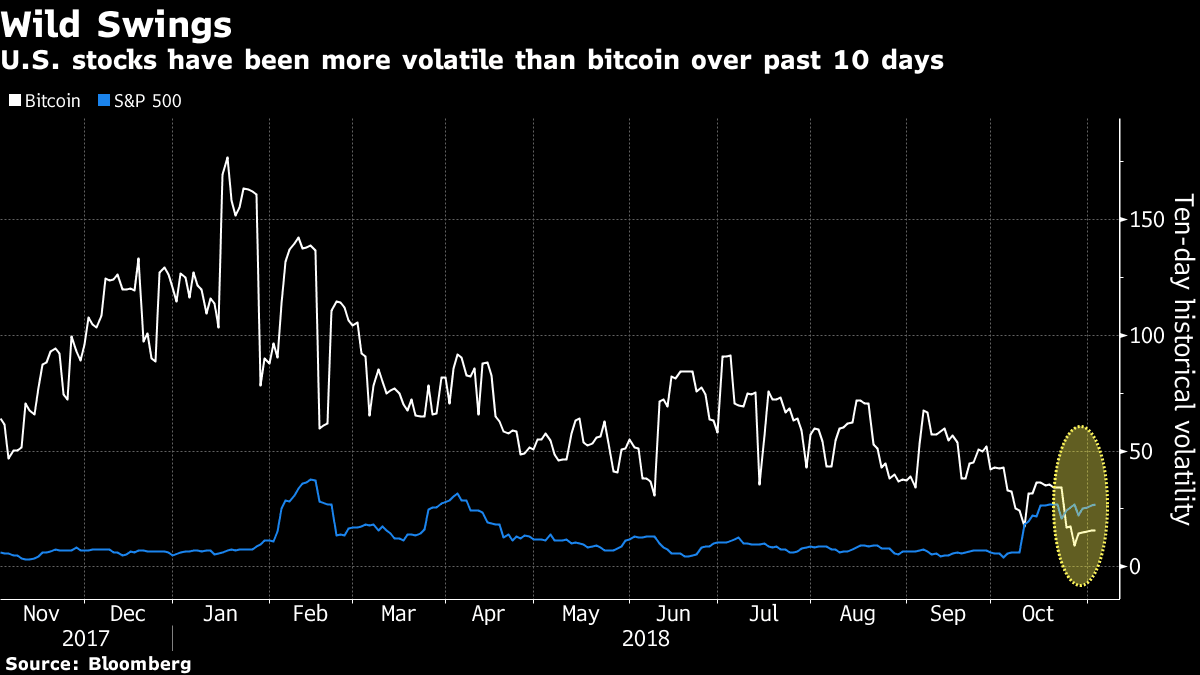 Worst Months
For the stock markets, October turned out to be one of the worst months for a variety of reasons. As a result, the NASDAQ index fell into a correction mode while the S&P 500, which is a broader indication of the equity market, has followed suit. On the other hand, the drop in prices of bitcoin was a short-lived one in October. However, it is a different issue that the digital coin price plunged over 60 percent after peaking to its lifetime high in December 2017. Aside from that, the virtual asset recorded three straight monthly drops.
Stocks remained subdued on Friday after Apple provided a disappointing outlook for the upcoming holiday season. That demonstrated weaker than predicted demand for its newly launched iPhones that are pricier. Aside from that, there are doubts about the establishment's capacity to bring trade tensions to an end anytime near the future. As far as bitcoin is concerned, there has not been much of negative news to impact its movement. At the same time, there were also no positive catalysts. However, the emerging asset class could attract attention as the equity markets are trading higher for quite some time whereas the digital coin sector remains range bound.