While cryptocurrency markets are still waiting for resurgence we are currently able to sum up the performance of the top 100 Bitcoin whales wallets balance since June 2018 until now including September. So we did calculations and here are the results.
According to bitinfocharts this is how Bitcoin whales balances performed in the last 30 days:
8 whales sold (

-45 834,46 BTC

);

14 whales increased in balance (

+109 522,94 BTC

);

78 whales balance has not changed.
And here's the important insights regarding the top 100 wallets balance since June 2018
Comparing these numbers with results in June and August there are some essential keynotes we want to underline:
FACT #1:
✓ Bitcoin Whales bought 45% more bitcoins than in June, and 20% more than in August.
THE CONCLUSION:
✓ Current levitating Bitcoin price between 6300$-6600$ suits for whales and they see it attractive.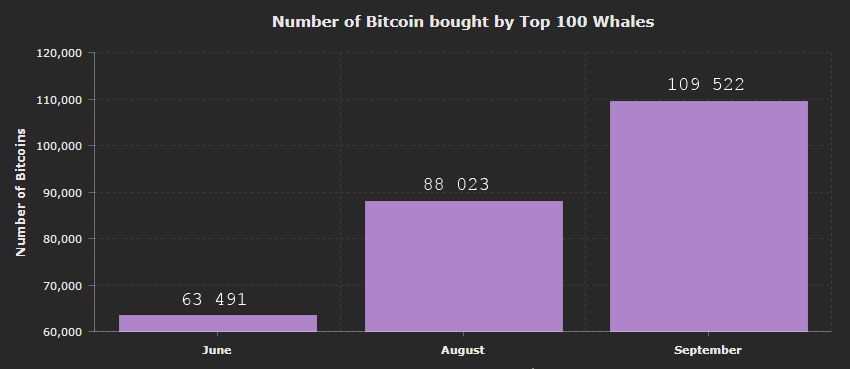 FACT #2:
✓ 92% of Whales do not consider selling their Bitcoins. In June this percentage was 94%, and in August – 93%. As we see it is kind of stable number since we started our analysis on June 2018.
THE CONCLUSION:
✓ Bitcoin Whales hold their BTC tight. They expect Bitcoin to be more worthy later.
FACT #3:
✓ Bitcoin whales keep growing their advantage in the number of Bitcoin comparing to "mortals".
THE CONCLUSION:
✓ The more whales own, the more manipulated market can be.