Bitcoins hash rate hits all-time high and is currently more that 3 times higher than in December, when Bitcoin reached its peak with a price of 19 000 USD.
There might be a lot of reasons for this event but the fact stays clear – miners will not abandon Bitcoin, vice versa, the hash rate is growing steadily all the time, so it means Bitcoin has a strong support by miners.
There was an opinion that hash rate soared because of Japanese Bitcoin mining firm GMO, which stopped mining Bitcoin Cash and moved to Bitcoin.
Why would GMO Internet switch all mining capacity to $BTC from $BCH? Only ~$37,867 for one hour 51% $BCH attack? Does DARI ratio account for block maturation times? Nov fork? What could possibly happen with this $9B testnet? Sure is fun to watch! ? ? https://t.co/2P55FNxK23 pic.twitter.com/hZLx2hDUk6

— Trace Mayer (@TraceMayer) August 24, 2018

Hashrate in December 11th, 2017 and August 30th, 2018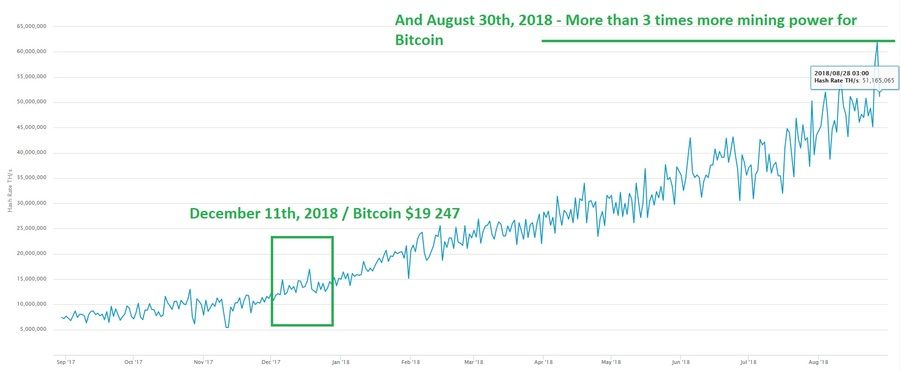 ---
---
This this is pretty significant. This is the highest hashrate we have seen ever in Bitcoins history. This means that the miners all right there. They are staying, they don't care that Bitcoin fell down to $6000. Major part of people mining Bitcoin reinvest in more mining equipment inspiring Alcoin miners consider moving to Bitcoin mining also.