---
Anticipated DGTX tokens are now live on Exrates – hits 150% up from the ICO price
Yesterday DGTX tokens were listed on Exrates.me exchange for ETH/DGTX trading pair. All Digitex ICO investors was informed about announcement to expect it on monday, May 14th.
Since start of listing trading keeps more and more active, many new Exrates accounts were created. Accumulation already have reached over 151 ETH and growing (over 110 230 USD in 17 hours).
There's also a positive indicator in price – it grows steadily. Also – there's only 20% loss in starting price, which is very good sign, as many ICO's tokens are dumped over 70% in price as fast after it is listed on any exchange. And the most important- Digitex is 150% up from the ICO price.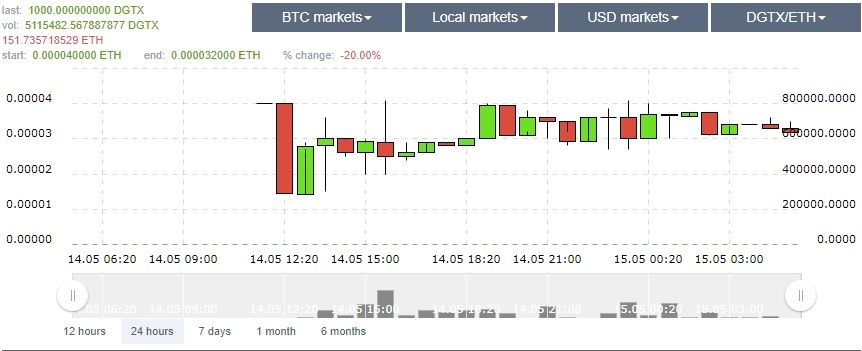 Two more exchanges coming on May 21st
Digitex Founder & CEO Adam Todd says
"We're over the moon to have DGTX listed on these exchanges. We have ETH trading pairs on Exrates already, BTC trading pairs on OOOBTC, and Radex coming on May 21st. It's all for those who want decentralized trading."



Here's Adam, CEO of Digitex sharing this great news:

 Here's what you need to know about this three exchanges
About Exrates
Exrates has a 30m dollar daily trading volume, with web, iOS and Android interfaces for easy and secure trading. Supporting multiple languages, many currencies, and 24/7 chat, Exrates offer minimum commission, maximum security and easy usability. Exrates.me.
About OOOBTC
OOOBTC operates the largest volume digital asset exchange in the world, based out of Singapore. Providing traders with reliable and quality services, they can trade any of the OOOBTC currency pairs free with ease. Through leading technology OOOBTC aims to build the largest market for digital assets ever. OOOBTC.com.
About Radex
The brand new zero fee decentralized exchange for the Ethereum ERC223 token standard. Radex is a part of Rados, a collection of services for cryptocurrency owners and traders. Our mission is to build necessary tools that make working with cryptocurrencies easy – and help with global cryptocurrency adoption as a result. Radex.ai.
---
This is not a financial advice to invest. You must do your own research before investing your money into financial assets.
---