Pump and Dump in short
Such groups are well known for 'pumping' targeted coin or token to insane/ridiculous soar in price for short period of time and squeeze it dry by 'dumping' and leaves other investors in loss. Often these in loss are naive investors in their F.O.M.O. (fear of missing out) position. It's similar effect what we have got when John McAfee was running his 'coin of the day' announcements.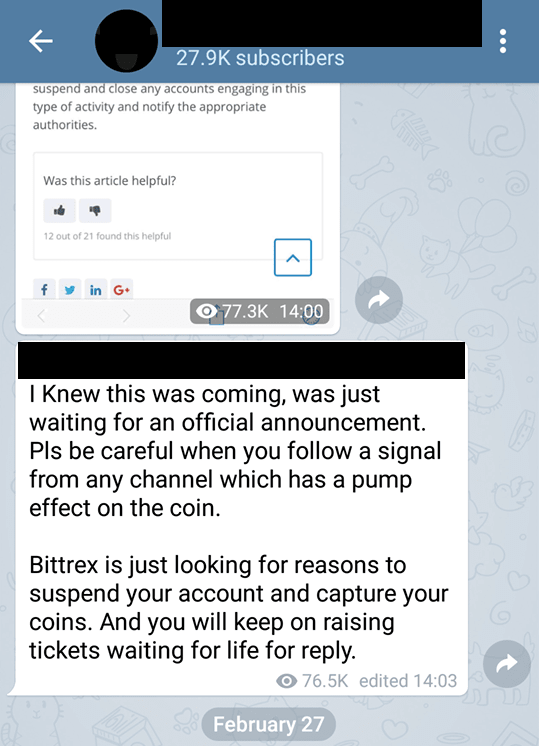 Pump and Dump is a manipulation of market by group of people who buy huge amounts at low price then releases all their influence tools (telegram channel, discord app, privame forum groups, etc.) then unawared random people buy it at high price,
hoping that coin will go to the 'moon'. This act puts nice amount of money to pockets of Pump and Dump groups members meanwhile leaving random people with high coin price but empty buy wall – it means no one needs that coin anymore.



Pump and Dump groups are becoming vendettas
Not everybody finds this as a fair trade, more and more people want to stop such scamms.
US gov is trying to stop or atleast decrease amount of activity of such manipulations offering a bounty program and some advices.
"The U.S. Commodity Futures Trading Commission (CFTC) is advising customers to avoidpump-and-dump schemes that can occur in thinly traded or new "alternative" virtual
currencies and digital coins or tokens. Customers should not purchase virtual currencies, digital coins, or tokens based on social media tips or sudden price spikes.
Thoroughly research virtual currencies, digital coins, tokens, and the companies or entities behind them in order to separate hype from facts. "
Some advices
Don't purchase digital coins or tokens because of a single tip, especially if it comes over social media.
Don't believe ads or websites that promise quick wealth by investing in certain digital coins or tokens.
Do not participate in pump-and-dump trades; market manipulation is against the law and many participants end up losing money.
There is no such thing as a guaranteed investment or trading strategy. If someone tells you there is no risk of losing money, do not invest."
Bittrex trading policy might suspend PUMP'ers accounts to avoid DUMPS
Bittrex have announced this time ago but this was never escalated too much. They are trying to cross the road for such pump-and-dump schemes. You can find this information at their support page.