Misleading or deceptive ads have no place on Facebook
January 30th Facebook regulated and banned all cryptocurrency, ICO and binary options related ads. This move was taken as a result of people losing money in scam ads on Social media. Official Facebook announcement says:
We've created a new policy that prohibits ads that promote financial products and services that are frequently associated with misleading or deceptive promotional practices, such as binary options, initial coin offerings and cryptocurrency.
Here's some examples what are bad ads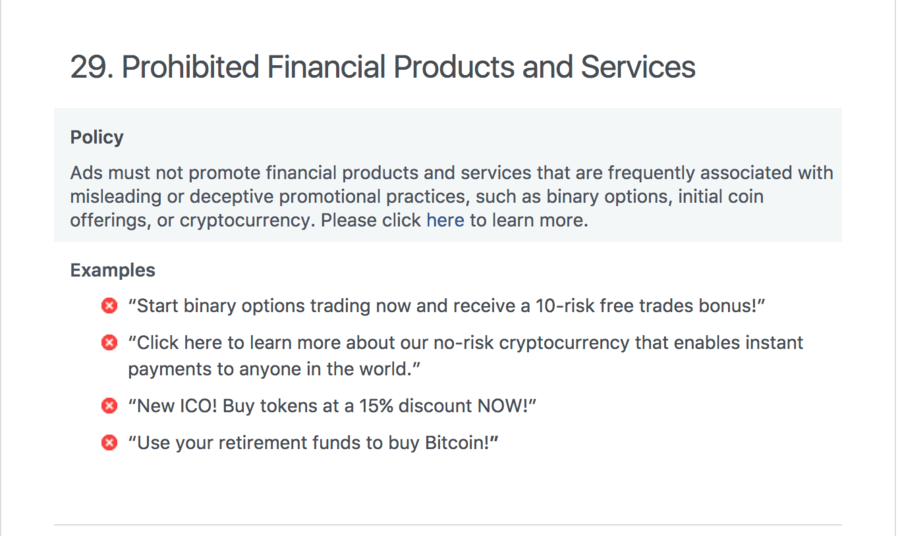 Regulation is in early stage
This policy is intentionally broad while company works to better detect deceptive and misleading advertising practices, and enforcement will begin to ramp up across all Company's platforms including Facebook, Audience Network and Instagram. Policy will be revisited and enforced as signals improve.



Facebook still may not catch every ad that should be removed under this new policy, and encourage it's community to report content that violates Advertising Policies. People can report any ad on Facebook by clicking on the upper right-hand corner of the ad.
This policy is part of an ongoing effort to improve the integrity and security of ads, and to make it harder for scammers to profit from a presence on Facebook.