Since every cryptocurrency investor is always stalking owned coins and stressed, we offer to relax and forget about it for a minute. Why? Because one Reddit user  foosty1 got bored at work wrote a really cool crypto poem.
We all know, there's ups and downs, but our decisions depend on emotion we live out that exact moment. Hope you ended better than poem author. Here's the experience of 'foosty1' in crypto poem.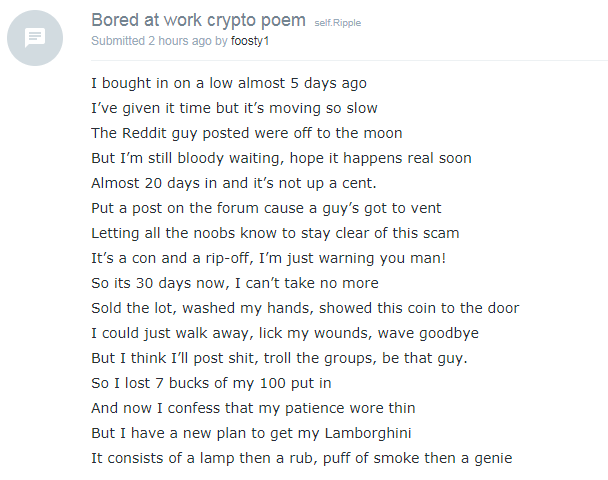 HERE's the MAIN ADVICES for being a GOOD Crypto trader:
Read A LOT, I mean A LOT. Know what you're investing in.
Know if you want to trade or if you want to invest, 2 very different ways of making money.
Don't put all your money on one asset/currency.
Margin long or sell is stressing, you WILL be stressed.
You will lose, you will win.
Have a good free margin.
Use stop loss.
Know how to read charts, but don't think that technical analysis makes everything.
Technical analysis doesn't make everything ! Check the fundamentals. If TA says BTC will be 10 000$ but big exchange gets hacked, expect a big dump.
It's better to loose 200€ than 1000€
It's better to loose 2000€ than 10000€
Don't forget : when you buy for example ETH/BTC, if you're long on ETH, it implicitely means you're short on BTC ! You wouldn't want BTC to rise if you don't want your investments go downward.
This one is controversial, I don't do it but it would have saved me time of stress: close your positions before night and close your positions before week-end if you want to enjoy it with yourself/friends/family.
Controversial too, depends on the situation: don't buy when it's green, buy when it's red. Try to not buy on top, you will regret it, but buy before it goes to the top, you'll regret it too !
Very important : Trading in crypto is WAR. You're a very little fish and whales will make the current. They will make you lose your head and sell when you shouldn't be selling.
EDIT : If you don't close your positions, you don't gain anything, you don't loose anything (but I hope for you it's going upward !)



Big thanks for HealingBoy and his wise advices.
Wish you good profits everyone!