Important Factors Traders Consider While Choosing a Cryptocurrency Exchange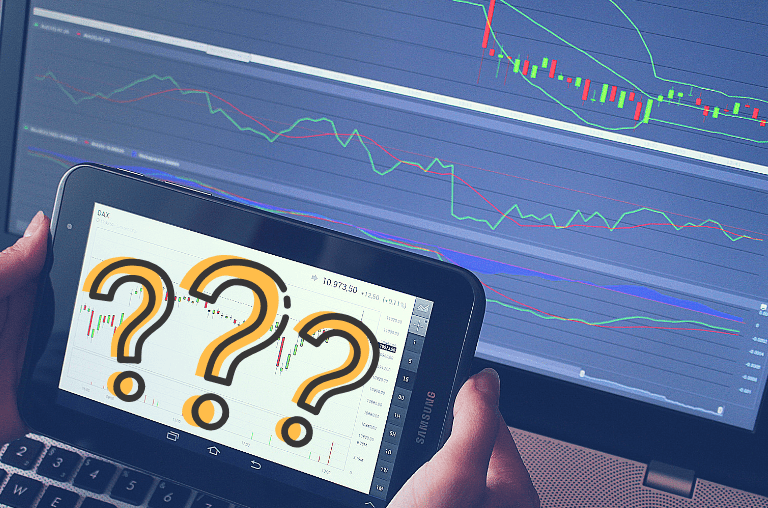 The survey included 26 cryptocurrency related questions. Full survey Q&A lays HERE. We strongly believe it will give you some useful insights about what traders has in their minds.
---
Cryptocurrency trading is now a moneymaking business for both cryptocurrency traders and the exchange providers. We do not have a track of the exact number of exchanges present in the market today, as it is increasing at an accelerated rate. Subsequently, it is getting difficult to choose an exchange.
A forthcoming exchange, "Encrybit" did not want to add up to the growing list of cryptocurrency exchanges. In fact, it is here to make a change. It closely examined the demands and expectations of traders from a cryptocurrency exchange. The survey conducted is the proof here. Team received 10,003 responses from 161 different countries. 8705 were male traders and 1298 were female traders.
The question frames as "Which is the most important factor while choosing a Cryptocurrency Exchange?" with the following options:
Security
Liquidity
Trading fees
Coin pairs
Ease of use
Customer support
All of the above
The result was not one single factor. 47% of the participants chose "All options". Thus, every key component of an exchange is important for the traders before joining it.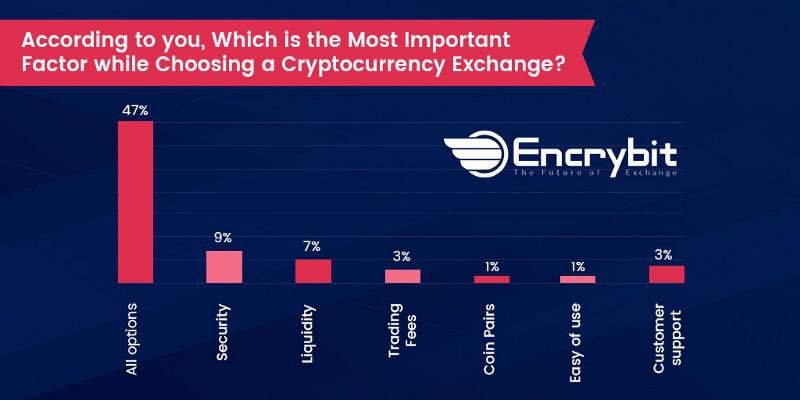 Let's get into each of these factors.
Security
Security is the most concerned factor when choosing the cryptocurrency exchange. Needless to say, the past hacks make security a more crucial factor. Moreover, a trading platform is an online platform connected to the Internet 24*7. Hence, the threat of hacking prevails as the invasion of a security wall turns out to be easy.
An exchange should be highly secured so that the traders can trust with their funds. The possibilities of hack are less for decentralized exchanges as compared to centralized exchanges. But it does exist.
Liquidity
The cryptocurrency trading is more or less buying and selling of cryptocurrencies. Buying at a good price and selling at a better price. Thus, liquidity is another vital component to look for in an exchange. It takes an adequate number of users to join the platform and make orders to maintain the liquidity.
If an exchange fails to match the buyer and seller, the traders would not be able to make the desired trade. The liquidity is low on decentralized platforms due to less number of users.
Trading fees
This is the most annoying component as the trading fees are getting higher, lowering the profit margin. Some exchanges have the maker and taker fee model whereas others have a flat rate. Moreover, these are not the only fees charged. Other miscellaneous fees like withdrawal fees, deposit fees and the like accompany it.
Therefore, if the trading fees on an exchange are higher, a trader is very less likely to join the platform.
Coin pairs
Cryptocurrency trading does require good pairs to make a striking trade. Majority of the exchanges pair the altcoins with BTC, ETH, USDT and their own token. A trader would check the coin pairs listed on an exchange to know whether they are favourable to him or not. As not all the pairs are beneficial to all the traders.
Thus, an exchange should carry out an extensive research before listing the coin pairs.
Ease of use
The user friendliness of the exchange platform is equally important as all other factors. Because even if there are great features, better security, liquidity and coin pairs but the user interface is inconvenient for a trader to use, then he/she would not continue using the platform. Some platforms possess so complex design that it requires video tutorials for an explanation.
Thus, an easy-to-use interface is must for a cryptocurrency exchange platform.
Customer support
Customer support is an inevitable factor for any cryptocurrency exchange. Despite the best of market features, if the service to customer were not up to the mark then the trader would no longer continue trading on that exchange. Cryptocurrency trading is not a child's play and a trader would not appreciate any ill-fitted or ill-timed response in the hour of need.
Thus, an exchange is liable to offer better customer support.
Final words
Each of the factor explanation above justifies clearly, that a trader will look for all the important factors/components while choosing a cryptocurrency exchange. These are indeed important for the successful trading of the digitized assets.
The survey included 26 cryptocurrency related questions. Full survey Q&A lays HERE. We strongly believe it will give you some useful insights about what traders has intheir minds.
Facebook Comments
You may be interested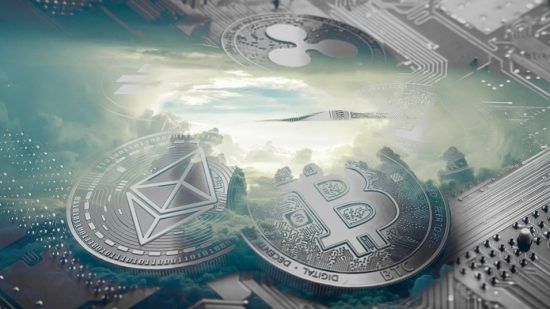 Crypto news
9 shares1,013 views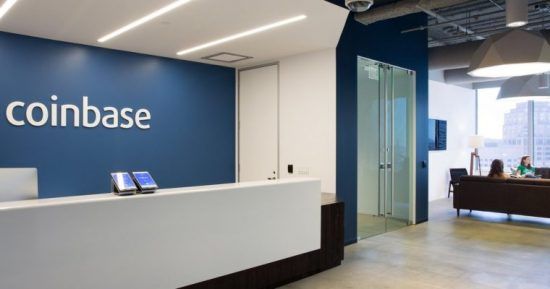 Crypto news
11 shares2,586 views
Crypto news
11 shares2,586 views
How Is Coinbase Moving Towards Complying With Regulations?
Karolis
-
September 26, 2018
In the United Kingdom, Coinbase, a digital currency exchange, is making every move towards complying with the regulations that are applicable domestically. For this purpose, the startup…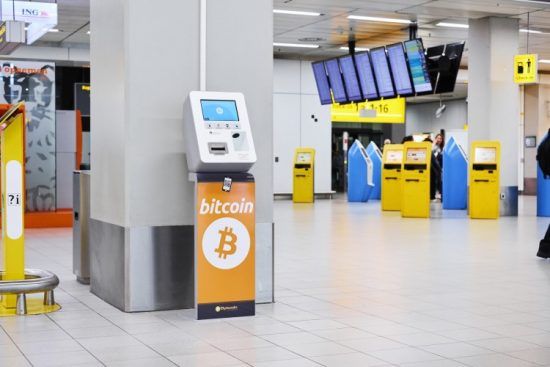 Crypto news
9 shares2,045 views
Crypto news
9 shares2,045 views
The Rise of Bitcoin ATMs in Africa
Tabassum
-
September 26, 2018
The world of the decentralized economy has no change than what we are living for so long. Yes, as soon as cryptocurrency or bitcoin emerged in early…
Most from this category