The economy expanded by 3% in 2022, surpassing some forecasts, but still falling short of China's official target for the year
China's GDP rose at its slowest pace since the mid-1970s bar the Covid-hit 2021 year, as the world's second-biggest economy struggled under strict pandemic restrictions that were abruptly abandoned late last year.
The economy expanded 3% in 2022, well shy of the 5.5% pace the government had targeted at the beginning of the year and the 8.1% registered for 2021. The actual rate though, outperformed the 2.7% predicted by the World Bank earlier this month.
Analysts will pay attention to the December quarter growth tally of 2.9%, which surpassed market forecasts of 1.8%, according to Reuters. The economy was roughly unchanged compared with the previous quarter, avoiding the 0.8% retreat experts had tipped.
The figures indicated China's GDP expanded at the slowest pace in about five decades if the 2.2% growth in the first Covid year of 2021 is excluded.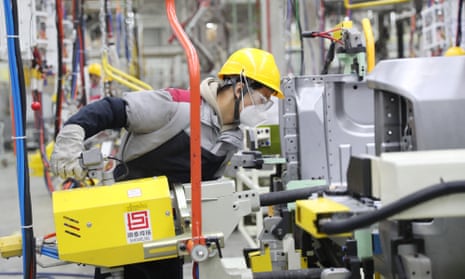 For much of the last three years, the Chinese government carried on with rolling lockdowns and mass testing under its Zero-Covid strategy to prevent the virus from spreading. It ditched the policy early in December with little warning and without making plans for vaccination campaigns or other medical measures.
Still, the policy shift has been broadly seen as likely to help drive economic growth in China in 2023 and beyond. The World Bank predicts GDP growth will quicken to 4.3% in 2023 and 5% in 2024, expectations that are now being topped by many private economists.
Uncertainties include how the rising death toll – officially 60,000 in the past month or so alone – will hit wider confidence among consumers. Supply chain disruptions as workers call in sick may dent the recovery and hurt economies reliant on Chinese imports.
The health of the giant property market will be an additional threat to economic recovery with real estate prices continuing to drop in the final months of last year. New government support packages to encourage buyers are expected in coming months.
China's growth has a huge influence on its neighbors – and countries such as Australia – with its insatiable demand for gas, iron ore, and other commodities. In the wake of the GDP release, shares in BHP, Fortesque, and Rio Tinto – Australia's three biggest iron ore miners – fell 1.1%-1.7% compared with a 0.1% drop for the broader market.
David Bassanese, chief economist for Betashares, said that while official statistics always required "to be taken with a grain of salt", the GDP figures were "much better than feared in the final months of 2022".
Retail spending and industrial production were also higher compared to market expectations in December alone, he said.
"This suggests the economy may have already begun to benefit from the partial reduction in Covid restrictions last month and is well placed to rebound even more strongly in the first few months of this year," Bassanese said.
Shares of commodity producers should profit from any acceleration of growth, he said, adding:
"It also suggests this could be a banner year for the Chinese stock market".
Some critics, though, voiced doubts about the accuracy of annual data that are released early in the new year – despite the size and complexity of the economy – and usually don't get reviewed until years later, if at all.
Bloomberg quoted Kang Yi, director of the national bureau of Statistics, as saying consumption contributed 1%, or one-third, of China's annual growth rate. Higher consumption seemed at odds, though, with the scale of the country's lockdowns last year.
Last month alone, retail sales fell 1.8%, a much better result than the 9% drop economists polled by Bloomberg had projected. After the casting aside of the zero-Covid policy, the virus spread quickly through the economy, with millions of people contracting, leaving many sick off work.
The retail figure for December "jars with the turmoil and fear reported across major cities as Covid-zero was abandoned, but the survey detail makes sense of the situation," said Elliot Clarke, Westpac's senior economist.
Services such as catering faced significant pressure as fears over the virus spread, with annual growth in the sector shrinking from a minus 8.4% annual rate in November to minus 14.1% the next month, he said.
This fall in activity was offset by precautionary purchases of medicine – which accelerated 39.8% year on year last month, from an 8.3% rate the prior month – and food spending rose to an annual pace of 10.5% last month, almost triple the 3.9% rate in November.
Capital investment contributed 1.5% of growth in 2022 as authorities continued to pour funds into new bridges, rail lines, and other infrastructure. Resource exporters will be betting on further expansion in 2023 especially as net export growth will be harder to achieve as advanced economies in Europe and North America slow with some going into recession.
"Overall, the December data round supports our long-held view that China's economy is well positioned to not only rebound from Covid-zero, but also to grow strongly into the medium-term, averaging growth of 5% or more through 2022-2024," Clarke said.