Amid the addition of two new plants in Germany and Texas and spiking demand for its electric vehicles, Tesla looks set for a year of dramatic growth. However, its near-term outlook is being scrambled by a lengthy shutdown of its massive factory in Shanghai due to strict local rules to stem the spread of Covid-19.
According to local reports, Giga Shanghai, which halted operations from March 28 until about April 17, was Tesla's top production source for the first time in 2021, making 473,078 Y hatchbacks and Model 3 sedans compared with 462,949 vehicles at the company's Fremont, California, factory.
The Covid-inspired closure may have resulted in a production loss of about 45,000 vehicles representing a loss of at least $2 billion of revenue, based on an estimated daily production rate of 2,100 vehicles in the first quarter.

Though analysts and investors expected to hear about the shutdown on Wednesday when the automaker, led by billionaire Elon Musk, released first-quarter results. The company said that it is running at half capacity for now.
In a research note, Dan Ives, an equity analyst with Wedbush, said, "All eyes" will be on the company's "brutal production issues." He estimates that 50,000 units of production in Shanghai which is now "by far" Tesla's most profitable facility were probably lost by the company.
"Musk & Co. are in a tough spot, as there are so many variables around 2Q China production that will certainly weigh on guidance for the rest of the year and thus has been a clear overhang on the stock over the past month."
Just like all other automakers, Musk's EV juggernaut is already having to contend with rising prices for the raw materials that go into the batteries and other components that power its vehicles and supply-chain disruptions, particularly a shortage of semiconductors.
It is not clear whether Tesla is receiving parts and components with the same speed that it did before the current Covid crisis and whether it has brought back 100% of its local workforce even though it has restarted production in Shanghai this week. The company's general target is to increase sales by 50% annually for the conceivable future.
Tesla and other manufacturers are being encouraged to use a closed-loop" system in which workers essentially live at the factory and don't return to their homes to restart production, media reports say. Citing a memo Tesla sent to employees, Bloomberg said:
"People will be required to sleep on the floor in a designated area and there will be other spaces allocated for showering, entertainment (both yet-to-be-completed), and catering."
It is unlikely the company will be able to restart production at the former pace anytime soon, given the broad disruption of operations for all manufacturing in the region, including Tesla's parts suppliers, says analyst Michael Dunne.
Dunne, whose San Diego-based consultancy firm mainly advises clients on the Electric Vehicle and Asian auto markets and a long-time specialist on China's auto sector stated:
"For Tesla, automakers generally and industries across the board, the easier part of the equation is to get their own plants up and running and their people back to work. The real large and hard-to-remove obstacles remain the suppliers into those plants."
Dunne said, for instance, China's different jurisdictions have rules that differ about who and what can travel across borders, within provinces, and between provinces:
"That will be the puzzle to work out in the coming days or weeks. I don't think it'll mean a stoppage, but it will be a stop-and-go situation and constant monitoring. That's a very time- and resource-intensive process."
The year certainly seemed to be taking off on an upswing. In the quarter that ended March 31, just after the Shanghai shutdown began, Tesla said this month it delivered a record 310,048 vehicles. During the period it also built 305,407 vehicles, a notch below a best-ever 305,840 units in 2021's fourth quarter.
When the Austin-based company released results after the close of regular trading on April 20, it reported earning $2.26 per share in the year's first quarter, excluding some items, based on consensus estimates. Revenue reached an outstanding $17.8 billion.
Deutsche Bank analyst Emmanuel Rosner said in a research note that until at least May 1, the strict protocols at the Shanghai plant will probably be in place, "but it could change based on the local mandates."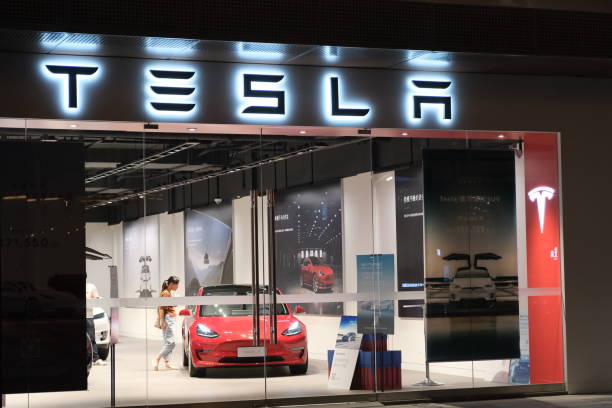 Ahead of its results announcement, it is not entirely clear why Tesla has not given guidance on the Shanghai situation. Despite declining to comment on the matter, Keven Callahan, a spokesman for the Securities and Exchange Commission, however, provided details on the types of events that trigger a public company's obligation to alert shareholders.
Columbia University Law School professor John Coffee explained:
"In the U.S. (unlike some other countries), there is no constant, around-the-clock disclosure obligation. Unless the company is buying or selling its stock, it only has to disclose material events within the SEC's reporting frames, which can be as short as two business days for certain super-material events that must be reported on Form 8-K."
Tesla partnered with other sources of production with the opening of Giga Berlin and Giga Texas in recent weeks although neither will enjoy the lower costs for labor and parts that can be had in China nor will they be run at full capacity for months.
Adam Jonas equity analyst at Morgan Stanley said in a research note that:
"The market's view of Tesla's dependence on China for volume and profitability is changing. Longer-term, we continue to encourage investors to dial back expectations of Chinese exposure in Tesla's long-term geographic footprint."