Glassnode, a blockchain data aggregator, has pointed out several bearish factors indicating that Bitcoin price, which recorded its lowest price levels of about $34,500 since February 23rd, might continue to tumble.
Notably, the crypto industry and the financial markets have been one of a kind in the past few weeks. In line with the fear of growing conflicts between Russia and Ukraine, the civil unrest in Canada, and the Fed's decision to raise interest rates, the prices of most significant assets have imploded massively.
The analytic company has outlined Bitcoin's on-chain activity, which failed to progress last week, as the first factor. The inactivity showed reduced interest and demand for the biggest cryptocurrency.
In that context, Glassnode noted that the numbers of non-zero balance BTC addresses, which typically display retail investor behavior, have significantly reduced. Glassnode outlined that more than 220,000 non-zero wallet holders had emptied their addresses in the past 30 days. In relatively similar contrast, non-zero addresses reached an all-time high of nearly 39 million in November, when Bitcoin reached over $60,000.
Glassnode also noted that the percentage of entities in profit zones has also declined, which is somewhat expected since the asset prices are way below their peak. Glassnode estimated that 10.9% of Bitcoin investors accumulated more coins at prices between $33,500 and $44,600.
In that case, Glassnode noted that most investors, who entered the crypto market in the past several weeks, may sell their portions once the price of Bitcoin continues tumbling.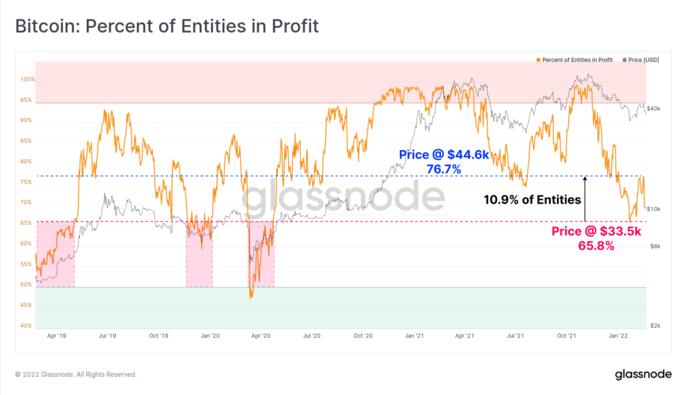 Bitcoin STH vs. LTH Notable Behavior
The on-chain metric provider compared and contrasted behaviors of long-term investors, holding Bitcoin for more than 155 days and short-term ones holding less than 155 days. Glassnode estimated that most short-term holders have an average on-chain cost basis of $47.2 K,  averaging an unrealized loss of 20% at a current price of $38K.
On the other hand, the report outlined that the percentage of entities currently in the profit zone ranges between 65.78% and 76.7%.
Before summarizing, Glassnode noted that many short-term holders do not have "diamond hands," asserting that many tend to sell their position as soon as Bitcoin starts tumbling. The firm maintained that such investors have already sold or are likely to begin if the flagship crypto fails to reverse its recent bearish trend.
On the contrary, long-term holders that acquired their position ahead of the run-up towards $69,000 in November, tend to stay calmer without excessive selling waiting for the next bull run.
Nonetheless, Glassnode revealed that short-term holders (STHs) currently hold more than 54.5% of Bitcoin or 4.7 million coins. These holdings could be another worrying sign for the asset's short-term price downtrend movements, as these investors are "statistically more likely to spend" their holdings.