The latest report confirms that veChain, a supply chain tracking network, has just upgraded its consensus mechanism from previous VechainThor to a now more improved Proof of Authority (POA) 2.0.
In a November 16 announcement, veChain confirmed the successful activation of its newly improved Proof of Authority (POA) 2.0 SURFACE consensus algorithm, which the firm claims is the "world greenest" protocol of authenticating blocks on-chain.
Launched in 2015, the veChain is a supply chain tracking system that combines physical tracking and blockchain record storage.
Proof of Authority (PoA), Proof of Stake (PoS), and Proof of Work (PoW) are the three main consensus algorithms in cryptocurrency functionality.
Nonetheless, the three mechanisms slightly differ in functionality. PoW requires mining to reach network consensus, while PoA achieves its network consensus by verifying the identities of its users and PoS stakes coin in the network.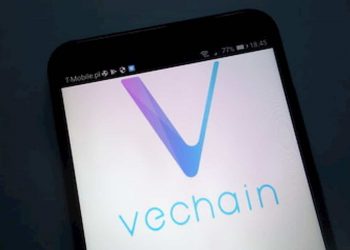 VeChain network facilitates only 101 nodes. Although fewer nodes significantly reduce decentralization to some extent, subdued nodes increase the speed and reliability of the network. This aspect mostly favors commercial and industrial applications.
In a relatively short contest, Bitcoin currently facilitates 13,244 nodes to enhance more decentralization. On the other hand, the industrious Ethereum has just 2,701 nodes.
In that context, veChain is more advantaged in network speed because of its subdued nodes, with the protocol now adopting PoA for its added advantage in energy intensity.
By design, PoA is slightly less energy-intensive and emits a relatively low amount of carbon.
In that case, veChain has suggested that the new upgrade is the "world's greenest consensus to drive mass adoption."
According to the announcement, the upgrade consists of three major components. The first is a verifiable randomness function (VRF), which securely and randomly assigns nodes to produce blocks or process transactions, making them immune to corruption.
The second component is a committee-endorsed block production process, which reduces the probability of network forking. In this case, forking attracts transaction delays and eventually slows the entire chain of the network.
Lastly, the protocol contains the passive block finality confirmation process, which helps to finalize new blocks even though nodes on the network are not in sync.
The PoA 2.0 SURFACE upgrade also intends to improve the scalability, security, and smooth functionality of the VeChainThor mainnet.
While commenting about the network advancement, the VeChain development team explained:
"PoA 2.0 Secure Use-case adaptive Relatively Fork-free Approach of Chain Extension (SURFACE) is needed to meet the demands of future blockchain applications and increasing global demand."
Although VET token has slipped 10% in the past 24 hours, several major exchanges such as Binance and Crypto.com have applauded VeChain (VET) for the hard fork.
In a related development, the VeChain project team also confirmed the successful completion of an election for the second steering committee (SC) on November 16.
Finally we've made it! #10653500🎉https://t.co/mXgVKjqGta

Thank you all for your continuous efforts! @PeterZh47977516 @cola_tin @liboliqi @abyteahead @MogLu2017 @AsbertMa @xjwx89 @vechaindev

We also need to say thanks to our dearest #VeFam.

Let's enjoy this moment together! https://t.co/A6zMcsREbJ

— VeChain Foundation (@vechainofficial) November 16, 2021
The SC team now aims to:
"Facilitate the efficiency of decision-making and ensure the fairness and effectiveness of execution for all fundamental matters."