Jamie Dimon, the CEO of JPMorgan Chase & Co, has once again slammed the flagship crypto "Bitcoin," describing it as worthless, despite his customers being eager to invest in it.
The billionaire investor has repeatedly slammed Bitcoin, asserting that from his perspective, the digital asset lacks any intrinsic value, and he cannot advise taking it as a serious investment.
Dimon Skeptical On BTC But Loves His Pro-Bitcoin Clients
The CEO has acknowledged that his opinion does not reflect the perspectives of his associates:
 "I personally think that bitcoin is worthless. (However) our clients are adults (and) they disagree. That's what makes markets."
Jamie Dimon knows how to segregate his sentiments from the business. In his latest comments, he issued an assurance that he has no problem offering investments to his Bitcoin-hungry clients given that they are seeking crypto exposure:
"If they want to have access to buy yourself bitcoin, we can't custody it, but we could give them legitimate, as clean as possible, access."
This little cryptocurrency bargain is already a significant shift in Jamie Dimon's awful attitude towards Bitcoin. In 2017, the billionaire claimed that he did not want any of his associate employees to indulge in crypto, asserting that Bitcoin was a fraud "worse than tulip bulbs:"
"I'd fire them in a second. For two reasons: It's against our rules, and they're stupid. And both are dangerous."
The Crypto Community Defends Bitcoin
At the time, the crypto community remained united to defend the flagship crypto. Generally, whenever some skeptic slammed Bitcoin, the crypto community has always stood in solidarity to defend the nascent market from those claims. Die-hard Bitcoiners have always pointed out that BTC's appreciation over time has outlasted the most pessimistic predictions.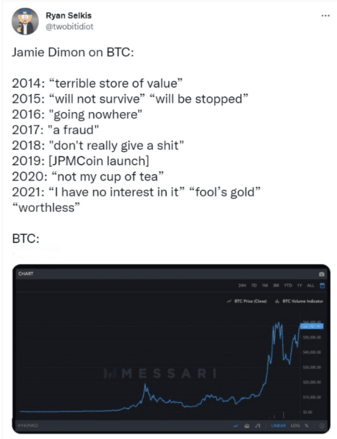 Notably, a publication on the Website 99 Bitcoins cites nearly 431 high-level predictions issued about Bitcoin. All those publications assured that Bitcoin was doomed, with the earliest prediction registered on December 15, 2010, and the most recent ones on September 28, 2021.
Remarkably, Bitcoin is currently oscillating a few thousand dollars from its previous all-time highs proving that the Bitcoin pessimists have all been wrong so far.
Another Bitcoin defender is Michael Saylor, the CEO of MicroStrategy, a software firm with a large investment in Bitcoin. Saylor has noted that probably the reason why Dimon and other bankers are so frustrated about the historical rise of Bitcoin is because of their lack of understanding of how it works and what it does.
The critical question faced by bankers and investors worldwide is "Do you understand #Bitcoin?" https://t.co/FdQcqXoZ02

— Michael Saylor⚡️ (@saylor) October 11, 2021
In the same context, PlanB, a renowned Twitter user who designed the stock-to-flow (S2F) bitcoin price model, shared a meme about how Dimon's bearish sentiments tend to circulate before a bull run.
In the meantime, the flagship crypto remains steady, oscillating around $55,500. It is still alive and seemingly ready to surge further!