Who can make NFT Art? How to Sell Crypto Art?
Non-fungible tokens or NFTs are digital assets built on blockchain technology that represent any kind of real or intangible item, including but not limited to virtual items in video games, real estate, virtual land, weapons and avatars, music, collectible items (e.g. digital trading cards), digital art pieces, and even videos.
Therefore, NFTs can be used to buy and sell unique art, own copyrights and obtain royalties from music albums, as well as represent property rights.
What is Crypto Art or NFT Art?
To summarize, crypto art or NFT art is digital art treated like physical art, an art piece, or even fine art because of its verified ownership. Just as an original painting, sculpture, statue, or another item of physical art signed by an elite artist can have its authenticity and ownership authenticated, crypto art or NFT art can be verified in the same way, but with the added bonus of using NFT technology.
Here is what you need to know about unique collectible crypto assets:
Difference between Fungible vs. Non-Fungible Assets
Ethereum blockchain (Ether, ETH, Ethereum network)
Gas rates (Gwei)
Crypto wallet
Digital wallet address
Seed phrase
Digital collection
Ethereum
Ethereum is currently the blockchain that supports most NFTs. It is basically a blockchain service or simply the database that stores ERC-20 standard cryptocurrencies such as Binance Coin (BNB), Chailink (LINK), and Basic Attention Token (BAT). Ether (ETH) is the native virtual currency of the Ethereum network, and is currently the second highest market value cryptocurrency, second only to Bitcoin (BTC).
During the process of creating NFTs, some platforms may charge a fee called gas, but others, such as OpenSea, allow anyone to create NFTs for free.
Ethereum gas is just an amount of Ether (ETH) needed to perform a certain function or transaction on the Ethereum blockchain. When you are taking your first steps into the world of NFTs, a new NFT will be added to the marketplace or platform you choose. The cost of gas or Gwei varies depending on the traffic on the Ethereum network. This means that the more people are transacting securities or tokens over the network at a given time for example, the higher the price of gas fees will be.
However, Ethereum gas fees are usually cheaper during the weekend. This is because during the weekend fewer people are using the network. This can help reduce costs if you are listing multiple NFTs or simply because you want to save more money during the process of setting up your first NFTs.
Ether (ETH)
You can compare Ether (ETH) like casino chips. Just like each casino has its own unique chips that you need to buy with fiat money (US dollar, euro or pound sterling) to use as currency, to pay, play and get paid. Like casino chips, you can always withdraw your winnings and receive dollars or euros back. While some NFT sites or marketplaces allow you to buy crypto art or NFT art using credit cards like Nifty Gateway, when you decide to sell – you will always receive Ether (ETH) after sales of your NFTs, which can later be converted back to any non-crypto or fiat currency you wish.
Crypto Wallet 
A crypto wallet or digital wallet refers to an application or platform used to store digital assets (NFTs and cryptocurrencies).
Like cryptocurrencies like Bitcoin and altcoins, NFTs are also created on a blockchain. When creating an NFT, you first need to decide which blockchain you want to create and store your NFTs on.
Ethereum is currently the main blockchain service used to create NFTs. But there are other blockchains that are becoming increasingly popular and offering NFT services, such as Flow, Wax, Binance Smart Chain, and Tezos.
Each blockchain or protocol has its own NFT token standard, as well as wallet services compatible with NFT marketplaces For example, if you create NFTs using the tools and features of the Binance Smart Chain protocol, you can only sell them on platforms that support Binance Smart Chain assets.
The benefits of making crypto art
Many artists are increasingly turning their digital art into NFTs. These artists use this as a way to create their own brand of art.
One of the best advantages of selling scarce NFTs or crypto art is that the copyrights are protected and the artist can receive royalties from each sale on the secondary market, something that does not happen in the traditional art world. Meanwhile, when you post your work on Instagram or Facebook for example, the platform can use your art any way it wants for its own purposes without asking permission. So these social media sites generally profit from your artwork, whereas with crypto art, you can make much more money from your own art.
How is an NFT created?
Let's imagine that you decided to create your own NFTs on Ethereum. Ethereum is currently the blockchain with the largest NFT ecosystem.
To mint or upload your own content (music, photo, video, etc.) on the Ethereum blockchain, it is these processes, platforms and tools that you need:
An Ethereum wallet that supports the NFT token standard (ERC-721 and ERC-1155). Here you have several options: MetaMask, Trust Wallet or Coinbase Wallet.
About $100 in ETher (ETH). If you are using Coinbase Wallet, you can buy ETH on the Coinbase cryptocurrency exchange with US dollars and British pounds. Otherwise, you will need to buy Ether on a cryptocurrency exchange such as Binance, Gemini, and Kraken.
Currently the main Ethereum NFT marketplaces include OpenSea, Rarible, Mintable, and Marketplace.
After choosing a marketplace, the process of creating your NFT is fairly simple. After uploading your digital file (as an image, audio, GIF, or 3D model), you also have the option to include special features and attributes to increase the scarcity and value of your NFT (non fungible token).
How do I turn my art into NFT?

Here is the guide on how you can create a digital artwork:
Choose an NFT Marketplace
This is the first step to create your NFT art on this platform.
There are two categories of P2P marketplaces you can consider:
Selected Platforms (By Invitation): this category of NFT marketplace allows only elite artists to create digital art tokens. These NFT marketplaces focus only on high quality digital art tokens, thus discarding low quality collectibles.
NFT marketplaces like SuperRare are curated NFT platforms. This means that they have higher transaction fees and lower royalty percentages that you can program or configure into your artwork.
Open platforms: this category of peer-to-peer or P2P marketplace like OpenSea, allows any artist or creator to create their own NFT quickly and easily. So you can create your NFT with an image or photo, a video, or a music or audio file. These platforms also allow you to set the percentage of royalties you wish to receive for each sale of your NFT token.
Once you have selected the NFT platform or marketplace of your choice and created an account, the next step is to create and set up a crypto wallet.
Setting up a crypto wallet or digital wallet
To store your cryptocurrencies and your NFT tokens you need to create a digital wallet. Ether (ETH) cryptocurrency is required during the NFT creation process.
The ETH token is generally used to pay the gas fee, i.e. the transaction cost of the Ethereum blockchain before listing your digital tokens.
OpenSea supports a wide range of digital wallets such as Coinbase Wallet, TrustWallet, Portis, Dapper, WalletLink and WalletConnect, but the most widely used is the MetaMask wallet, to buy your Ether (ETH) and store your NFTs.
It can cost about $50 to $150 in ETH to pay for gas fees during NFT issuance. So if your funds are already ready in your wallet, go to the next step.
Note: your seed phrase is just a list of words that can be used to retrieve your crypto tokens in case you forget your password or lose access to your crypto wallet. When you start trading with your digital wallet, find your seed phrase and back it up or store it somewhere safe.
At this point you are not yet creating your digital tokens. In your OpenSea account interface for example, you will see the "My Collections" option – which basically works like a store, or digital art gallery.
Then you need to customize and add details of your collection, such as a title, a good description and upload a display image. After this process you can display your artworks after creating them to later sell them.
Creating Your Digital Art Token
In this step you need to choose the artwork you want to turn into NFT (a digital painting, a text document, a song, or a video). Literally any extension or format such as images (JPG, PNG, GIF, etc.), video (MP4), audio (MP3, etc.) and 3D files (GLB, etc.) or anything else that can be played as a visual or multimedia file.
You can also choose to create an unlimited number of digital tokens. That is, you create as many copies of the same token as you want. You just need to add the edition number of a work.
Or you can create 1/1 edition tokens, which means that you can only create a single copy of that specific NFT digital art token, making it even more valuable.
After customizing your collection and adding all the necessary details, including social media links, collection image, description, and name or title, you can click the "Create" option to add your NFT to the blockchain, and this is when you pay the gas fee for approval of your art.
Next, you can choose the payment tokens you would like to accept for your NFT art. OpenSea for example accepts 150 payment tokens including Ethereum (ETH)/WETH, DAI (DAI), USD Coin (USDC), Uniswap (UNI) and WHALE (WHALE). The platform also accepts fiat currencies such as the dole and euro.
Listing your artwork for sale
On the sell page, you can choose to sell for a fixed price or at auction, and the royalties you wish to receive from the first and subsequent sales.
However, if it is your first time creating art and turning it into NFT, you will have to pay a gas fee before listing your art.
Promote your work on social media
To have a better chance of selling your art, you will need to build a good fan base. Here you have the option to share your direct link with potential collectors or buyers, and promote your art to your fans and users on social media and other social platforms to help them discover it.
How to Buy NFTs
Unlike Bitcoin and altcoins, NFTs are not traded on cryptocurrency exchanges because they do not have the same value. However, NFTs can be bought and sold on various P2P marketplaces. Popular examples include OpenSea, Nifty Gateway, Rarible, SuperRare, MakersPlace, NFT games, etc.
Here are four (4) things you need to know before buying NFTs:
Which platform do you intend to buy your first NFT from?
Which digital wallet does that platform support?
Which cryptocurrency or fiat currency does this platform support?
Does this platform launch or NFT drops every day? Can you buy only at auction?
Certain NFTs are only available on specific online platforms. For example, if you are an NBA fan and intend to buy packages on the NBA Top Shot website, you will need to open an account on NBA Top Shot and use only wallets supported by the Flow blockchain (blockchain where NBA Top Shot was built).
Unlike other NF sites, NBA Top Shot allows you to buy with a credit card. But other platforms allow you to buy NFTs using only cryptocurrencies.
Best NFT marketplaces to buy and sell NFTs
NFT markets are like visual art galleries, museums and auction houses all at the same time!
Whether you do it because you like art or to diversify your investment, you will find a digital asset to your liking. Or, you can wander freely through these great digital art galleries.
OpenSea is one of the best platforms that offers the best NFT services. It basically works as an online art gallery where you can browse, buy or sell digital art, digital trading cards, game items, virtual worlds, metaverses and other collectibles.
You can also call OpenSea an auction house, and some consider it the eBay version of crypto art or NFT art. Here you bid on items and hope you are the winner, but some listings allow you to "buy now" for a price set by the artist or creator of the work.
Rarible is one of the best-known marketplaces for NFT artwork and NFT in general. This is due to the fact that it is open to all artist profiles. Some marketplaces are relatively selective, but on Rarible anyone can join.
Anyone can create their own NFT and sell it easily. In addition, Rarible has its own governance token, RARI, which allows users to vote on certain important decisions of the project as a whole.
Sellers of NFTs on the market can decide to sell their NFT all at once or decide to sell it cheaper but several times. By the way, sellers can also set a percentage on lifetime resales of their work. A kind of passive income for digital artists.
As far as buyers are concerned, it is a great marketplace because there are different types of artworks of various artistic "levels". A collector can buy NFT to financially support an artist or buy them with the idea of reselling them and making a gain on the invested capital.
Only established artists who have done more or less recognized artwork can register and submit their work.
It really is a high-end digital art marketplace. It should be stated clearly. By the way, admission tickets are higher. Digital artworks cost more than in other markets, but they are also of higher quality.
You can find everything in this digital art market, such as videos, audio files, images, and even virtual video game objects.
So you can buy, sell and trade any NFT on the NFT market. The platform is accessible to everyone.
This NFT marketplace is hosted on the WAX blockchain. To connect, you will need a specific wallet (not MetaMask) i.e. you will need a WAX wallet.
The Atomic Asset platform is still very accessible. You can still get digital works and NFTs for less than $10 or even less than $1.
This marketplace is much more selective with the choice of artists. So, somewhat similar to SuperRare, it is a very select marketplace for only high-quality artworks. You can buy or bid for auctions.
The Value of an NFT
This is usually one of the most frequently asked questions about NFTs: Why would anyone pay for content that in many cases can be downloaded? There is a difference between downloading an NFT image and having it on your computer or mobile phone, and owning the original supported by NFT technology.
The image or video you downloaded has no monetary or financial value, while the NFT supported image is an artist's "original" work of art. Just as you can go online and download the image of the Mona Lisa or even buy a poster of the Mona Lisa, the image and the replicas or copies will never be worth anything close to the verified original. You can even download image thousands of times, but they are all irrelevant because you don't have the version linked to the NFT that verifies that you own the original artwork.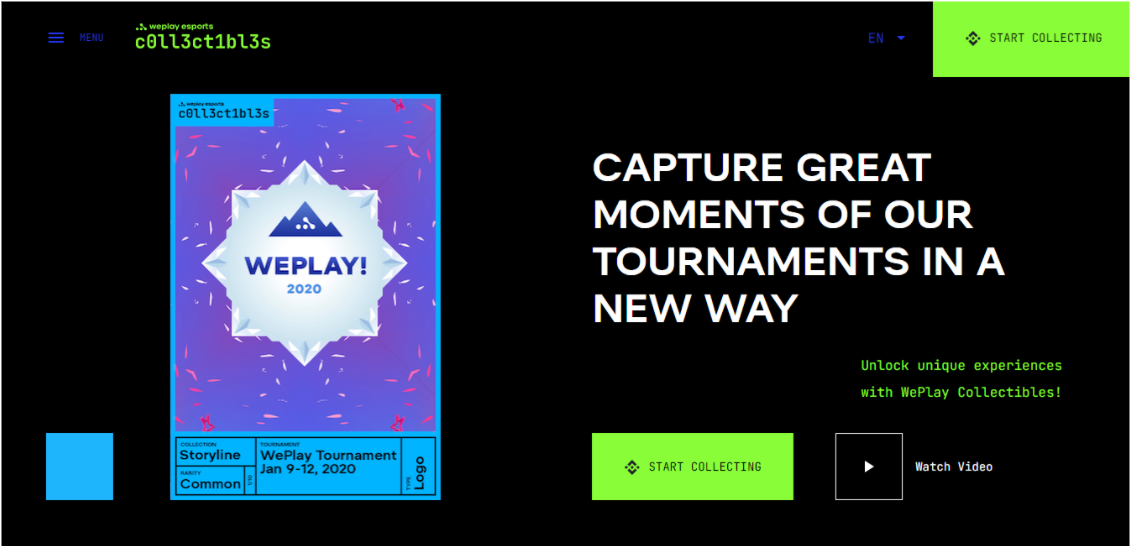 https://weplaycollectibles.com/
The WePlay Collectibles for example is for people who want to be part of Esports events and show that they like players and talents in a different way, besides merchandising. The WePlay Collectibles are part of a platform, where you can buy items with NFT technology – both digital and physical. They are rewards and items associated with a specific tournament.
Find more information about the platform and NFTs at https://weplaycollectibles.com/