Bitcoin adoption seems to be gathering momentum throughout the world. In that context, a race car fan reportedly now owns Colin McRae's classic Subaru WRX. The fan is said to have paid 8.02 BTC for the deal.
One anonymous buyer at an Australian auction paid about $361,000 in bitcoin to get a classic Subaru WRX that was driven by the legendary rally champion Colin McRae.
Based on a recent report, the automobile was kept in the back of a Victorian shed for some time, and several people knew how valuable it was. The machine's estimated price was not over $15,000 when Lloyds Auctions introduced it. But, the racing car was sold in exchange for bitcoin.
However, an extensive investigation discovered that the car was mainly symbolic as champion drivers like Carlos Sainz and Colin McRae have already been behind its wheel. Additionally, the British company Prodrive built it for the World Rally Championship, with McRae winning top titles on the global stage with it.
After announcing its history, the vehicle's value spiked considerably, and an anonymous Subaru fan acquired it for about $360K. Interestingly, they paid for the vehicle in bitcoin. This classic Subaru WRX was quite popular in the late 90s that it became one of the iconic cats found in the Colin McRae Rally PlayStation game.
Named after the prominent Scottish driver, it is still one of the top racing video games. The legendary racer, Colin McRae, was the best in his field. He even became the youngest person to win the World Rally Championship Drivers' title in 1995 at just 27. The Scottish later lost his life in a tragic helicopter crash in 2007, but it appears like his legacy is still alive as it managed to increase the Subaru's price by over 20 times.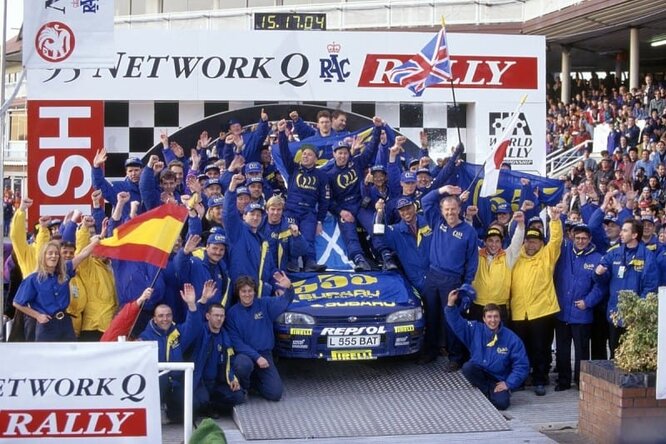 Can A Bitcoin Buy A Lamborghini?
Jesse Powell, the CEO of the crypto exchange Kraken, recently forecasted what exactly people may buy with one coin of the flagship cryptocurrency in the near future. While saying that bitcoin would soon head towards "infinity," he projected that by the end of 2021, it might buy a Lamborghini car. Moreover, the same amount of Bitcoin may offer a Bugatti model in 2022:
"It might be easier to understand if we measure it in terms of Teslas. Now 1 BTC is one Model 3. Probably by the end of the year, it will be one bitcoin for a Lambo. Probably by the end of next year, it will be one bitcoin per Bugatti."
Powell, while specifying what "infinity" means in terms of the US dollar, said that $1,000,000 per bitcoin seems reasonable in the coming ten years.