The Bank of Korea's central bank digital currency (CBDC) project started at the end of July 2021 and has been gaining traction ever since. According to an official report by the Korea Times, this project is set to be enhanced and powered by the electronics company Samsung.
Samsung and the Bank of Korea will develop a platform that will support the CBDC. In addition to the electronics giant, the financial institution has managed to bring in other partners from the private sector, including Ground X, a blockchain-based division from another firm known as Kakao.
The Korea Times cited a source on an executive position to support these allegations:
"Samsung Electronics has recently decided to participate in the BOK-led CBDC pilot project, under which interested parties will research the practicalities of the CBDC in a test environment."
Top ranking executives and representatives from the Bank of Korea and Samsung have spoken about the advantages of CBDCs and their growth potential to enhance the nation's payment system. The Times alleges that Samsung together with the Bank of Korea will test the 'usability of the blockchain networks on the Galaxy mobile.
Particularly, the Kakao consortium together with Samsung Group's two tech affiliates will unveil a pilot program targeted at checking on money transfers and remittances between nations, issuing and distributing the central bank digital currency, and monitoring how that eventually functions in virtual environments.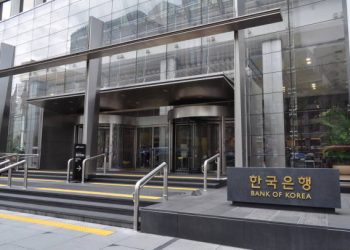 Samsung To Test CBDC Using Its Smartphones
The sources that were quoted by this report stated that this project would have two primary focuses on the Samsung side: the ability to execute payments to other devices and the possibility of the payments being completed via mobile phones using the digital currency without any internet connection. This test will also be done to determine whether it will be possible to send CBDC remittances to other mobile phones and other connected bank accounts.
These objectives will be conducted by the firm's IT unit and an affiliate known as Escor. Notably, these entities will handle all the procedures for the experiments with the Korean central bank digital currency (CBDC).
It seems like the high-ranking officials at the Central Bank of Korea have already dismissed cryptos and their possibilities to enhance the traditional financial systems, majorly due to the volatility of the nascent market. But, China's digital currency, the e-CNY dubbed the digital yuan has brought a lot of worries to its neighbors in Asia.
The creation of South Korea's CBDC will originally work in a virtual environment in its test phase. Samsung together with other partners will look for any issues and bugs and the technical limitations of the new project.
Later on in mid-2022, the project will be focused on 'offline payments', remittances, e-commerce, and other applications. The central bank's digital currency will reportedly also have advance privacy features that will be developed in collaboration with the private banks.