FTX Chief Sam Bankman-Fried has said that acquiring CME and Goldman Sachs 'is not out of the question' in case the exchange beats competition from Coinbase and Binance. The Hong-Kong based billionaire said that FTX may consider acquiring the US-based financial giant bank and exchanges like Chicago Mercantile Exchange.
While speaking with the Financial Times, Bankman-Fried said on July 14 that if FTX can become the top cryptocurrency exchange and dominate rivals like Binance and Coinbase, the idea of acquiring giants like CME Group and Goldman Sachs might be considered:
"If we are the biggest exchange, [buying Goldman Sachs and CME] is not out of the question at all."
The 29-year-old has an estimated net worth of around $8.7 billion and is the founder and CEO of quantitative trading firm Alameda Research. He is also the CEO of the FTX cryptocurrency exchange. Based on data acquired from Macrotrends, Goldman Sachs has an estimated market capitalization of $129 billion while the CME group has an estimated market capitalization of $75.5 billion.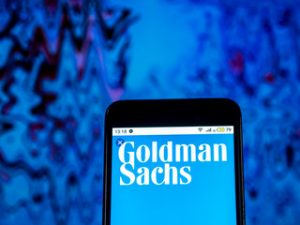 While FTX has been expanding rapidly, it is not yet in the league of those giants. Speaking in a June 24 interview with Nikkei Asia, Bankman-Fried told the media outlet that FTX is looking at a valuation of about $20 billion in its latest funding round, which means that it may be some time until FTX has the buying power to acquire the big companies.
However, the CEO plans to acquire smaller and medium-sized ones. The businessman said that the upcoming funding round is expected to raise "mid-hundreds of millions" primarily from institutions. He also noted that:
"M&A is going to be the most likely use of the funds."
Bankman-Fried also said that the funds would be used to further target the retail investors' market segment. The entrepreneur also stated that FTX was in two minds about going public. His firm is now weighing up the benefits:
"We are not actively looking to list but we want to be in a position to go ahead if we want to. We are in a fortunate position of not having to do it because we don't need capital . . . on the other hand there are potentially big advantages to listing such as brand recognition."
It does not seem surprising that Bankman-Fried speaks ambitiously since the businessman has amassed a multi-billion fortune in just three years of joining the crypto market.
FTX has taken on an ambitious approach since it entered the market in 2019, and in the last 12 years, the company has been on an investment and purchasing spree. The exchange purchased Blockfolio for $150 million in August 2020. In March 2021, FTX secured 19-year naming rights to Miami Heat's home stadium worth around $135 million.
Reports emerged in June that FTX exchange sealed naming rights valued at around $210 million for the giant esports brand 'Team SoloMid.' The team changed their name to 'TSM FTX.' On June 24, the platform also said that it has struck a deal with the MLB to be the pro-baseball league's official cryptocurrency sponsor.
Data acquired from Messari ranks FTX 11th in 24-hour spot volume and processed $206 million in spot volume over the last 24 hours. Comparing that to Coinbase's 24-hour reported volume, the exchange is a bit behind since Coinbase accounted for $1.6 billion.
Despite a lot of regulatory scrutiny targeting Binance, the exchange is still dominant with a 24-hour spot volume of around $10.6 billion.