Brave has been making headlines since its launch and this time around it hopes that users will want to search the web privately without being followed or tracked by anyone. This crypto-powered browser has now branched out into the world of search introducing a new privacy-protecting beta search engine.
The platforms are coming into a space dominated by the likes of Google, which accumulates personal data and browsing habits while delivering targeted ads and tailored search results. Brave now faces an uphill task tackling the tech giant that accounts for over 90% of the market.
In a June 22 announcement, Brave said that it had already launched Brave Search beta built into its browser. The company said that the browser would offer users:
"The first independent privacy search/browser alternative to big tech."
All users who want to test drive Brave's non-tracking privacy-focused search engine can find it at search.brave.com. Notably, this search engine has been built on top of an independent index that never tracks users or their searches and clicks. It is expected to appeal to those people who want to avoid surveillance-based tech products like Google Search and Microsoft Bing.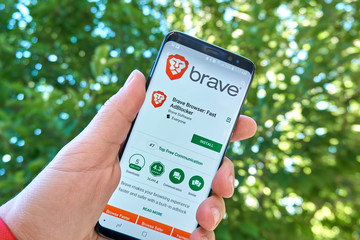 The Brave search engine will feature a "Google fallback mixing" option for anyone who still wants to use results from the global tech giant's search engine, or whenever not adequate results are returned.
Brave Search will not have any ads popping up initially, avoiding the primary way that Google monetizes its search results. But, in the future it is expected to offer free, ad-supported search alongside a paid option without any ads and the company said that it will incorporate its  Basic Attention Token (BAT).
"When we are ready, we will explore bringing private ads with BAT revenue share to search, as we've done for Brave user ads."
Chief Executive Brendan Eich has previously led Firefox and Mozilla before he moved to co-found Brave. He said that getting many people to use the new search function is critical to its success since their collective actions will anonymously steer the Brave servers toward providing the highest-quality search results.
Brave's privacy-focused browser today has around 32 million monthly active users after it hit 25 million in February 2021. But, that is a drop in the browsing ocean compared to Google's dominance over browsing with its Chrome browser and web search.
Based on Statcounter data, Google commanded a staggering 92.2% market share for global search engines in May 2021, with Bing taking the second position at 2.27%.
Currently, there are already operational privacy-oriented search options like Duck-Duck-Go that offer privacy tools including tracking blockers. This platform alleges to have 70 to 100 million users according to Tech Crunch. However, it also has an uphill task if it wants to dethrone the all-consuming Google Goliath.