Tesla CEO Elon Musk now has published a new profile picture on his Twitter account featuring the anime Japanese girl wearing a dress that has a Bitcoin (BTC) logo on it. Could it be that he wants to impact the crypto market once more?
Earlier in 2021, Musk already published this avatar on February 19, saying that it was 'just for a day'. The different thing this time around is that the girl has 'laser eyes' now. The billionaire did that shortly after Tesla announced that it had acquired a staggering $1.5 billion worth of bitcoin and later spread the word that it would start accepting BTC for Tesla car purchases.
At the time, Musk tagged BTC in his Twitter bio segment which pushed the price of bitcoin significantly higher. In 2018, the same profile picture resulted in Musk's Twitter account being temporarily blocked.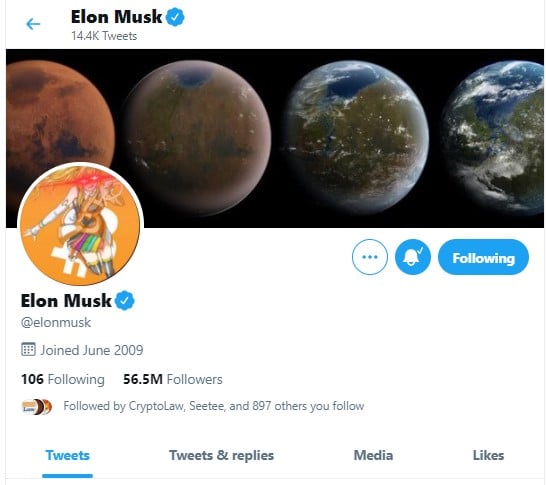 Musk Falls Out With Bitcoiners
In recent weeks, however, Musk got himself in trouble with the Bitcoin community and influencers after he said that Tesla had suspended BTC payments for various reasons among them being the controversial carbon footprint issues that come with BTC mining.
Some individuals in the community, including Anthony Pompliano, think that Musk wants to launch a green Bitcoin mining business in the future and for now he is pulling focus on the shortcomings for the community.
He appears to have just brought the environmental worries about bitcoin to the heating points as authorities after that took up the same narrative about the importance of reducing local and global emissions. Some of the governments that took up the narrative include China and the European Union.
China is currently clamping down on BTC mining and all other high energy-consuming projects, making the cryptocurrency miners leave the country for more friendly jurisdictions offering cheaper energy supply.
Iran decided to suspend BTC mining for the entire summer season after huge power cuts in the entire nation.
Musk Impacts The Bitcoin Market Easily And Extensively
On June 4, the Tesla and SpaceX CEO pushed BTC down once more with his tweet where he posted a meme-picture of a parting lover couple that had a line from a Linkin Park song and tagged Bitcoin adding a broken heart emoji.
That post made bitcoin drop another 3% showing that this market is vulnerable to Musk's tweets.