In a market that was previously dominated by a few Bitcoin (BTC) vehicles, there are now many products that offer investors access to gains from popular altcoins like Polkadot (DOT). On April 28, Osprey Funds announced that it will launch the Osprey Polkadot Trust.
This fund will be made available to accredited investors with a $25,000 minimum and is set to get listed on the OTCQX market as soon s possible, based on a press release from the firm. Notably, Coinbase will serve as the fund's custodian.
Reports indicate that the fund will give investors extensive access to one of the biggest layer one smart contract chains through familiar rails, and it joins an ever-growing list of digital assets equity investors can now gain some exposure to. The accredited investors will have an over-the-counter access point to a DOT investment trust. Osprey CEO Greg King said:
"The appetite for next-generation crypto investment vehicles is only increasing. Osprey is just getting started on a series of compelling investment funds that will provide access to some of the most exciting coins and tokens."
Now, Osprey has positioned itself as a credible competitor to investment giant Grayscale that currently offers 14 digital asset management trusts, according to the Grayscale site. Osprey's OBTC fund charges a 0.49% management fee that they say makes it the "lowest-cost publicly traded bitcoin fund in the U.S."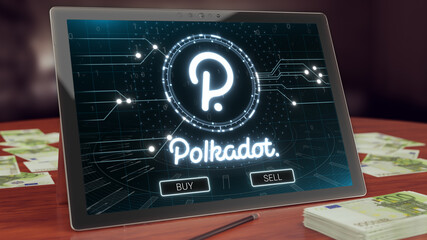 The decision to offer a Polkadot fund might be to gain some edge on Grayscale. DOT is not one of the assets available on Grayscale and it is not a part of the "Large Cap" trust despite being the fourth-biggest layer one smart contract token by market capitalization. That means Osprey may be catering to a market demand that is not currently serviced.
King says that the decision to offer a DOT fund was partly a vote of confidence in the thriving ecosystem, and an effort to provide a bigger range of digital asset investment vehicles. He explained:
"Our decision to launch a Polkadot trust next is both a vote of confidence and also addresses the market's need for access vehicles. We believe Polkadot shows significant promise and is still in the very early stages. Every product we launch will be something the Osprey team has researched and believes is a sustainable crypto project with significant investment potential."
Polkadot is one of the non-Ethereum chains that has been experiencing a major spike in organic developer activity. Earlier this April, six top ecosystem projects joined hands to create an index token, PINT, and Clover Finance made decentralized finance (DeFi) migration relatively easier with an Ethereum-to-Polkadot bridge. Many now believe that Polkadot might be the next blockchain that challenges Ethereum at the top.