The Binance exchange native token which is also known to drive the Binance Smart Chain, Binance Coin (BNB), has reached new highs lately. Currently, the Binance Smart Chain is Ethereum's only competitor among the DeFi (decentralized finance) ventures. Their fees are considerably lower than that of Ethereum.
In reality, the BNB token has become the hottest crypto in 2021, so far. Due to Etehreum's high gas fees and slow transaction execution, the other less decentralized but quicker and cheaper blockchains like the Binance Smart Chain (BSC) have gained a lot of the needed traction.
BNB Might Exceed ETH
Trading volumes recorded on crypto exchanges have increased considerably in recent months as interest in crypto, generally, has grown. That has resulted in increased income through trading fees for different crypto exchanges.
If that massive growth rate continues, then BNB has a big chance of surpassing ETH in terms of market cap and replacing it to become the second-biggest crypto behind the runaway leader, Bitcoin.
Binance's initial coin offering (ICO)happened in 2017 and the BNB coin was trading at around $1. Just a few months ago, the price was hovering around $50. Interestingly, the coin has now experienced a growth rate of more than 1,000% within a short time.
The BNB rally has been accelerating at massive speeds, with the crypto breaking through the $400 barrier on April 6. BNB coin has already exceeded 35% of Ethereum's market share, suggesting that the token will need to triple in value to enable it to overtake ETH.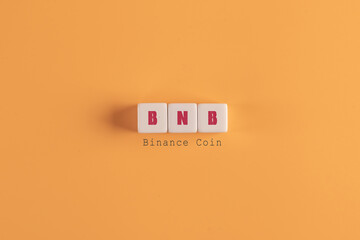 Not Everyone Is Boarding The Binance Ship
Due to its low fees, the Binance Smart Chain has emerged as a viable Ethereum substitute in the past month, apps like PancakeSwap are also challenging Uniswap, the leading DEX. On the other hand, Messari's Ryan Watkins recently went on Twitter to express his dissatisfaction with Binance Smart Chain's centralization.
Based on Watkin's comments, the primary reason why BSC is quicker and more scalable is not as a result of any miraculous technical advancement. Instead, he insists that it is the power of centralization.
Binance has a huge scope and power that it has used to attract new users into its ecosystem. Binance executes often and that is why BNB is thriving as mentioned by most analysts. Still, a crash might happen as is often the case with cryptos, and so the investors need to proceed cautiously in a time of such volatility.