A major online traffic spike briefly overloaded a site back in February 2021 after the firm said that it had invested in Dogecoin (DOGE). The Canadian social platform, Hello Pal, has announced that its website was hit by a temporary outage at the time.
Based on a press release issued by the firm on March 11, the incident happened briefly after it said that it had invested significant amounts in Litecoin and Dogecoin mining. Hello Pal outlined the acquisition of around 15% stake in a Litecoin and Dogecoin mining facility.
Based on the reports, the mining firm is the biggest globally which is dedicated to mining LTC and DOGE with a capacity of around 70 megawatts. It also houses more than 90,000 rigs.
Furthermore, the social platform said that it had taken delivery of more than half of the planned 12,500 mining rig inventory dedicated to LTC and DOGE mining. Hello Pal said that news of the Litecoin and Dogecoin mining investment triggered a major surge in online traffic on its site exceeding 1,000%. The activity spike was enough to crash the site temporarily.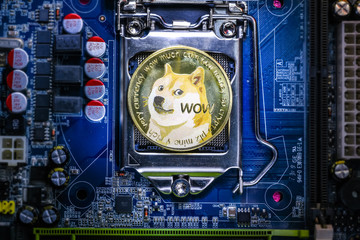 The company's streaming services and suite of apps also experienced more upticks in online visits but never suffered any outage during the period. For the Hello Pal founder KL Wong, the traffic surge that resulted in the crash of the website was a positive development for the company. He said:
"The sharp increase in activity on our website and the Hello Pal app validates the clear position we have taken on Dogecoin as well as on cryptocurrency in general."
The DOGE mining venture also serves as a significant expansion of the firm's crypto footprint. Hello Pal already provides a crypto wallet service for Ether (ETH), Bitcoin (BTC), and other digital assets.
Crypto-driven interest resulting in online traffic surges is not a new occurrence. Even crypto exchanges suffer platform outages sometimes during periods of peak market activity. Dogecoin is also experiencing renewed popularity in recent months amid the continuous backing from the likes of Dallas Mavericks owner Mark Cuban and Tesla CEO Elon Musk.
Will DOGE surge towards $1 or will the bears continue pulling it downwards in March?