Growth and development in the crypto space are increasingly attracting an increasing number of institutional and high net-worth investors. Also, the operators in the crypto space are employing various strategies that are pushing them into the mainstream world.
In that context, one major exchange is getting closer to a public offering. Prominent BTC and crypto exchange Coinbase may be headed for an initial public offering (IPO) valuation of around $100 billion. That valuation was projected after shares allegedly sold for up to $375 each in a private auction.
Reports show that shares in Coinbase Global Inc traded for a value of between $350 and $375 per unit trading on the Nasdaq private auction market in the past week. That trading gave the company a pre-IPO valuation of $90-$100 billion, according to a Bloomberg report. Trading is said to have ended with the share price at $350.
A Coinbase series E funding round in 2018 first saw the stock valued at a possible $8 billion. This valuation increased significantly as shares were then privately traded at a price of around $200 on a private forum that was created by Coinbase in January. The firm was deemed to have a valuation of about $50 billion at the time.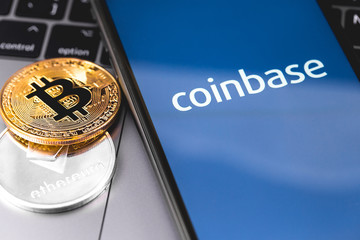 Prices of privately traded shares are partially used to set a reference price for the stock whenever firms finally go public on the Nasdaq platform. Coinbase published its intention to launch an IPO in mid-2020, before it filed a registration with the SEC in December 2021.
Having gone live in 2012, Coinbase represents one of the majorly long-standing crypto exchanges in the industry. Currently, the platform processes the second-most trade volume among all of the centralized exchanges and was recently revealed to store some coins with a value equal to 11% of the total cryptocurrency market capitalization for its users.
Bloomberg previously claimed that it had received the latest share prices from an anonymous source. This time around, the publication stated that the pre-IPO market activity is not mainly an accurate representation of how any stock will trade when it goes live in the market.
Notably, restrictive trade volumes in the private markets do not accurately represent live open market conditions.