Ethereum, the second-biggest whose blockchain is the most used globally has now set a new all-time high. Ether (ETH) breached the $1,800 price level of February 9, 2021, according to data acquired from CoinGecko.
The surge in the ETH market came amid a widespread move upward for the general crypto market. Charts show that ETH broke its previous all-time high set at $1,740 last week to trade above its 21-period exponential moving average. That moving average is a tool used by traders to determine an asset's general trend. Ether, for now, remains in a strong uptrend.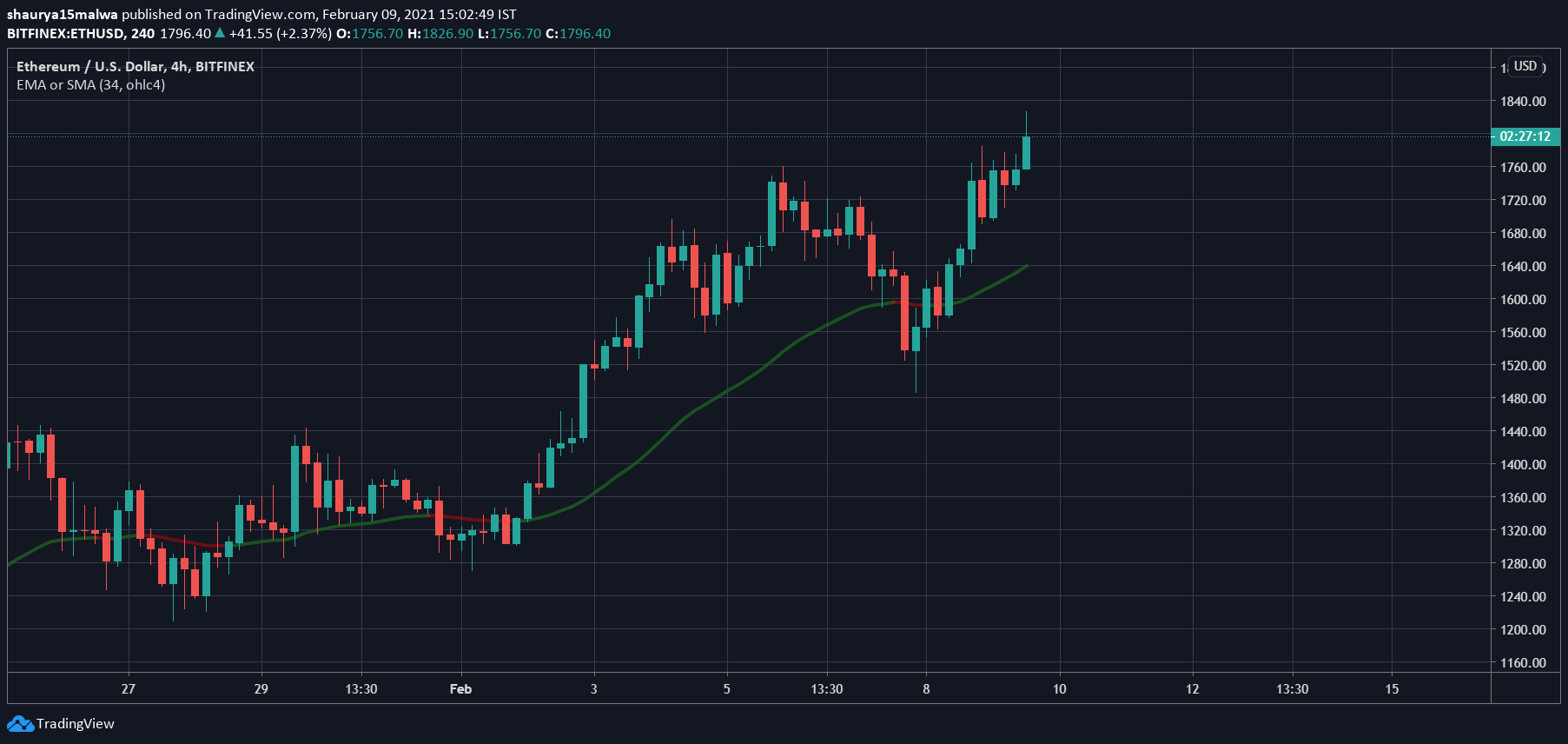 Since Ether has never traded at these prices in the past, there is no defined price resistance zone in the near term. The crypto is now in a price discovery phase and proponents believe that it will surge further.
The bears and sellers are yet to gain some hold on the market that has been outperforming even Bitcoin on various fronts.
This price movement to record highs coincide with the launch of ETH futures on the Chicago Mercantile Exchange (CME), which is the biggest financial exchange globally trading billions of dollars worth of different assets daily.
The ETH futures is a derivative product that enables investors to bet on the various price movements of the asset, without the security/legal complications of holding the actual asset itself.
$30 million worth of Ethereum were traded on the first day of CME listing.

Not bad at all. h/t @ArcaneResearch

— Joseph Young (@iamjosephyoung) February 9, 2021
More than $30 million worth of ETH futures were traded on the first day of the offering, proving that their demand was significant among the institutional investors. After the latest move, ETH has a market cap of more than $200 billion with 114 million ETH in circulation. How high will it go?