The bitcoin-to-gold price ratio might surge to 100x with the digital asset's volatility potentially plunging to gold levels by 2024. Bitcoin is expected to continue with its bullish trend towards $50,000 as investors move significant funds out of the gold market and into the crypto, according to Mike McGlone, a senior commodity strategist at Bloomberg.
By 2024, the strategist thinks that bitcoin's volatility can reach gold's levels which might drive the prices much higher.
In a February 3 report, McGlone said that bitcoin has shown strong support at $30,000 and:
"increasing institutional adoption and the potential for the benchmark to become a global reserve asset could drive the price to $50,000 or higher."
The report went on to cite evidence of funds moving into bitcoin from gold. This shift highlights increasing flows into Grayscale Bitcoin Trust (GBTC) and a drop in total known ETF holdings of gold. The investment company has expanded its GBTC fund from 1% to 10% of the "$210 billion tracking-gold ETFs" across 2021. McGlone said:
"In a world going digital, it's logical to expect more funds to flow toward Bitcoin and away from precious metals."
The executive also thinks that investing up to 5% in bitcoin is becoming a majorly wise decision:
"Absent a major technology glitch, old-guard gold allocators are primarily at risk if the crypto becomes a reserve asset and Bitcoin as 1-5% of one's investable assets becomes increasingly prudent."
A surge in stock market volatility has so far gone well for gold and bitcoin in the past, as the strategist explained. The combined investment of bitcoin and gold showed a lower 260-day volatility rate (30%) compared to the S&P 500 (35%).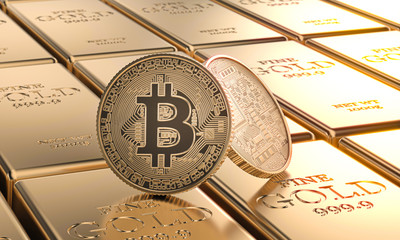 There Is Room For Growth
Despite all that, McGlone thinks that bitcoin has the potential for its resistance levels to surge to 100 times the resistance levels of gold. The current resistance levels for bitcoin ($40,000) are 22 times those of gold ($1,800).
In the 2017 bull run, the bitcoin-to-gold price ratio surged from 1x to 15x within a few months.
McGlone highlighted that bitcoin was on track to match gold's level of risk by 2024. He added that bitcoin might even become less volatile than gold as a result of its fixed supply.
"To approach this milestone, Bitcoin may have to simply maintain what it's been doing: appreciating in price and maturing."
The current 260-day volatility for bitcoin hovers around 50%, which translates to gold's 1980 volatility levels.
McGlone also mentioned Ethereum, alleging that it is turning the resistance level of $1,000 into major support that is 'unlikely' to break. He compared its trend to that of Q1 2017 where it surged from $10 to over $40 before exploding to over $1,000 around nine months later.