On January 18, 2021, the prices of copper gained 1% to trade at around $3.63. This increase in market value is a result of the positive GDP growth and industrial production from China. Many investors and market analysts believe that China's recovery from the COVID-19 crash translates to some growing demand for Copper.
Nevertheless, the latest price consolidation is a result of the latest report on a COVID outbreak in the Asian economic powerhouse.
After China's National Bureau of Statistics released its report earlier on Monday, the markets reacted. The agency reported that industrial production (YoY) rose by 7.3% last month. That reading was seen to beat the estimate of 6.9% and November's 7.0% growth.
Since August last year, industrial output in China has been growing constantly; each time surpassing experts' forecasts. While the past reading was at par with the set sentiments, it was almost a point higher from the previous month's figures.
The latest bullish trend is also present on a year-to-date basis. In December 2021, the industrial output increased by 2.8%. That value was higher than November's value which was 2.3%. Interestingly, China's economic resilience has been underpinned by an increase in the amounts of exports.
While many countries around the world continue struggling to remain afloat at the peak of the health crisis, the Asian country's industrial production was increasing constantly. Notably, the year-to-date numbers have been quite positive since March 2021.
On their part, the copper prices are responding to this steady growth reported in China's GDP. In Q4 2021, the GDP of the country grew by about 6.5%, beating predictions of 6.1%, and also surpassed Q3 2021's growth of 4.9%.
Data released on January 14 showed that China's trade balance was hovering around $78.17 billion in December. Analysts and commentators had predicted a figure of around $72.35 billion, which would be a decline from November's $75.40 billion. It is worth noting that China has recorded a trade surplus for three consecutive months.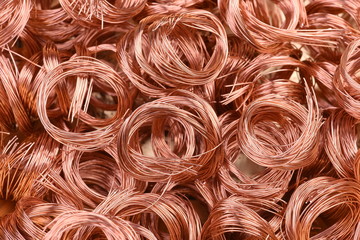 Copper Is Winning
Analysts and experts believe that the industrial output, GDP, and trade balance numbers that are positive are a dependable indication of surging demand for copper. Although the exports grew slowly in December compared to November, they still reached 18.1% to beat market estimates of 15%.
Work-from-home gadgets and health care equipment are some of the Chinese goods that experienced a rise in demand in 2021. In that context, copper is a critical metal in the industrial and electrical industries. Hence, growth in demand for these products is a bullish indication of copper prices. The demand has been explosive enough to create a bottleneck on the supply-side, mostly in the United States and Europe.
While the price of copper is on an uptrend, there is a noticeable price consolidation. The recent COVID outbreak in the Middle Kingdom has gained the attention of many investors. China reported over 100 COVID-19 cases on January 13. The government reinstated restrictive measures to curb the spread. These measures are seen to be the most severe since the declaration of the disease as a global pandemic.