Maker is now on the verge of a breakout after it embraced the support that has formed at $900. The crypto has gained 113% since the start of the year and it is likely to continue with the short-term uptrend.
This crypto is drawing closer to a bull-flag breakout. At the time of writing, MKR/USD is hovering above $1,105 and it is seemingly nearing to rise past the bull flag pattern's top boundary. If that move continues, another breakout may occur and this time it will target the recently traded yearly high located at $1,240.
The 4-hour chart indicates that the price is in the control of the bulls, mostly with the 50 SMA extending the gap above the100 SMA and the 200 SMA levels. Concurrently, the RSI is leveling slightly under the overbought zone. A surge into the zone above 70 would call for increasing buy orders and maybe create adequate volume for gains above $1,200.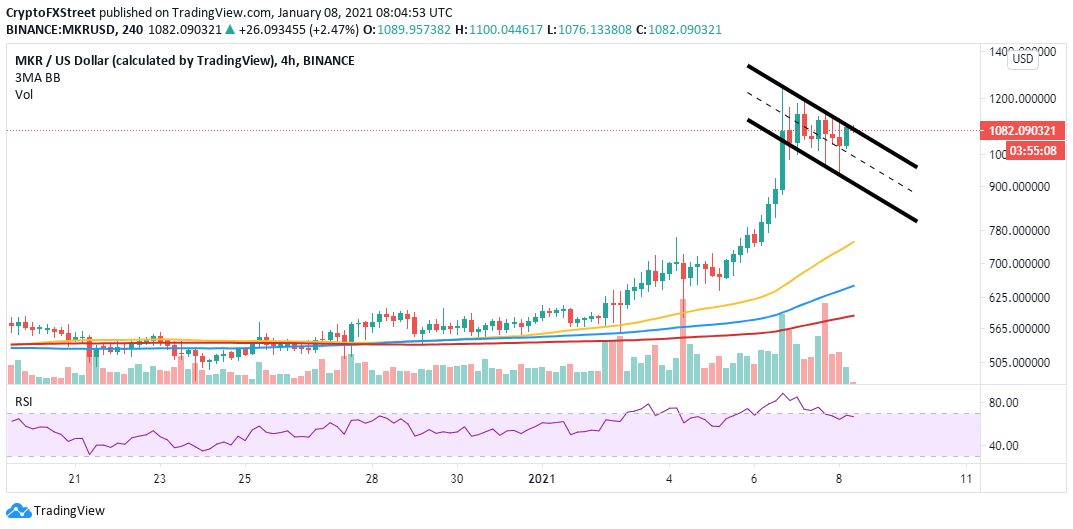 The IOMAP chart created by IntoTheBlockindicate that Maker is trading between two critical ranges. The adjacent range is an intensive resistance rising from $1,024 to $1,054. Within this range, 145 addresses previously bought almost 14,000 MKR. However, it seems like the crypto has broken past this level and it is currently forming an upward trend above $1,100

It will be a huge challenge to chop through this zone. However, if the bulls make it, MKR/USD may rally towards $1,113. For now, MKR/USD might remain in consolidation mode as projected by on-chain metrics.
On the flip side, the second range extends from $992 to $1,021. Here, 868 addresses previously acquired almost 15,000 MKR. That forms major support that is likely to hold, which means consolidation is highly likely to happen in the short term.