The cryptocurrency market capitalization has spiked above $700 billion as bitcoin's dominance gains to more than 70% as altcoins fail to follow and catch up with the current bitcoin rally.
All-time highs have now become a common occurrence in the bitcoin market. Another day and another all-time high for BTC as the asset exploded above $27,000 and has even neared $28K. At the moment, Bitcoin has set an all-time high of $27,920 which might not survive in the coming hours.
Most of the altcoins have failed to mimic bitcoin's parabolic surge, which has made bitcoin's dominance has exploded to over 70% for the first time since September 2019.
This year's Holiday season has proved to be quite bullish for the biggest crypto. Since December 24, Bitcoin has been setting a new all-time high daily.
After it broke above $25,000 and $26,000 in the last two days, the time for $27,000 came today, and many believe that it might surpass $30,000 by December 30.
Nonetheless, the asset is en route to smash the $28K level in the coming hours based on the current market fundamentals.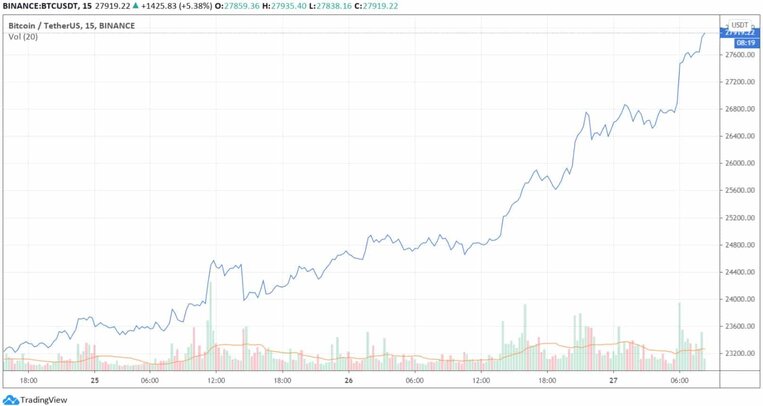 Altcoins Are Bleeding Against Bitcoin
A majority of the altcoins have gained value against the dollar in the last 24 hours. Ethereum has gained 5% to trade around $650, Polkadot (3.7%) to $5.3, Bitcoin Cash (8%) to $340, Cardano (6%) to $0.16, and Binance Coin (3.5%) to $34.
On its part, Litecoin has doubled-down on its recent impressive rally with another 6% surge to a new annual high of  $136.
Nonetheless, all of the large-cap and most of the lower- and mid-cap altcoins have lost their value against bitcoin. As data shows, Ethereum is down by 6% to 0.024 BTC, while Ripple has lost over 13% against Bitcoin. Even Litecoin could not compete with the flagship crypto after a 5% drop.
In that context, as alternative coins have failed to follow bitcoin's lead in impressive gains, the metric that compares BTC's market capitalization with all of the other alternative coins have expanded to reach a new yearly high. BTC's dominance is above 70%, which is the highest level since September 2019, based on data from TradingView.
It is also important to note that the cumulative market cap of all the digital assets has added $110 billion within three days. It has surged to $725 billion, which is the highest level since January 2018.