Gold encountered a tough week as waves of liquidation were triggered. Many participants from managed funds to hedge funds shifted their money away from the yellow metal. Silver also experienced pressure as copper and platinum exploded leaving everything else in their wake.
But, it is encouraging to note that the weakness coincides with a bullish seasonal trade setup in the second half of December that may spill over into a mainly inflationary environment expected in 2021. With 2021 coming in quickly, the government and industry reports may help determine where silver and other metals in the market will head to.
Why did many people abandon gold and silver this week? Many analysts, experts, and commentators had their say on this issue. They unanimously agreed on something:
"They believe with a rollout of Covid-19 vaccines; the global economy will recover faster, curbing the appeal for Government bonds; therefore, pushing yields higher and chasing riskier assets."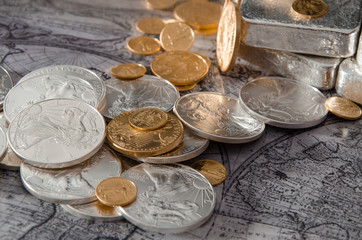 What was notable from that narrative is that the outflows arising from the gold-backed exchange-traded funds increased considerably. That outflow left the ETF holdings near their July lows when gold lost $200 in a few sessions.
But, some gold proponents believe that the investors will dive back into the market at higher prices when gold starts surging again. Those who left forgot that policymakers would offer extra fiscal and monetary support that will, in turn, push inflation expectations significantly higher.
Also, the US dollar will probably fall another 5% or 10% against other currencies, which will take the EUR and GBP higher against the dollar. All fundamentals in the middle-term indicate that the price of gold and silver will surge. For now, the markets seem to be shaking off the sellers before buyers take over once more.