After the US retail sales report was released for October, gold prices ticked up after the worse-than-expected retail sales data. Notably, the sales rose 0.3% in October after a downwardly revised increase of 1.6% in September, according to the latest data acquired from the U.S. Commerce Department. Economists anticipated seeing an increase of around 0.5% in October's headline number.
December Comex gold futures rose to daily highs last seen trading at $1,890.90, down 0.16% on the day. One of the most notable weakest parts of the retail report was the purchases of sporting goods and clothing, with both shrinking by 4.2% in October.
The core sales that strip out vehicle sales, gained 0.2% last month compared to the expected 0.6% increase. This report's control group that strips out autos, building materials, gas, and food services, was up by 0.1%, which disappointed the expectations of around 0.5% gain.
Experts say that retail sales may keep under-performing amid a rise in COVID-19 cases as the United States consumers avoid crowds, and some firms are temporarily shut down as a result of new restrictions, according to economists. CIBC Capital Markets economist Katherine Judge said:
"The deterioration in the outlook on account of the escalation in virus cases suggests that growth will be even harder to come by in the months ahead, particularly in services categories. Spending on goods could also slow further as frontloaded purchases negate the need for further outlays in some categories, while tighter social distancing restrictions on gatherings over the holiday season could compound these effects."
XAU/USD Has $1,906 In Its Cross Hairs
The technical confluence indicator shows that gold is currently encountering instant resistance at almost $1,888. That price level is the convergence of the Fibonacci 38.2% one-month, the SMA (Simple Moving Average 10) for the 4h chart, and the SMA 1001-5M chart.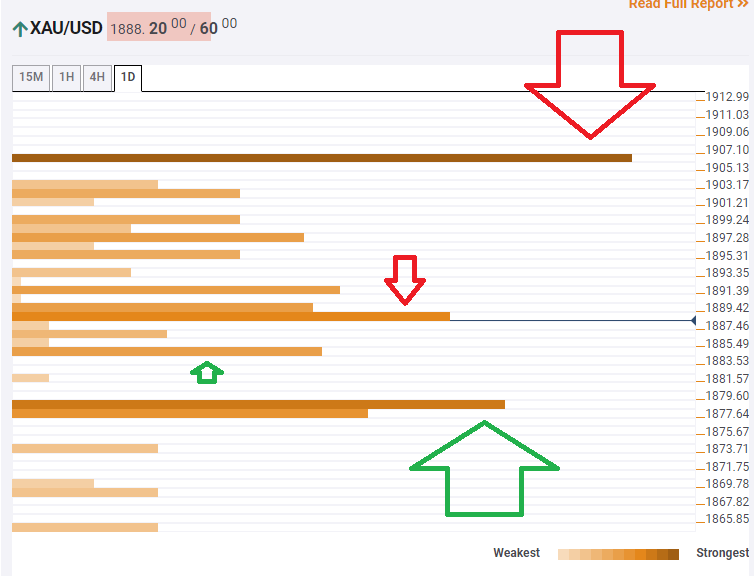 But, a strong cap awaits at $1,906 which represents a juncture of lines that includes the Fibonacci 61.8% one-month, the 50-day SMA, and 100-day SMA. Some support has formed at $1,884 which represents the confluence of the Bollinger Band 4h-Middle and the previous 4h-low.
A stronger cushion is at $1,877 which is the same point where the Fibonacci 38.2% one-day, the Fibonacci 23.6% one-week, and the SMA 5-one-day converge.