Gold's one-month risk reversals, which is a gauge of calls to puts, is falling once more. It shows a renewed demand for put options which translates to bearish bets on the precious metal.
The risk reversals traded at -0.35 in favor of puts compared to 0.075 in favor of calls on October 2. This crossover into the negative territory points to a bearish shift in the options markets. Additionally, risk reversals are still trading significantly above the multi-month low of -0.475 observed at the end of September.
At the time of writing, gold is trading at $1,895. This price represents a 0.20% gain for the day after it recorded a low of $1,882 early on October 14. Gold's upside momentum remains capped below $1900 due to the recent US dollar rally.
Holding $1890 Is A Positive For The short Term
Spot gold crashed 36 points from strong resistance at $1920/22 in less than an hour. On the other hand, the spot silver price abruptly wiped off all of Friday's strong gains. The yellow metal plunged as far as $1882 which is an unexpected 40 point loss in the Asian session.
Nonetheless, it held the short term trend line support at $1890/88 which analysts say is a positive for the day in the short term oversold conditions. Any bounce is expected to target $1899/1900 with the first significant resistance located at $1904/09. A strong break higher will meet strong resistance that has formed at $1918/22.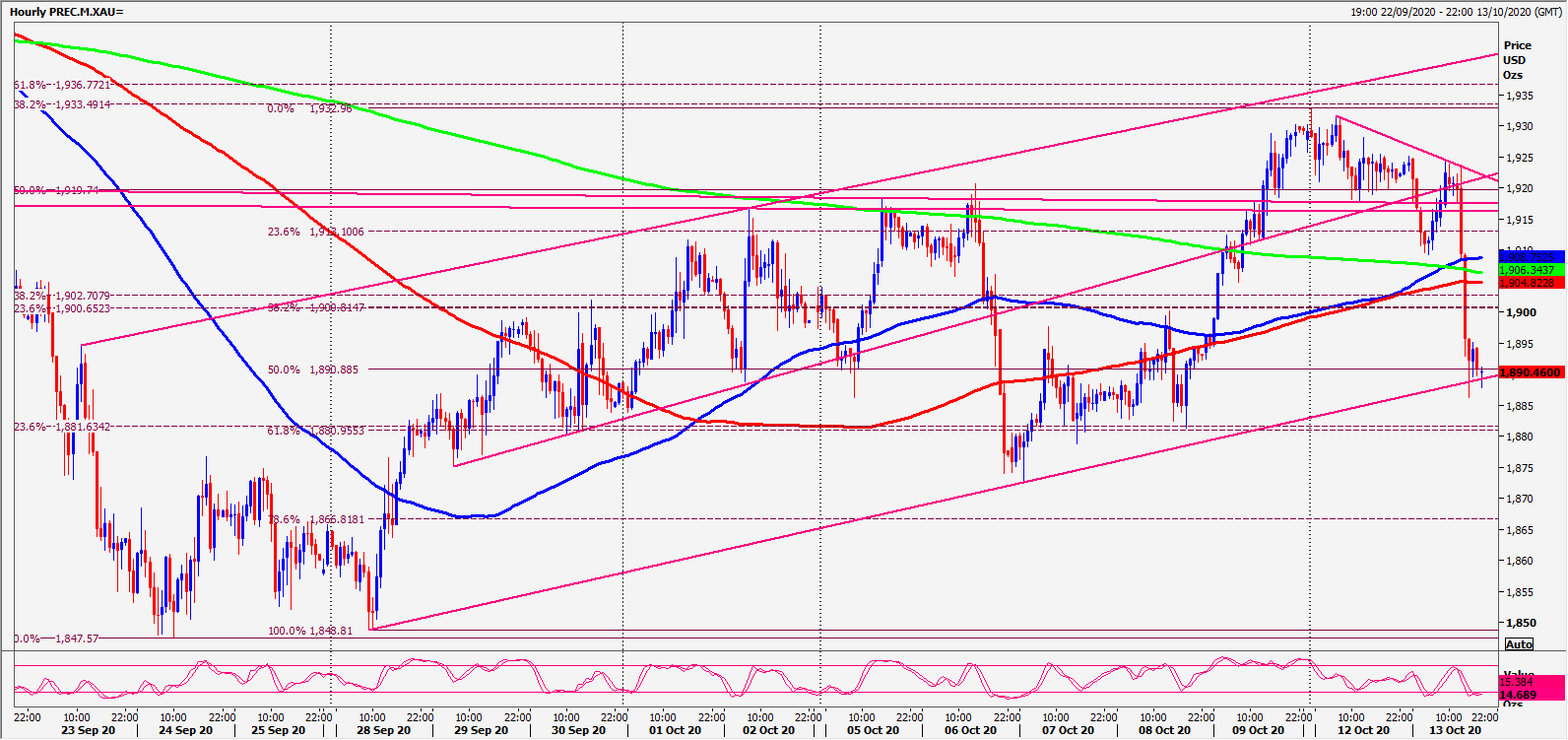 The longs at $1890/88 need their stops set below yesterday's low of $1,882. A significant break lower than this level exposes last week's low at $1872/73 with strong support 100-day moving average support forming at $1870/68. All these longs need stops below $1865, and a break below this level is termed as a medium-term sell signal.
Silver has collapsed below its first support at 24.60/50 targeting 24.15/10 with support located at 23.70/50. Any break lower targets 23.10/00. Some minor resistance located at 24.40/50 may hold, but above that, the 24.75/85 & 25.20/25 are exposed.
Bears Still Nailing The gold Price
In general, gold is still bearish since there is a massive drop in price as the haven again shifted to the USD. In that case, fresh sellers appeared in the POC zone that is located at $1,920-28. Also, historical sellers are still present in addition to other confluence points. These confluence points are D L3 and 78.6-88.6 which should bring the gold price down as the major intraday and intra-week trend is bearish.
Targets for this move have formed at $1913, 1909, and 1890. Nevertheless, if the price of gold drops below $1890 without any retracement, the pivot at $1870 will be exposed.